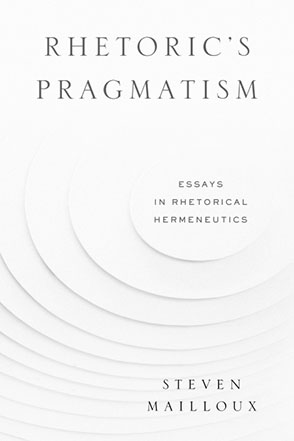 Rhetoric's Pragmatism
Essays in Rhetorical Hermeneutics
Steven Mailloux
BUY
Rhetoric's Pragmatism
Essays in Rhetorical Hermeneutics
Steven Mailloux
"Touching on issues of transdisciplinary interest, Mailloux's book will attract readers from varied disciplines. Not only that, readers will be forced consider and reconsider the assumptions that undergird their interests in philosophy, rhetoric, and cultural and reception studies. Eschewing defined borders and instead seeking to build academic bridges, Mailloux once again opens up space for engaging intellectual conversations."
Description

Reviews

Bio

Table of Contents

Sample Chapters

Subjects
For over thirty years, Steven Mailloux has championed and advanced the field of rhetorical hermeneutics, a historically and theoretically informed approach to textual interpretation. This volume collects fourteen of his most recent influential essays on the methodology, plus an interview.
Following from the proposition that rhetorical hermeneutics uses rhetoric to practice theory by doing history, this book examines a diverse range of texts from literature, history, law, religion, and cultural studies. Through four sections, Mailloux explores the theoretical writings of Heidegger, Burke, and Rorty, among others; Jesuit educational treatises; and products of popular culture such as Azar Nafisi's Reading Lolita in Tehran and Star Trek: The Next Generation. In doing so, he shows how rhetorical perspectives and pragmatist traditions work together as two mutually supportive modes of understanding, and he demonstrates how the combination of rhetoric and interpretation works both in theory and in practice. Theoretically, rhetorical hermeneutics can be understood as a form of neopragmatism. Practically, it focuses on the production, circulation, and reception of written and performed communication.
A thought-provoking collection from a preeminent literary critic and rhetorician, Rhetoric's Pragmatism assesses the practice and value of rhetorical hermeneutics today and the directions in which it might head. Scholars and students of rhetoric and communication studies, critical theory, literature, law, religion, and American studies will find Mailloux's arguments enlightening and essential.
"Touching on issues of transdisciplinary interest, Mailloux's book will attract readers from varied disciplines. Not only that, readers will be forced consider and reconsider the assumptions that undergird their interests in philosophy, rhetoric, and cultural and reception studies. Eschewing defined borders and instead seeking to build academic bridges, Mailloux once again opens up space for engaging intellectual conversations."
"These essays elegantly argue for the urgency of studying rhetoric in the twenty-first century. . . . Rhetoric's Pragmatism will earn the same high distinction that has marked Mailloux's career over the last three decades and more."
"This book participates in multiple disciplinary conversations as few books do. Steven Mailloux doesn't even try to be transdisciplinary—after all his years of study and scholarship, it has become natural to him. Thus, while Rhetoric's Pragmatism will especially appeal to the rhetoric community, it will also be required reading for historians, educators, theologians, scholars in American literature and culture, cultural studies scholars, and the host of scholars in the humanities who want to understand how a refined and expansive project can draw from and influence so many."
"The essays of Mailloux's monograph invent, collectively, a new model for managing the infinitizing complexity of rhetorical hermeneutics. They model, too, practices of reading with which to make ourselves against the shuttle of our times, on behalf of fuller relations between the partialities of past and future. The book is a gem of scholarship."
"Steven Mailloux's work has been at the center of conversations about the intersection of rhetoric and pragmatism, and his latest collection of essays, Rhetoric's Pragmatism, makes the case for why we should continue to attend to this intersection."
Steven Mailloux is President's Professor of Rhetoric at Loyola Marymount University and the author or editor of several other books, including Disciplinary Identities: Rhetorical Paths of English, Speech, and Composition and Reception Histories: Rhetoric, Pragmatism, and American Cultural Politics.
Contents
Acknowledgments
Introduction
I
1. From Segregated Schools to Hanging Chads
2. Euro-American Rhetorical Pragmatism
3. Humanist Controversies and Rhetorical Humanism
4. Rhetorical Pragmatism and Histories of New Media
II
5. Making Comparisons
6. Enactment History, Jesuit Practices, and Rhetorical Hermeneutics
7. Jesuit Comparative Theo-rhetoric
III
8. Hermeneutics, Deconstruction, Allegory
9. Theotropic Logology
10. Jesuit Eloquentia Perfecta and Theotropic Logology
11. Rhetorical Ways of Proceeding
IV
12. Judging and Hoping
13. Narrative as Embodied Intensities
14. Conversation with Keith Gilyard
15. Political Theology in Douglass and Melville
Notes
Bibliography
Mailing List
Subscribe to our mailing list and be notified about new titles, journals and catalogs.