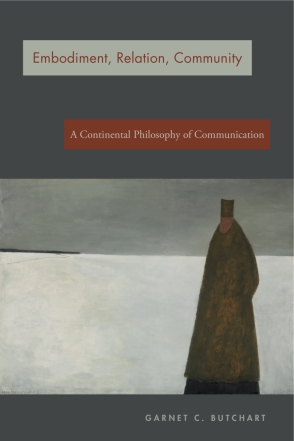 Embodiment, Relation, Community
A Continental Philosophy of Communication
Garnet C. Butchart
Buy
Embodiment, Relation, Community
A Continental Philosophy of Communication
Garnet C. Butchart
Winner of the 2020 Distinguished Book Award from the National Communication Association Philosophy of Communication Division
"Garnet C. Butchart convincingly shows that we are always in communication and that one of its primary operative functions is immunization, a concept Butchart borrows from Roberto Esposito. Communication, paradoxically, is what restricts and enables, what is both threat and defense, exposure and shoring up, contamination and protection. An indispensable book for those wanting to understand the contribution of contemporary continental philosophy to our understanding of the communicative constitution of reality."
Description

Reviews

Bio

Table of Contents

Subjects
In this volume, Garnet C. Butchart shows how human communication can be understood as embodied relations and not merely as a mechanical process of transmission. Expanding on contemporary philosophies of speech and language, self and other, and community and immunity, this book challenges many common assumptions, constructs, and problems of communication theory while offering compelling new resources for future study.
Human communication has long been characterized as a problem of transmitting information, or the "outward" sharing of "inner thought" through mediated channels of exchange. Butchart questions that model and the various theories to which it gives rise. Drawing from the work of Giorgio Agamben, Roberto Esposito, Jean-Luc Nancy, and Jacques Lacan—thinkers who, along with Martin Heidegger and Michel Foucault, have critiqued the modern notion of a rational subject—Butchart shows that the subject is shaped by language rather than preformed, and that humans embody, and not just use, the signs and contexts of interaction that form what he calls a "communication community."
Accessibly written and engagingly researched, Embodiment, Relation, Community is relevant for researchers and advanced students of communication, cultural studies, translation, and rhetorical studies, especially those who work with a humanistic or interpretive paradigm.
"Garnet C. Butchart convincingly shows that we are always in communication and that one of its primary operative functions is immunization, a concept Butchart borrows from Roberto Esposito. Communication, paradoxically, is what restricts and enables, what is both threat and defense, exposure and shoring up, contamination and protection. An indispensable book for those wanting to understand the contribution of contemporary continental philosophy to our understanding of the communicative constitution of reality."
"Unlike work that has been published in cultural studies, Butchart's study is not 'post-phenomenology' or in any way antagonistic to the tradition of thought that preceded it. It is, simply, the future of the field. It carefully explores some of the most important thematic and problematic concerns in the philosophy of human communication."
"This is a wonderful book. Drawing upon thinkers such as Jean-Luc Nancy, Giorgio Agamben, Roberto Esposito, and others, Garnet Butchart reflects on communication and communicates his reflection in a most honest and graceful manner. As we read this text, our experiences of communication, of being in common with others, are brought back to their very foundation."
"Embodiment, Relation, Community succeeds in enlivening the philosophy of communication by inventively crossing traditions and squarely facing the uncertainties of communication. The book's three major strengths are its nuanced interrogation of the imperative to communicate, fluid demonstration of the relation between immunization and communication, and trenchant analysis of the ontologically communicative body."
"Embodiment, Relation, Community is a philosophical investigation of human communication aimed at resolving the epistemological problematic presented by Communication Studies' inability to deal adequately with the longstanding problem of the impossibility of non-communication and the destabilizing effect of this problem on the communicative subject. More specifically, Butchart resolves this longstanding problematic with an ontological account in which the possibility of human community in communicative practices is laid bare."
Garnet C. Butchart is Assistant Professor of Communication and Rhetorical Studies at Duquesne University.
Acknowledgments
Introduction
1 The Wager of Communication (as Revealed by Psychoanalysis)
2 The Ban of Language and Law of Communication
3 Of Communication and-as Immunization
4 Body as Index
5 What Remains to Be Thought: Community, or Being-With
Epilogue
Notes
Bibliography
Index
Mailing List
Subscribe to our mailing list and be notified about new titles, journals and catalogs.