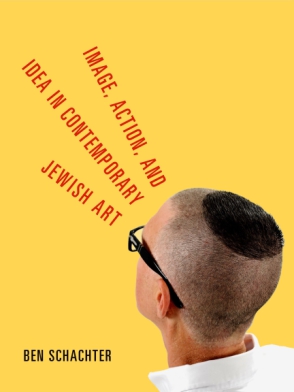 Image, Action, and Idea in Contemporary Jewish Art
Ben Schachter
Buy
Image, Action, and Idea in Contemporary Jewish Art
Ben Schachter
"A meritorious work both for amalgamating past scholarship and for furthering the field as it relates to contemporary art. Much like the author, who is an expert in allowing viewers to see something new in a recognizable boundary, Image, Action, and Idea in Contemporary Jewish Art creates fresh space in a seemingly stationary setting."
Description

Reviews

Bio

Table of Contents

Subjects
Contemporary Jewish art is a growing field that includes traditional as well as new creative practices, yet criticism of it is almost exclusively reliant on the Second Commandment's prohibition of graven images. Arguing that this disregards the corpus of Jewish thought and a century of criticism and interpretation, Ben Schachter advocates instead a new approach focused on action and process.
Departing from the traditional interpretation of the Second Commandment, Schachter addresses abstraction, conceptual art, performance art, and other styles that do not rely on imagery for meaning. He examines Jewish art through the concept of melachot—work-like "creative activities" as defined by the medieval Jewish philosopher Maimonides. Showing the similarity between art and melachot in the active processes of contemporary Jewish artists such as Ruth Weisberg, Allan Wexler, Archie Rand, and Nechama Golan, he explores the relationship between these artists' methods and Judaism's demanding attention to procedure.
A compellingly written challenge to traditionalism, Image, Action, and Idea in Contemporary Jewish Art makes a well-argued case for artistic production, interpretation, and criticism that revels in the dual foundation of Judaism and art history.
"A meritorious work both for amalgamating past scholarship and for furthering the field as it relates to contemporary art. Much like the author, who is an expert in allowing viewers to see something new in a recognizable boundary, Image, Action, and Idea in Contemporary Jewish Art creates fresh space in a seemingly stationary setting."
"In this manifesto Schachter seamlessly joins this growing chorus as a practicing artist, theoretician and critic."
"In this lively, stimulating (though in places repetitious) book, Schachter (fine arts, Saint Vincent College) takes as his point of departure the judicious observation that the study of Jewish art has unavoidably been constrained by the second commandment, which forbids the making of graven images. Recommended."
"A highly original exploration of contemporary Jewish art practice and criticism at the convergence of theology and aesthetic theory. A welcome antidote to the preoccupation with the Second Commandment and Jewish aniconism."
"This is a lively book. Rather than scraping over familiar territory regarding the Second Commandment (prohibiting graven images), Ben Schachter sketches out promising new paths for contemporary Jewish art that also reconnect with long-standing Jewish traditions. It's particularly welcome in the suddenly burgeoning field of Jewish art to hear from a scholar who is also an accomplished artist—and who studies his contemporaries with an eye for process as much as product."
"A valuable contribution to the expanding discussion of Jewish art. 'Action' as the consummate motif in the making of contemporary Jewish art may not be a new idea, but Schachter's articulation of it is new and the framing of it refreshing and, in many respects, original."
"Schachter's book is a relational demonstration of how reframing can offer an alternative way to explore a topic that has, for so long, been left untouched or unchallenged."
Ben Schachter is Professor of Fine Arts at Saint Vincent College. He is the author of Tzit Tzit: Fiber Art and Jewish Identity.
Contents
Illustrations
Acknowledgements
Introduction
Chapter 1 Images and Actions in Art Criticism and Jewish Thought
Chapter 2 Melakhot, Creative Activities, and Artistic Practice
Chapter 3 Contemporary Jewish Art
Chapter 4 Visual Midrash and Artistic Interpretation
Epilogue: Becoming a Jewish Artist
Bibliography
Index
Mailing List
Subscribe to our mailing list and be notified about new titles, journals and catalogs.