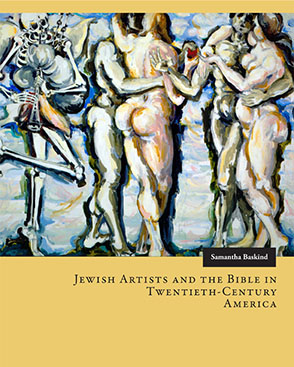 Jewish Artists and the Bible in Twentieth-Century America
Samantha Baskind
Buy
Jewish Artists and the Bible in Twentieth-Century America
Samantha Baskind
"Baskind presents an illuminating analysis of the largely ignored biblically-themed work of five Jewish artists, well-known on the twentieth century American art scene for their oeuvre."
Description

Reviews

Bio

Table of Contents

Sample Chapters

Subjects
Jack Levine, George Segal, Audrey Flack, Larry Rivers, and R. B. Kitaj have long been considered central artists in the canon of twentieth-century American art: Levine for his biting paintings and prints of social conscience, Segal for his quiet plaster figures evoking the alienation inherent in modern life, Flack for her feminist photorealist canvases, Rivers for his outrageous pop art statements, and Kitaj for his commitment to figuration. Much less known is the fact that at times, all five artists devoted their attention to biblical imagery, in part because of a shared Jewish heritage to which they were inexorably tied.

Taking each artist as an extensive case study,
Jewish Artists and the Bible in Twentieth-Century America
uncovers how these artists and a host of their Jewish contemporaries adopted the Bible in innovative ways. Indeed, as Samantha Baskind demonstrates, by linking the past to the present, Jewish American artists customized the biblical narrative in extraordinary ways to address modern issues such as genocide and the Holocaust, gender inequality, assimilation and the immigrant experience, and the establishment and fate of the modern State of Israel, among many other pertinent concerns.
"Baskind presents an illuminating analysis of the largely ignored biblically-themed work of five Jewish artists, well-known on the twentieth century American art scene for their oeuvre."
"Baskind's careful and detailed analysis and art historical background . . . make this a treasure for art historians and students; biblical, Jewish studies, and feminist scholars; and others."
"This beautifully produced and illustrated book examines the place of biblical imagery in the work of American Jewish artists, a topic that, according to Baskind, has heretofore been neglected. . . . The substance of the book is a detailed consideration of the work of five Jewish artists—Jack Levine, George Segal, Audrey Flack, Larry Rivers, and R. B. Kitaj—each of whom receives a sympathetic and often revealing treatment. These biographies, along with a concluding epilogue, are amplified by observations on comparable work by other Jewish artists laboring in the same vein."
"This book is a meticulous examination of a marginalized aspect of the work of five respected American Jewish artists and it opens the way for a re-examination of 20th-century biblical art and what Baskind has revealed as 'the catalytic role of the Bible on art from the previous century'. The book succeeds, I believe, in inviting us to rethink and re-examine 20th-century American art."
"In five chapters, art history professor Samantha Baskind offers a sophisticated, richly illustrated look at each artist's work and influences."
"Scholars of contemporary religious history, of art history, and of the immigrant experience will find much to interest them in this fine volume."
"Beautifully illustrated and compelling.. . . . [Baskind's] fine book argues for a more inclusive art history that is more attentive to the factors that contribute to artistic identity, such as religion."
"[An] important, beautifully written, and convincing book, from which art historians, Bible scholars, and scholars of Judaism alike can all greatly profit."
"A fascinating and beautifully written examination of the role of biblical art in twentieth-century America."
"In our secular age, the idea that the Bible could shape a modern artist, never mind a modern Jewish and American artist, seems odd. Yet in her brilliant new book, Samantha Baskind shows how the Bible—not necessarily only a Jewish Bible (Tanach) but also the American Bible of the Puritans—echoes in Jewish American art. Looking at Jack Levine, George Segal, Audrey Flack, Larry Rivers, and R. B. Kitaj, Baskind provides a sophisticated and critical reading of how religious imagery survives and flourishes in our secular world."
"Samantha Baskind admirably undermines the strong tendency among art critics and art historians to ignore the relevance of religion for modern fine art. Her investigation of several important Jewish artists demonstrates irrevocably that biblical religion remains vitally pertinent to the critical understanding of a great deal of art in the modern era. In this beautifully illustrated book, Baskind writes authoritatively about artists whose achievements she carefully scrutinizes for their complex treatment of biblical themes."
"In a 'modernist' century, known chiefly for its increasing emphases both on pictorial abstraction and on secularism, surely a book on this topic, American biblical subjects, comes as a surprise. That all the artists in question were Jewish Americans, many of them recent immigrants and first generation in their profession, arrives with the force of a revelation. Presenting these discoveries, Samantha Baskind remains fully the master of her material, a mature scholar well known for her specialization in Jewish modern artists of twentieth-century America. She judiciously chooses case studies that span issues of medium, gender, generation, and—ultimately—complex, often multiple, identity. Like these individuals, Baskind manages to hold in creative tension all the disparate components of the designation 'Jewish American artist.'"
"In Jewish Artists and the Bible in Twentieth-Century America, Samantha Baskind reimages the careers of five well-known modern American artists by training a focus on their mostly little-known, but more than occasional, adaptation of biblical narrative and imagery, both Old– and New Testament

–

based. Articulating a profound Jewish connection between painters and sculptors not necessarily considered in tandem under any other rubric, Baskind delineates connective paradoxes underscored by the purposeful adaptation of biblical interpretation (midrash) in the career trajectory of each. She argues, in these five case studies, that the freedom of America's secular society enabled re-presentation of ancient archetypes and that these, in turn, provided different but equally important cues for 'navigating modernity.' Baskind's new book opens a number of avenues to a wider interpretation of visual art's role in ongoing debates on ethnicity, gender, and multiculturalism

—

topics increasingly relevant today. Art historians, Judaic studies scholars, and anyone interested in investigating the American Jewish experience through a twentieth-century lens will profit from reading it."
"Marked by meticulous original research, creative scholarly thinking, and lucid prose, Jewish Artists and the Bible is a stunning achievement."
Samantha Baskind is Professor of Art History at Cleveland State University.
Contents
List of Illustrations
Acknowledgments
Introduction
1 Catastrophe and the Biblical Archetype in Jack Levine's Art
2 George Segal and the Book of Genesis
3 Audrey Agonistes: Anguish, Stereotype, and Audrey Flack
4 Biblical Parody: Larry Rivers's History of Matzah: The Story of the Jews as Counterhistory
5 R. B. Kitaj: Village Explainer of Jewish Art
Epilogue: Jewish Artists and the Formation of the American Art Canon
Notes
Bibliography
Index
Introduction
Jews constitute an immigrant group that has wielded an enormous impact on twentieth-century American art. While largely integrated into the American canon with work that fits the traditional narrative, many Jewish artists also created imagery that contradicts their typical subject matter and adds a new perspective to both the canon and the artists' individual oeuvres. Accordingly, this book describes several Jewish American artists' exploration of a distinctive theme: biblical imagery. Indeed, an overwhelming number of Jewish artists pictured biblical stories during a period that dismissed representational content as retardataire, at a time when Jews faced keen pressure to efface references to their ethnicity in their art, and in a country without a sustained legacy of biblical art. Religious imagery by twentieth-century Jewish American artists is so pervasive that of the initial American works purchased by the Vatican in 1973 for the new Gallery of Modern Religious Art, nearly half were by Jewish artists, even though at that time Jews made up just under 3 percent of America's population. Readers may be surprised by how many Jewish artists privileged the Bible at some point in their careers, and in varied media, including painting, sculpture, and prints. These artists range from the critically neglected but once acclaimed, such as the abstract sculptor Seymour Lipton, to those artists better known and admired for secular, mainstream art, such as Philip Pearlstein. Pearlstein, for example, is recognized for his unidealized, unemotional, precisely delineated female nudes. Yet, earlier in his career, Pearlstein painted an expressionistic, heavily impastoed Moses with the Tablets of the Law (1948, collection unknown).
In the following pages I consider why a group of Jews, either immigrants or the children of recently immigrated parents, most of them concerned about their place in the art world and uncertain about their status as Jews in America, adopted biblical subjects in their art. I show how these artists employed a traditional art genre in often unconventional ways to construct a present based on art history's foundations, and I analyze why biblical subjects engaged these artists in an inhospitable art world. I am interested in how Jewish artists pictured the Bible's stories, why biblical narratives held power over these artists, what biblical stories the artists chose to tell, and also what those tales tell us about history, identity, and social structures in twentieth-century American art and society. My goal is to expand and complicate the canon of American art by pursuing these questions: Why did these artists manifest a propensity for biblical subjects? Why is there not a similar corpus of biblical art by non-Jewish artists? How does this work fit into the existing American art historical narrative? How does this work critique the contemporary social order(s), life in the Diaspora, and the Jewish American assimilation experience, and what do these subjects tell us about twentieth-century American art and art history more broadly?
The Jewish artists examined in this book embraced biblical art in a country without a long heritage of art and religion. The strain of Puritanism in America after the birth of the country discouraged religious art, preferring the verbal as a means of communicating ideas about God. As James Jackson Jarves perceived in 1864, "The popular faith [in America] is more rigidly puritanical in tone. This not only deprives art of the lofty stimulus of religious feeling, but subjects it to suspicion, as of doubtful morality." In the nineteenth century, several American artists traveled to Europe, returning to their native land with a new appreciation of the grand manner of history painting. After visiting England, Samuel F. B. Morse aspired to make such painting viable on American soil. Famously, Morse's mother rebuked him for his religious and mythological paintings from a practical standpoint: "You must not expect to paint anything in this country, for which you will receive any money to support you, but portraits." Morse, Thomas Cole, Washington Allston, and a few other artists of that generation attempted an occasional biblical theme, but America's taste for history painting of any sort—biblical, mythological, or literary—was distinctly underdeveloped. Instead, the major subjects of artists became the unbridled land of the newly founded country, portraiture, and genre scenes depicting the lives of the people—if not out of interest in painting such topics then for the monetary reward.
Twentieth-century American artists also ignored the biblical vein. Focused on issues of modernism and life in the big city, artists of the past century explored industrialization and ultimately process and product, especially in the latter part of the century. In Europe, some early twentieth-century artists made religious values central to their artistic conception. The Russian Wassily Kandinsky looked toward theosophy and abstraction to suggest spiritual ideas, and the Frenchman Georges Rouault made impassioned prints and paintings of Jesus in an expressionistic manner. Themes from the Bible, though, and certainly Jews who produced such images, did not flourish. Yet, beginning in the 1930s, a disproportionate number of Jewish artists actively made biblical works.
The artists on whom I focus came of age in the years following the "new immigration," 1880 to 1920, also known as the third wave of immigration. During this period, 23 million immigrants entered the United States, more than 3 million of them Jews. Each of this book's five chapters is anchored by one artist—Jack Levine, George Segal, Audrey Flack, Larry Rivers, and R. B. Kitaj—and all are children of immigrants (Kitaj's special circumstances are explained in chapter 5). Many other Jewish American artists arrived from Europe at an early age (e.g., Ben Shahn, Raphael Soyer, William Zorach), and distinct memories of their native lands were probably scarce. Thus they experienced acculturation in much the same way as American-born children who lived in immigrant households. All of the artists lived in homes with practices that differed from the mainstream, and separating from religious parents often caused familial conflict and confusion about alliances to one's ancestral heritage or country, as in Levine's case. Enjoying freedom outside enclosed walls, many Jews forged meaningful relationships with non-Jews for the first time. Different cultures and ideas pervaded the once-constrained Jewish sensibility. The American diasporic experience was unlike any other that Jews had confronted in their peripatetic existence, and the desire to secularize became overwhelming in a democratic culture that promised prosperity and equality. After the challenging task of learning a new language, manners, and customs, a large number of Jews continued the assimilation process by relaxing religious practices.
The less restrictive environment of the American Diaspora appears to have promoted a psychological need to consciously forge a relationship with one's Jewish heritage; the secularization that allowed a Jew to pursue a career in art also generated the need for a link to a Jewishness that was beginning to disappear. In other words, assimilation diluted the Jews' connection to that which they knew best—traditional Jewish practice—and some sort of signifier could mitigate feelings of loss in reference to the more Jewishly connected life of the past. The sociologist of religion Will Herberg observed that immigrants "had their societies, where one met people from the 'old country' and talked about things still vivid in memory; they had their newspapers, which made one feel close to the new and the old; they had their churches, and even plays and amusements in the familiar accents of the mother tongue. Aside from the church, they had not known any of these things 'back home,' but here these innovations seemed to give them something of the old life, something that gave an appearance of continuity and security to their existence." The coping mechanism that Herberg elucidated was tenable for a Jew who had distinct memories of a native land, but the American-born generation and the young immigrant had nothing to hold on to. For these younger American Jews, their native land, their homeland, was the Hebrew Bible. Their sense of locale was not the towns around them but biblical geography—the only Jewish soil they knew. The language, laws, and common perceptions of the artists discussed in this study—the environment provided by the Book—constituted the psychologically contiguous territory of these Jewish American artists. The Bible functioned as a portable identity in the Diaspora and as a common element uniting Jews from different places and times. The stories in the Bible were American Jews' bond to Jewish life.
Although a European, Marc Chagall, the best-known Jewish artist of the twentieth century, provides a fitting comparison that helps to clarify this point. Chagall did not make biblical work while growing up in Vitebsk, a Russian community of nearly thirty-five thousand Orthodox Jews (more than 52 percent of the city's population). Hundreds of his paintings and gouaches of Jewish communal and sthetl life exist, but Chagall eschewed the Bible until 1910, when he became interested in the story of Adam and Eve after his move to Paris. Then, in 1930, Chagall received the commission for his Tériade Bible etchings, after which he made Bible stories a significant component of his work. Before this period, Chagall did not need a connection to his heritage because he felt Jewish every day in the way he ate, the company he kept, and the rules he lived by. Too, because Chagall lived within a Jewish community, he still felt the effect of the second commandment—the prohibition against graven images, addressed in more depth in chapter 1—which also may account for the dearth of biblical works in his oeuvre. Jewish genre scenes like those Chagall initially favored were a compromise for painters of Jewish descent. Even if creating "graven images" when interpreted in the strictest sense, such work was not related to divine teachings and God.
The Bible's stories are not only the collective that tied these Jews to Judaism; the lessons contained within the Book also helped the artists navigate modernity. Just as Mark Rothko and Barnett Newman famously viewed myths as "eternal symbols upon which we must fall back to express basic psychological ideas," as Rothko put it, some Jewish American artists turned to the Bible to help them express ideas. For example, biblical figures stimulated Larry Rivers's thinking about his position as a Jew in an art world dominated by Christian art. George Segal's embrace of biblical subjects afforded him the opportunity to explore the challenges of his new medium, sculpture, with equally challenging subject matter: some of the most harrowing tales in Genesis. Audrey Flack conveyed her feminist perspective by reshaping the lives of biblical women who were often vital catalysts in the Bible but who have been stereotyped negatively or simply ignored. A touchstone and locus of Jewish identity, the Bible functioned as a site of Jewish memory when enclosed communities (whether shtetls in Europe or self-chosen segregation in America, such as that of the Lower East Side of Manhattan) disappeared. It is my argument that the Bible encouraged a Jewish connection when traditional forms of kinship in Jewish communities and affiliations were dissolving. The Hebrew Bible allied these artists with the past; scripture served as a sort of pilgrimage to the past that helped make sense of the present. The art in this book reaffirms the Bible's central place in Jewish memory and history while also serving as an avenue to finding oneself in current times. This idea is firmly rooted in the ancient Jewish practice known as midrash.
Traditional Jews understand the Hebrew Bible as God's word. Fleshing out the meanings of that word, however, is the task of the commentators, including major figures like Shammai (ca. 50 B.C.E.–ca. 30 C.E.), Hillel (late first century B.C.E.–early first century C.E.), and Maimonides (1135–1204). The rabbis who write these often creative and radical interpretations expand on their predecessors' work, updating, transforming, and making the texts pertinent to modern life. Midrash, a word derived from darash, meaning to search, even contains parables, folk stories, and conversations imagined between biblical figures. While exegesis is a facet of the process of clarifying the Bible, midrash is, to use scholar Ithamar Gruenwald's words, "chiefly concerned with the creation of meaning." New historical circumstances, such as modernity, impel the interpreter forward with fresh expositions inspired by scripture. This postmodern mentality imbues the interpreter with enormous imaginative power over a book that can never reach limits. Midrash relates to contemporary intertextual theories that characterize texts as entities that never close. That is to say, all texts engage in dialogue with other texts and transform the original discourse into a new creation. Examining sacred writ in this way is a mitzvah, a good deed, in Judaism. It is commanded that on the holiest days in the Jewish year, including the Sabbath, one read and talk about the Bible. To this day, the Bible is continually discussed and reworked, with contemporary rabbis reinterpreting scripture in sermons and responsa—written rulings in rabbinic literature, compiled since the Middle Ages and essential to Jewish law—to explain the present application of divine teaching. A midrash elucidates the importance of this practice, claiming that if not parsed and pondered, the Hebrew Bible is as useless as wheat left unspun in a box:
Then what difference is there between the Written and the Oral Law? To what can this be compared?
To a king of flesh and blood who had two servants, and loved them both with perfect love;
and he gave them each a measure of wheat, and each a bundle of flax.
The wise servant, what did he do?
He took the flax and spun a cloth.
Then he took the wheat and made flour.
The flour he cleansed, and ground, and kneaded, and baked, and set on top of the table.
Then he spread the cloth over it, and left it so until the king should come.
But the foolish servant did nothing at all.
After some days, the king returned from a journey and came into his house and said to them:
My sons, bring me what I gave you.
One servant showed the wheaten bread on the table with a cloth spread over it,
and the other servant showed the wheat still in the box, with a bundle of flax upon it.
Alas for his shame, alas for his disgrace!
Now, when the Holy One, blessed be he, gave the Torah to Israel,
he gave it only in the form of wheat, for us to extract flour from it,
and flax, to extract a garment.
The Bible invites the reader to wrestle with its narrative, a narrative well suited to such an approach because of the book's openness. In his seminal analysis Mimesis, Erich Auerbach describes the Bible as frequently ambiguous in its meanings; the reader finds "the externalization of only so much of the phenomena as is necessary for the purpose of the narrative, all else left in obscurity; the decisive points of the narrative alone are emphasized, what lies between is nonexistent; time and place are undefined and call for interpretation; thoughts and feeling remain unexpressed, are only suggested by the silence and the fragmentary speeches; the whole, permeated with the most unrelieved suspense and directed toward a single goal (and to that extent far more of a unity), remains mysterious and 'fraught with background.'" The considerable gaps found in the Bible's enigmatic narrative contribute to and encourage multiple retellings, meanings, and transformations; the renowned rabbi Adin Steinsaltz, a figure whose scholarship strongly affected Kitaj's biblical portraits, felt similarly about the elusive and enigmatic characterizations of the Bible's foremost personalities. Ultimately, the midrashic space allows for greater depth and vitality in our understanding of the Bible.
Modern commentators observe the continuing centrality and importance of midrash. The Jewish reworking of the text, Edmond Jabès explains, "is of primary, burning relevance for both Jew and writer, has been for five thousand years for one, and is anchored in the future for both." As I will show, artists worked on biblical topics for various reasons, but what they have in common is a desire to reconfigure traditional religious Judaism to make it meaningful in modern America, tying the past to the present while exploring the customs of their heritage. To that end, Jewish artists employ what Michael Fishbane terms the new voice of the biblical scholar: "This new voice is also engaged in prolonging the words of the ancient text. . . . Scholarly discourse may therefore rightly be seen as a kind of supercommentary, analyzing texts with the ideas and methods of one's own historical situation, and integrating them into new orders of significance." The ancient approach of midrash certainly resonates in the modern era and participates in the continuation of Judaism. Daniel Boyarin perceptively asserts that "one of the tasks of a successful culture is to preserve the old while making it nevertheless new."
Ben-Zion, who painted more than 150 biblical subjects and produced a number of biblical sculptures as well (see fig. 112), first turned to the Hebrew Bible in 1935 with his generically titled canvas The Prophet in the Desert (collection unknown), a painting followed by copious others, such as the more specific Moses and the Tablets (1952, Jewish Museum, New York). When thirty-nine of his strongly linear expressionistic paintings were exhibited at a 1959 retrospective held at the Jewish Museum, Ben-Zion characterized his biblical art in a way that unites the ancient and the modern in terms that allude to midrash, an approach similar to that of the five main artists examined in this study. "I know of no other book," he said, "in which the apocalyptic and elementary conflicts, as well as the psychological complications of our time come to a stronger symbolic expression than in the Bible." Social realist Ben Shahn (see fig. 114) remembered his rigorous religious education and similarly viewed the Bible's stories and figures as having resonance in his own time: "I went to school for nine hours a day, and all nine hours were devoted to learning the true history of things, which was the Bible; to lettering its words, to learning its prayers and its psalms. . . . All the events of the Bible were, relatively, part of the present. Abraham, Isaac, and Jacob were 'our' parents." The lasting effect of Shahn's Jewish education inaugurated one of the most popular Haggadahs in America, first published in 1965 and still used today. A variety of other Jewish-related art projects accompany Shahn's Haggadah, ranging from paintings and prints inspired by the Bible to designs for synagogues, including a stained-glass window representing the 150th psalm for Temple Beth Zion in Buffalo, New York (1965). Leonard Baskin, too, made a popular Haggadah (1974, with more than a million copies sold), read annually at the Passover Seder, in addition to sculptures and scores of prints on biblical subjects. Until he was fifteen years old, Baskin studied Talmud in a Brooklyn yeshiva for ten hours day, seven days a week, and that education permeated his art (see fig. 110). "My brain is serried," he wrote, "with an infinity of memory-traces that recall the sound and smell of shul, of home, of Yeshiva, of the nearly all-Jewish street."
Comments similar to those of Ben-Zion, Shahn, and Baskin appear in Jennings Tofel's unpublished diary (1933–43), also indicating the extent to which the Bible's stories were a part of the artist's consciousness. Lamenting a childhood accident that left him partly crippled, Tofel compares his misfortune to that of a biblical figure: "Job was rich and . . . God took his possessions, making his woe more bitter with each successive loss. I am born in poverty! But as I grow richer in perceptions I grow steadily aware of ever new deprivations I have come into possession of." Tofel's numerous biblical paintings include images of Job, Jacob, and also Moses (see fig. 111). The artist went on, "I imbibed from earliest youth some of that vast mass of Jewish religious, moral and cultural teachings with its many laws." Certainly, each artist's Jewish education varied to a degree, but my point is to demonstrate a common interest in the Bible, along with its enduring influence. Of the five artists I feature, all but Kitaj had a fair amount of Jewish teaching and tradition in their early lives. One wonders why a group of Jews, either in the process of assimilating into American culture or negotiating Jewishness and Americanness, privileged the Bible's narrative. Clearly, their aim was not to fit into a prescribed American artistic heritage. Biblical painting is much more European than American; such scenes, moreover, do not comply with modernism's philosophy.
Even if biblical scenes did not accord with traditional avant-garde subjects, the styles artists used are diverse, and some, in fact, quite stylistically innovative; none of the artworks in this study are idealized history paintings approached academically (akin to, say, Peter Paul Rubens's work) or rendered with highly finished surfaces. Abraham Rattner, for example, applied cubist principles to his early biblical art, and several artists adopted expressionism, like Ben-Zion. Flack created paintings, biblical and otherwise, in a starkly photorealist style that is meant to be objective and yet paradoxically makes her imagery seem even more real. At first glance, Kitaj's portraits of biblical figures could be perceived simply as quick sketches of moody sitters, or investigations of physiognomy and character. In addition to probing how the artists approach and handle biblical subjects, I am also concerned with what these alternate subjects say about their nonreligious art.
That a large group of Jewish artists in a specific time and place embraced the outmoded genre of biblical art is notable, and this book suggests some reasons why, while also asking why this important aspect of their work has been neglected. The motivations of African American artists and of women have been addressed within the discourse of American art, but Jews working on a topic as unfashionable as the Bible have been overlooked. On occasion, scholars have analyzed African American artistic attention to the Bible. Richard Powell characterizes William H. Johnson's fusion of Afrocentric folk-art traditions, contemporary lynching imagery, and Old Master paintings such as Matthias Grünewald's Isenheim Altarpiece (ca. 1510–15, Musée d'Unterlinden, Colmar, France) as an "attempt at creating a black analogue for a standard biblical theme," and other religious works as "tied to a black folk tradition, in which biblical imagery and an unconscious African mode of cultural articulation reign supreme." At a rare American exhibition of modern religious art, held at the Durand-Ruel Galleries in January 1946, the majority of American artists represented were either Jewish or black; accompanying European art by Pablo Picasso, Georges Rouault, and Max Beckmann, among others, were works by Abraham Rattner, Max Weber, Horace Pippin, and Romare Bearden.
Ben Wolf, who reviewed the Durand-Ruel Galleries show, and the contemporary critic James Elkins perceive "religious art" as biblical and, accordingly, biblical art as religious. This is a standard point of view. Elkins assays religious art in some depth in his book On the Strange Place of Religion in Contemporary Art and accurately points out that there is little modern religious art in museums or reproduced in art history books. Crucially, the biblical art I discuss is not necessarily religious in the sense that Elkins and Wolf mean—as devotional and affirmative of a belief in God or religious practice. Because Judaism is a religiocultural heritage, it is essential not to analogize the Jewish "religion" to the more one-dimensional meaning it has for Christians. Jews can make biblical art that does not believe and is not celebrating God or assisting rituals.
The artists in my book have not fashioned a devotional art akin to that of Raphael and Caravaggio. Jewish American artists could not by custom (or by virtue of the twentieth-century cultural climate) produce a sacred art. Clearly based on a sacred text, the art is not conventionally religious in nature. These artists' intent is not theological; they have not made art with a traditional liturgical function. Moreover, Jews do not proselytize, nor do they make objects of worship (e.g., icons or altarpieces), although they do fabricate ritual objects (e.g., menorahs or candlestick holders). As I hope to make clear, these artists produced a Jewish American art in both inspiration and conception. In other words, biblical art by twentieth-century Jews is not didactic religious art but art of the Jewish American experience. Even though at its core the Bible serves as a holy volume, the artists understand it in a secular manner while exploiting the long-standing Jewish legacy of learning and engagement with one particular book.
That said, several Jewish American artists—some who made biblical art and some who did not—asserted that art was their religion or described their art as emanating from a spiritual place, defined in various ways. This perspective was first articulated by one of a handful of known nineteenth-century Jewish artists: the painter Henry Mosler. Mosler was recognized in his own time for detailed genre compositions of Breton customs executed in a literal style, but he also made some works for the Jewish community and painted an occasional biblical scene. Le Retour (1879, Musée Départemental Breton–Quimper, France) recounts the oft-told biblical story of the prodigal son in a Breton setting. An entry at the French Salon, Le Retour received high acclaim with an honorable mention from the jury. It was subsequently purchased for the Musée du Luxembourg, making the canvas the first by an American artist to be bought by the French government. Mosler characterized art as his spiritual relationship in a 1910 Federation Review article: "I am an eternal worshipper of the Creator. When I transfer a beautiful model to the canvas, I am engaged in an act of divine worship."
A number of twentieth-century Jewish artists similarly see their art as deriving from a divine source. Color field painter and sculptor Jules Olitski, who as a boy had rabbinical aspirations but with the atrocities of the Holocaust, as he put it, "stopped believing in the God of my ancestors," still felt that his creativity drew from a "divine source." Abstract expressionist Lee Krasner alleged that art may have acted as a replacement for the religion of her youth: "It is possible that what I found later on—art—would be a substitute for what religion had been for me earlier." Max Weber, who painted dozens of Jewish subjects, notably many rabbis studying and at prayer, viewed his art as his religion, claiming, "my studio is my synagogue." Abraham Rattner specifically felt that God's presence influenced his art. As he commented in 1949, "a painting, if it is achieved at all, is made with the help of God. . . . I would recommend to those who desire to be initiated into the Temple to consider that art belongs to the spirit, and partakes of the nature of religion." Whether one believes in the idea of art as a substitute for religion—which T. J. Clark calls "self-satisfied Leftist clap-trap"—the point is that these artists, practicing Jews at one point or another, talked about their art as replacing a tradition of four millennia. Olitski, whose work only rarely indicates that he is Jewish or was even religious at one time, exemplifies the strong belief in Jewish tradition that permeated the lives of many American Jews of his generation. In a 1985 essay, Olitski consistently returned to God and scripture, recalling that at age eleven he was preoccupied with the Bible and harbored clerical ambitions: "The book I was reading and had been reading night after night while my parents and brothers slept was the Old Testament. . . . My belief in the God of the Old Testament was absolute. I dreamed of becoming a rabbi when I grew up."
A plurality of methodological tools—social history, psychobiography, formal analysis, iconology, postcolonial theory, Jewish studies perspectives, and poststructuralism—inform this book. Some of these methods may seem at times to oppose others, but I believe that each contributes to a better understanding of the art in question. Significantly, to use art history's nomenclature, I do not engage in "art-for-art's-sake" interpretations (I make no judgments on the art described by this phrase). My analyses are not abstract expressions (again, no judgment of the art is implied) created on my canvas (paper) for the sole purpose of exploring the medium (words) or the craft (art historical analysis). Instead, my arguments are frequently positioned in traditional art historical techniques that closely parse the visual dimensions, while also keeping in mind that half of art history's name is history. Simultaneously, I engage occasionally in speculation driven by the interdisciplinary nature of my project and by awareness that an author cannot help but sometimes make meaning by the very act of interpretation. However, I take care to reconstruct rather than reconfigure. In essence, the methodologies I employ make me a skeptical humanist—humanist and humanism being terms frequently adopted by Jewish artists who established their reputations in the 1930s and subsequently saw their art degraded by critics for retaining the narrative element. For artists like Levine, humanism in art implied a regard for representing the human condition and the dignity and emotional lives of human beings, or, after World War II and the advent of abstract expressionism, for using representational content in general. My use of the word indicates a solid grounding in the artist's work, life, and times, rejecting in its extreme form the Barthean concept of the death of the author.
Thus, for me, the art takes precedence, and it is first and foremost the visual that guides my approach and mandates the structure of my investigations in a reciprocal relationship. The meanings I confer on the images are based on deeply considered questions that I hope will elucidate the artworks, the historical period, and the artists, while revealing the varied uses and influence of the Bible by twentieth-century Jewish Americans. The ensuing pages therefore rely on historical specificity and visual analysis, even as I generate my own narration on the works according to an acknowledged skepticism. In this application of poststructuralism, the space that opens up between the signifier and the signified is filled not solely with man/woman, or with skepticism, but with both. One could call my interpretative dialogues "socionarratives" or "religiocultural narratives." While poststructural ideals drawing on myriad fields that expand analyses isolated by Saussurean influence have particularly affected our assessment of canonical imagery, I focus on lesser-known artworks by canonical artists. As such, each of the five chapters that follow examines a different artist's biblical imagery in the context of the time. All five chapters are united by the theme of midrash, and they complement one another, but they may be read independently as studies of individual artists. In each chapter, which concentrates on a single artist and work of art or group of related works, a tripartite construction links the artist, the art, and the cultural and historical circumstances of production. By allowing several methods to pervade this dialogue, I hope to illuminate a larger phenomenon: the intersection of twentieth-century Jewish American biblical art; five artists, Levine, Segal, Flack, Rivers, and Kitaj; and even a scholar, Samantha Baskind.
One more word about my approach, specifically my use of biography. Although many postmodern scholars have shunned biography, several recent award-winning books on American art have been partially rooted in the artists' private lives. Sarah Burns (College Art Association's Charles Rufus Morey Award for best art history book of the year) and Wanda Corn (Smithsonian American Art Museum's Charles C. Eldredge Prize for best American art history book) both use biography as one tool among others to flesh out the meanings of the art under consideration. As Corn muses eloquently, "It seems to me that if the art historian can decode a work of art as a cultural text, she can do the same with the life of the artist; and the results often shed light on each other. The artist's ways of being in the world often help us see something in the art work that we might otherwise miss." Writing this book without reference to biography would feel empty to me, for it is the artists' strong personal attachment to their heritage that motivated their biblical work during an era that the critic Clement Greenberg characterized as one that must stay "uninflated by illegitimate content—no religion or mysticism." Nevertheless, significant questions arise, given that aging, nostalgic artists made some of the comments transcribed here. Too, observations about their art or motives may have been deliberately or unconsciously omitted or imagined. Some artists may have decided to write certain words or speak about themselves in such a way as to manipulate their public image. Even so, I find biography an essential resource for reading art, yet I simultaneously remind myself, using the words of autobiographical theorist John Sturrock, to "distinguish the dance from the dancer."
In the new century, the two artists at the core of this study, Levine and Flack, whom I had the great pleasure of interviewing and spending time with, remained interested in biblical subjects in a country that never really embraced biblical art, and continued working representationally throughout the years of nonobjective art and, now, postmodern developments. In 1956 Levine remarked, "I'm a Jew of the American seaboard, looking east. . . . That has affected the subject matter as well as the style of my painting." No doubt, as Jews in twentieth-century America, these artists were affected by life in the Diaspora, and biblical imagery became one visual manifestation of their experience of assimilation and the secular world. To wit, the biblical imagery investigated herein delineates modernity in its complexities and complications and demonstrates a broader range of American art.
Mailing List
Subscribe to our mailing list and be notified about new titles, journals and catalogs.