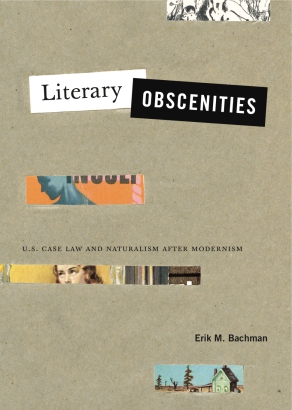 Literary Obscenities
U.S. Case Law and Naturalism after Modernism
Erik M. Bachman
BUY
Literary Obscenities
U.S. Case Law and Naturalism after Modernism
Erik M. Bachman
"A profound reassessment not only of American censorship issues, Literary Obscenities joins the current rethinking of modernist studies, particularly in terms of the paperback revolution and its long-term cultural impact. This welcome addition to the ongoing discourse in legal studies, book history, cultural studies, and the philosophy of modernism is cause for celebration. Bachman's well-researched, acutely insightful, accessibly written study will take its place alongside Marjorie Heins's Not in Front of the Children as a staple in university courses."
Unlocked

Description

Reviews

Bio

Sample Chapters

Subjects
An Open Access edition of Literary Obscenities is available through PSU Press Unlocked. To access this free electronic edition click here. Print editions are also available.
This comparative historical study explores the broad sociocultural factors at play in the relationships among U.S. obscenity laws and literary modernism and naturalism in the early twentieth century. Putting obscenity case law's crisis of legitimation and modernism's crisis of representation into dialogue, Erik Bachman shows how obscenity trials and other attempts to suppress allegedly vulgar writing in the United States affected a wide-ranging debate about the power of the printed word to incite emotion and shape behavior.

Far from seeking simply to transgress cultural norms or sexual boundaries, Bachman argues, proscribed authors such as Wyndham Lewis, Erskine Caldwell, Lillian Smith, and James T. Farrell refigured the capacity of writing to evoke the obscene so that readers might become aware of the social processes by which they were being turned into mass consumers, voyeurs, and racialized subjects. Through such efforts, these writers participated in debates about the libidinal efficacy of language with a range of contemporaries, from behavioral psychologists and advertising executives to book cover illustrators, magazine publishers, civil rights activists, and judges.

Focusing on case law and the social circumstances informing it,
Literary Obscenities
provides an alternative conceptual framework for understanding obscenity's subjugation of human bodies, desires, and identities to abstract social forces. It will appeal especially to scholars of American literature, American studies, and U.S. legal history.
"A profound reassessment not only of American censorship issues, Literary Obscenities joins the current rethinking of modernist studies, particularly in terms of the paperback revolution and its long-term cultural impact. This welcome addition to the ongoing discourse in legal studies, book history, cultural studies, and the philosophy of modernism is cause for celebration. Bachman's well-researched, acutely insightful, accessibly written study will take its place alongside Marjorie Heins's Not in Front of the Children as a staple in university courses."
"Provides a historical framework and literary context for perhaps better understanding modern, printed-words-only obscenity prosecutions and why they are now so rare."
"[Bachman] offers a historical perspective on modernism and literary naturalism and shrewdly covers the relationship between what is on the page and how readers respond to it."
Erik M. Bachman is Lecturer of Literature at the University of California, Santa Cruz and coeditor of the Lukács Library at Brill.
Mailing List
Subscribe to our mailing list and be notified about new titles, journals and catalogs.