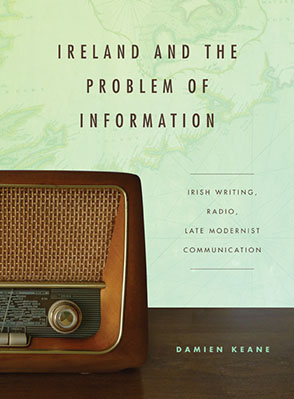 Ireland and the Problem of Information
Irish Writing, Radio, Late Modernist Communication
Damien Keane
BUY
Ireland and the Problem of Information
Irish Writing, Radio, Late Modernist Communication
Damien Keane
"Ireland and the Problem of Information boldly reconstellates late modernism, wartime propaganda, radio and sound recording, and post-independence Irish culture. Damien Keane clears the period of received narratives about modernist formal innovation and the auratic voice. In their place he sets up a cultural field in which social knowledge is produced—and, increasingly, knows itself to be produced—through dispersed, often agonistic processes of mediation. Far from being a belated entrant into this moment, the Irish cultural field emerges here as its advance guard, 'an early indicator of the antagonistic cooperation that has since come more generally to structure the cultural field of the "information age."' This is a rigorously researched book, reflecting Keane's deep fascination with his subject."
Media

Description

Reviews

Bio

Table of Contents

Sample Chapters

Subjects
Though the work of Irish writers has been paramount in conventional accounts of literary modernism, Ireland itself only rarely occupies a meaningful position in accounts of modernism's historical trajectory. With an itinerary moving not simply among Dublin, Belfast, and London but also Paris, New York, Addis Ababa, Rome, Berlin, Geneva, and the world's radio receivers, Ireland and the Problem of Information examines the pivotal mediations through which social knowledge was produced in the mid-twentieth century. Organized as a series of cross-fading case studies, the book argues that an expanded sphere of Irish cultural production should be read as much for what it indicates about practices of intermedial circulation and their consequences as for what it reveals about Irish writing around the time of the Second World War. In this way, it positions the "problem of information" as, first and foremost, an international predicament, but one with particular national implications for the Irish field.
"Ireland and the Problem of Information boldly reconstellates late modernism, wartime propaganda, radio and sound recording, and post-independence Irish culture. Damien Keane clears the period of received narratives about modernist formal innovation and the auratic voice. In their place he sets up a cultural field in which social knowledge is produced—and, increasingly, knows itself to be produced—through dispersed, often agonistic processes of mediation. Far from being a belated entrant into this moment, the Irish cultural field emerges here as its advance guard, 'an early indicator of the antagonistic cooperation that has since come more generally to structure the cultural field of the "information age."' This is a rigorously researched book, reflecting Keane's deep fascination with his subject."
"In Ireland and the Problem of Information, Damien Keane uses his pioneering intelligence and crackling wit to explore new territories carved out from the known spaces of Irish literature, circum-Atlantic culture, and sound studies. Tuned to markets and networks rather than 'myths and symbols,' the book gives us a fresh model of Irish modernism and extends that field's boundaries to include the Irish Republic's place in a global mediascape. Keane has done the archival legwork necessary to establish a literary, legal, and social prehistory of the digital age framed against the entire historical arc of the Irish Atlantic. In his hands, for example, Beckett's mature fiction stands out as a meditation not on individual consciousness in the nuclear age but on the circulation and electrification of social knowledge in the epoch of mass media. Just as provocatively, Keane rereads the highly coded style of Irish modernism, rooting it not in the individual or atavistic genius of Yeats, Joyce, and company, but in the peculiarly intense culture of secrecy attached to church, army, and state in the Irish colony and the Irish Republic. For readers who want to know what Irish studies or modernist studies can do once they finally detach from their shopworn rosters of great works and plunge fully into transnational, mixed-media histories of culture, this is the book to read."
"Theoretically sophisticated, solidly grounded in archival work, and entertainingly cantankerous, Damien Keane's Ireland and the Problem of Information serves as both an important intervention in Irish studies and the next necessary step in the recasting of modernist studies through the lens of media."
"Each chapter of Ireland and the Problem of Information is meticulously researched. Every page is written with brio and wry humor. This book extends the boundaries of current studies in Irish literature by locating texts within a transnational, acoustic, and enhanced field of cultural production."
"Damien Keane's beautifully crafted Ireland and the Problem of Information captures some of the staticky buzz of transnational intersecting writings and radio transmissions in the mid-twentieth century. He traces, often brilliantly, how events and situations change their meanings as they cross borders, complicating our understanding of the causality of transference of information."
Damien Keane is Associate Professor of English at the University at Buffalo.
Table of Contents
Acknowledgements
Introduction: The Problem of Information
1. The Remediation of Waves
The Crisis of Internationalism
Ensemble and Microphone
Auratic Listener and Fascist Violin
2. Dirty Work in New York
The Fourth Point
Going Forth
Books of the Hour
3. The Irish Free Zone
Silence
Stillness
Secrets
4. Radio Pages
On the Page
On the Air
On the Line
Conclusion: Compression and Cross-fade
Texts for Something
Vinyl for Nothing
Notes
Bibliography
Index
Mailing List
Subscribe to our mailing list and be notified about new titles, journals and catalogs.