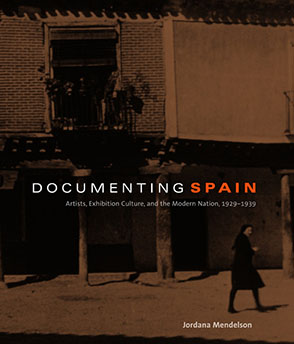 Documenting Spain
Artists, Exhibition Culture, and the Modern Nation, 1929–1939
Jordana Mendelson
Buy
Documenting Spain
Artists, Exhibition Culture, and the Modern Nation, 1929–1939
Jordana Mendelson
"Instead of isolating artists such as Buñuel and Dalí from the political contexts in which they produced their work, Mendelson studies the role these and other artists played in negotiating Spanish modernity and in conventional thinking about family and nation, rural and urban Spain, Republican and Fascist ideology."
Media

Description

Reviews

Bio

Table of Contents

Sample Chapters

Subjects
Winner of the 2007 Eleanor Tufts Book Award sponsored by the American Society for Hispanic Art Historical Studies. Shortlisted for the 2006 Modernist Studies Association Book Prize
The news media have given us potent demonstrations of the ambiguity of ostensibly truthful representations of public events. Jordana Mendelson uses this ambiguity as a framework for the study of Spanish visual culture from 1929 to 1939—a decade marked, on the one hand, by dictatorship, civil war, and Franco's rise to power and, on the other, by a surge in the production of documentaries of various types, from films and photographs to international exhibitions.
Mendelson begins with an examination of El Pueblo Español, a model Spanish village featured at the 1929 International Exposition in Barcelona. She then discusses Buñuel's and Dalí's documentary films, relating them not only to French Surrealism but also to issues of rural tradition in the formation of regional and national identities. Her highly original book concludes with a discussion of the 1937 Spanish Pavilion, where Picasso's famed painting of the Fascist bombing of a Basque town—Guernica—was exhibited along with monumental photomurals by Josep Renau.
Based upon years of archival research, Mendelson's book opens a new perspective on the cultural politics of a turbulent era in modern Spain. It explores the little-known yet rich intersection between avant-garde artists and government institutions. It shows as well the surprising extent to which Spanish modernity was fashioned through dialogue between the seemingly opposed fields of urban and rural, fine art, and mass culture.
"Instead of isolating artists such as Buñuel and Dalí from the political contexts in which they produced their work, Mendelson studies the role these and other artists played in negotiating Spanish modernity and in conventional thinking about family and nation, rural and urban Spain, Republican and Fascist ideology."
"This is a major study that I would expect to become a classic. The Spanish documentary practices chosen for analysis are all related to exhibition culture in some way but also to ethnographic studies in Spain at the time, which in turn provide crucial information about attitudes toward Spain's relation to modernity and its 'usable past.'"
"Mendelson's well-documented study sees this cultural phenomenon . . . as a recognition of the country's modernity, or what modernity might have looked like in the Spain of the 1930s. . . . Smart, original, and well written, this book gives us a fresh view of artistic (documentary) activity during one of Spain's most intense and troubled times."
"Documenting Spain is an admirable book, enhanced by the gorgeous presentation afforded by its publisher. Mendelson proves that daring cultural analysis can, in fact, coexist with rich empirical research."
Jordana Mendelson is Associate Professor in the Department of Spanish and Portuguese at New York University, and co-editor of Postcards: Ephemeral Histories of Modernity (Penn State, 2010).
Contents
List of Illustrations
Acknowledgments
Introduction
1. El Poble Espanyol/El Pueblo Español (1929)
2 From Dalí's "Documental-París—1929" to Buñuel's Untitled (Eating Sea Urchins) (1930)
3. Las Hurdes: Land Without Bread (1933)
4. The Misiones Pedagógicas and Other Documentary Excursions
5. Josep Renau and the 1937 Spanish Pavilion in Paris
6. Salvador Dalí's Le Mythe Tragique de l'Angélus de Millet (1932–38/1963)
Epilogue
Bibliography
Index
Introduction
Documentary reached a peak during the late 1920s to late 1930s in Spain. In 1931, an article in the Catalan literary magazine Mirador put the situation into perspective: "Neither the word document nor that which it expresses are new, for sure, but never as right now have we heard it spoken of so frequently." Made and displayed with the latest representational technologies (photography, film, and large-scale exhibitions), documentary images, especially in mass media, became a symbol in Spain of modernity. By using documentary style in their work, Spanish artists and writers connected their depictions of local issues to international trends in the visual arts. Documents, made using a documentary style and others that were seen to be innocent of intentionality, were also, at the same time, synonymous with tradition, time capsules of history. During the early twentieth century, taking stock of heritage played an instrumental role in public policy and reform in Spain. Individuals and state agencies perceived photographic and cinematic documents as the building blocks of collective memory. The widespread dialogue about visual documents was linked to larger debates about the production and conservation of patrimony. In the Spanish state, where the question of national identities, especially Catalan, Basque, and Castilian, played a critical role in establishing and contesting political and social practice, documentary took on added importance in providing evidence for cultural, linguistic, and geographic differences and/or similarities.
Editorials written by the directors of prominent newspapers and manifestos penned by Spain's leading artist-provocateurs joined with numerous other anonymous and signed texts to create a dialogue in the press about the production, distribution, and reutilization of documentary images. In 1930, for example, the Barcelona newspaper La Publicitat featured an article by its director, historian and politician Nicolau d'Olwer, in which he observed that documents were neither necessarily authentic nor truthful. For him, the introduction of photography offered no better assurances, because the photographic laboratory allowed for all kinds of hoaxes and manipulations. He concluded that the problem for history was how documents should be evaluated, even more than whether or not something should be documented. D'Olwer suggested that the rigorous evaluation of documents should be based on a comparative system that relied on information both within and outside the visual field. In short, for d'Olwer no document existed independently of its social, political, and cultural context. In Valencia's La Semana Gráfica one year later, Francisco Caravaca countered: "Documents are faithful data, tradition written from past facts, . . . a truthful text that at every moment should constitute an extremely valuable auxiliary for historical reconstruction." Caravaca pleaded with his readers to see film as a particularly useful tool for capturing and conserving the historical record: "Doesn't the reader believe that it would be interesting for governments to create film archives . . . ?" He understood the document to hold an inherent truth in its ability to witness history objectively: "An archive of this kind would eliminate in the future many doubts, those great doubts that have brought about famous controversies between nations." In Caravaca's depository, history is easily retrieved and recreated.
While d'Olwer and Caravaca debated the authenticity of the consciously created or conserved document and its ability to accurately represent the world, other critics attended to the document's more subjective characteristics. In 1932, an unsigned editorial in La Publicitat opined: "The document is not produced, it is found. The art of the document is an art of intuition, a glance." This evaluation is striking. It gives the status of the document over to the observer, who happens on it without intention but has the power to turn the object or representation into something that others will consider authentic. Joan Sacs, a leading critic of modern art, reacted negatively to this aspect of the document's subjectivity. In an article written for Mirador, Sacs argued that documentary style was as difficult to understand as the most radical innovations in modern art, and just as elitist. He complained, "Artists and amateurs of avant-garde art, dadaists, superrealists, subidealists and autorealists, are precisely those men . . . most enthusiastic about documentary film and photography, [even though] ordinary people detest [these] films and photographs because they do not understand them."
Contrary to Sacs's assertion, the sheer quantity of documentary photographs and newsreels produced and distributed in Spain during this period indicates that a significant number of ordinary readers and viewers were in contact with these images on a regular basis. Documentary became a kind of social and artistic equalizer, a form of representation shared by the avant-garde and the masses. As cohabitants of the modern world, both elite and nonelite viewers alike were drawn to the immediacy that documentary offered. Molly Nesbit has observed that "avant-garde photographers built their photographs out of the most common of formal materials, the document, and did so because they needed to keep up with its modernity, to criticize it and to surpass it." Whether or not, and how, the Spanish avant-garde may have criticized and surpassed the common life of the document, especially its institutional and commercialized forms, is a critical question that needs to be explored in order to understand the role of mass media in Spain during the 1930s.
One key to explaining the popularity of documentaries is to return to the editorial that opened this Introduction. Probably written by Joan Cortès, the article explores the possible reasons for the widespread embrace of documentary film. Why, despite busy days and the crushing demands of modern life, were Catalans sitting through entire sessions of documentaries at their local theaters? According to Cortès, moviegoers were drawn to the appeal of the exotic, which he illustrated in the article with a photograph from a documentary film about Africa (fig. 1.). His choice of image is important; it brings together complex issues of representation, technology, and imperialism that haunted the discourse on documentaries throughout this period. In Spain, the relationship between modernity and colonialism was especially complex, and it was tied to the nation's colonial defeats as well as its long-standing reputation as Europe's Other from within. For many, Spain's relationship with Africa was what differentiated Spain from the rest of Europe. For Spanish artists and intellectuals, the historical connections with Africa reached deep into the nation's cultural, linguistic, and artistic heritage, causing both fascination and denial. In 1898, Spain had lost her colonies in Cuba and the Philippines after defeat in the Spanish-American War. In the early twentieth century, the government launched a military campaign in Morocco that resulted in the occupation of the northern part of the country by Spain until 1956. While establishing a presence in Africa ensured that Spain would maintain its reputation as an imperial power, the "disaster" of 1898, and the unrest caused by the war in Morocco, fueled debates about the attitude Spain should take toward modernity and the rest of Europe. In the arenas of politics, literature, and the arts, these colonial crises still resonated in the ideas and images of the 1920s and 1930s. Thus, documentary films and photographs of the Other in Spain were fraught with implications about the self and the nation.
Overdetermined meanings, like those carried by this one photograph, are typical of the way documentary functioned during the 1930s. Visual and textual documents were never simply records, but screens onto which individuals projected their desires, fears, and identities. The exotic, whether located outside the nation's borders, in the countryside, or in the marginal zones of the city, was made accessible through mass media like film and photography. What caught the attention of the general public and artists alike was that, for all its ideological complexity, the document was seen to be stylistically simple and objective. As Cortès asserted, documentary allowed viewers to "see everything with their own eyes, with a minimum of cost and a minimum of discomfort. . . . [Viewers] would much prefer the authentic document, even if it was poorly composed, to all of the deluxe idiocy of a cinematic operetta."
The diversity of positions taken by Spain's writers indicates a fundamental aspect of the modern document. Documentary images were enlisted by institutions for the authentication of history and embraced by the avant-garde as a challenge to these same institutional claims. This book takes the document's paradox as a central problem in the history of modernity, one that fundamentally shifted the terms of the modern from artistic autonomy and rebellion to relationships and potential dissidence. When reexamined in light of the document's paradox, Spain, which has conventionally been understood as an exception to the forward march of modernity, proves itself to be at the forefront of modernist debates on the politics of form. It is in Spain, perhaps more than any other country, where the discourse on documents shaped the relationships that artists and intellectuals established between national realities and modern ambitions. Unlike other national contexts where the terms document and documentary may have been differentiated—document being a generic term, while documentary was ascribed to a particular mode of writing and image making —in Spain, documento and documental were used almost interchangeably among artists and critics.
The form and subject matter of documentary during this period cannot be separated from concurrent debates in the arts, literature, social science, and political theory. Spain was driven by its largely rural economy well into the twentieth century. The everyman, who visited his local theater to watch documentaries, and the politician, who reviewed official publications of government projects with photographic illustrations, shared a bank of images that were created by artists from the cities of rural inhabitants for readers and viewers in both the city and the countryside. Documentary became the visual means through which connections were forged between the center and the periphery, both within and outside of the nation's borders. During these encounters, those from the cities introduced the most advanced technologies in mechanical reproduction (photography, film, and the phonograph) to rural inhabitants, while using these same devices to record the Spain's traditions, customs, and dress. As a result, the encounter itself became a recurring motif. How these moments of contact were framed, and the conditions that generated them, are central to interpreting the role that documents played in shaping public policy and artists' projects.
Mailing List
Subscribe to our mailing list and be notified about new titles, journals and catalogs.