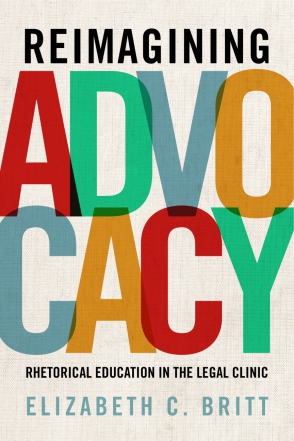 Reimagining Advocacy
Rhetorical Education in the Legal Clinic
Elizabeth C. Britt
BUY
Reimagining Advocacy
Rhetorical Education in the Legal Clinic
Elizabeth C. Britt
"There is so much to recommend about Britt's excellent new book, but the aspect of this book that must not be lost is its emergence out of the author's dedication to exploring the lived and material possibilities of rhetorical education in the twenty-first century. May we answer her call in law schools and rhetoric programs both."
Description

Reviews

Bio

Table of Contents

Sample Chapters

Subjects
Domestic violence accounts for approximately one-fifth of all violent crime in the United States and is among the most difficult issues confronting professionals in the legal and criminal justice systems. In this volume, Elizabeth Britt argues that learning embodied advocacy—a practice that results from an expanded understanding of expertise based on lived experience—and adopting it in legal settings can directly and tangibly help victims of abuse.
Focusing on clinical legal education at the Domestic Violence Institute at the Northeastern University School of Law, Britt takes a case-study approach to illuminate how challenging the context, aims, and forms of advocacy traditionally embraced in the U.S. legal system produces better support for victims of domestic violence. She analyzes a wide range of materials and practices, including the pedagogy of law school training programs, interviews with advocates, and narratives written by students in the emergency department, and looks closely at the forms of rhetorical education through which students assimilate advocacy practices. By examining how students learn to listen actively to clients and to recognize that clients have the right and ability to make decisions for themselves, Britt shows that rhetorical education can succeed in producing legal professionals with the inclination and capacity to engage others whose values and experiences diverge from their own.
By investigating the deep relationship between legal education and rhetorical education, Reimagining Advocacy calls for conversations and action that will improve advocacy for others, especially for victims of domestic violence seeking assistance from legal professionals.
"There is so much to recommend about Britt's excellent new book, but the aspect of this book that must not be lost is its emergence out of the author's dedication to exploring the lived and material possibilities of rhetorical education in the twenty-first century. May we answer her call in law schools and rhetoric programs both."
"Overall, Elizabeth C. Britt's Reimagining Advocacy is an exceptionally important text to contemporary rhetorical studies."
"Elizabeth Britt's book shows us that lawyers are rhetorical agents, a connection that has been diminished over time. Her study of 'embodied advocacies' can help lawyers think more broadly about what advocacy means."
"A really powerful book. Reimaging Advocacy makes a strong and sustained case for intervening in calcified systems of gendered abuse. This text is well supported and provides a great deal of richness by weaving together interviews and vivid reflections about a system that is all too often broken for the victims most in need. Importantly, Britt doesn't succumb to the cynicism that is so in vogue in academic scholarship; instead, she does the hard work of producing creative, productive criticism that offers alternative frameworks and practices for aiding victims of abuse."
Elizabeth C. Britt is Associate Professor of English at Northeastern University. She is the author of Conceiving Normalcy: Rhetoric, Law, and the Double Binds of Infertility.
Contents
Preface
Acknowledgments
Introduction: Bodies, Perspectives, Advocacies
1. Attitudes toward Advocacy
2. At the Law School: Learning to Recognize the Expertise of Others
3. At the Hospital: Learning to Defer to Others
4. At the Courthouse: Learning to Support the Rhetorical Work of Others
Conclusion: Lessons
Appendix A: Research Methods
Appendix B: Interview Participants
Notes
Bibliography
Index
Mailing List
Subscribe to our mailing list and be notified about new titles, journals and catalogs.