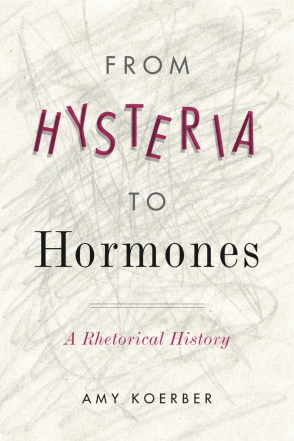 From Hysteria to Hormones
A Rhetorical History
Amy Koerber
BUY
From Hysteria to Hormones
A Rhetorical History
Amy Koerber
"Koerber challenges the view of medical discovery and practice as an ever-ascendant trajectory, invoking instead the philosophical concept of topological time as a nonlinear folding and twisting of expert and popular concepts of biology and behavior. Recommended."
Description

Reviews

Bio

Table of Contents

Sample Chapters

Subjects
In
From Hysteria to Hormones
, Amy Koerber
examines the rhetorical activity that preceded the early twentieth-century emergence of the word
hormone
and the impact of this word on expert understandings of women's health.

Shortly after Ernest Henry Starling coined the term "hormone" in 1905, hormones began to provide a chemical explanation for bodily phenomena that were previously understood in terms of "wandering wombs," humors, energies, and balance. In this study, Koerber posits that the discovery of hormones was not so much a revolution as an exigency that required old ways of thinking to be twisted, reshaped, and transformed to fit more scientific turn-of-the-century expectations of medical practices. She engages with texts from a wide array of medical and social scientific subdisciplines; with material from medical archives, including patient charts, handwritten notes, and photographs from the Salpêtrière Hospital, where Dr. Jean Charcot treated hundreds of hysteria patients in the late nineteenth century; and with current rhetorical theoretical approaches to the study of health and medicine. In doing so, Koerber shows that the boundary between older, nonscientific ways of understanding women's bodies and newer, scientific understandings is much murkier than we might expect.

A clarifying examination of how the term "hormones" preserves key concepts that have framed our understanding of women's bodies from ancient times to the present, this innovative book illuminates the ways in which the words we use today to discuss female reproductive health aren't nearly as scientifically accurate or socially progressive as believed. Scholars of rhetoric, gender studies, and women's health will find Koerber's work provocative and valuable.
"Koerber challenges the view of medical discovery and practice as an ever-ascendant trajectory, invoking instead the philosophical concept of topological time as a nonlinear folding and twisting of expert and popular concepts of biology and behavior. Recommended."
"Through careful dissection of the established rhetorical history of women's reproductive health breakthroughs in medicine, Koerber develops a rhetorical topology that rhetoricians of science and medicine will find methodologically useful as they interrogate the unique rhetorical exigences of science and medicine."
"Another valuable entry in the growing area of rhetorical history of medical rhetorics."
"In situating the science of women's 'hormones' in the deep history of 'hysteria,' Koerber refutes any reductive tales of linear scientific progress. From Hysteria to Hormones shows not only that 'science moves in many directions all at once,' but also how some of those movements produce novelty that reconstructs old ideas in order to keep them lively. Scholars interested in feminism, science studies, and rhetoric will find this a vivid, provocative, and creative analysis."
"From Hysteria to Hormones offers the reader a series of close rhetorical readings of medical history, revealing turbulent and uneven transformations in perceptions of women's bodies across centuries. Utilizing Michel Serres's theory of time as topological, Amy Koerber interleaves rhetorical concepts in an analysis that begins with Hippocrates and ends with 'pregnancy brain.' Throughout, she carefully demonstrates that relying on hormonal explanations for women's behavior is not all that different from talking about wandering wombs."
"A wide-ranging and innovative book that upends the story that hormone discovery marked a break with outmoded knowledge about women's bodies, arguing instead that hormone research required rhetorical reinvestment in old notions of hysteria. Employing Michel Serres's concept of topology, Koerber conducts a nuanced, multimodal analysis of key moments in the historic reworking of hysteria into hormones. Eschewing a linear approach, she examines ways that the history of medical discourse about women's bodies has looped and twisted back on itself as opposed to 'advancing.' Readers interested in the history of medical discourses about women or about rhetorical methods of historiography will find much to appreciate."
"Koerber expands our knowledge of theories of women's bodies and behaviors, while she deepens our understanding of what it means to write rhetorical history. With strong documentary evidence and brilliant 'rhetorical-topological' analysis, she reveals that ancient and contemporary accounts of women's health are more alike than we might think. In the growing field of rhetoric of health and medicine, and in science and technology studies more generally, Amy Koerber is the real thing."
"Steeped in rich primary sources and evocative analysis, Amy Koerber's From Hysteria to Hormones re-envisions the history of women's health by demonstrating how the discovery of hormones did not so much revolutionize science and medicine as it created an exigency for reinscribing long-held arguments grounded, often, in misogyny and myth. Koerber's book is at the forefront of scholarship in the rhetoric of science, technology, and medicine, and is not to be missed by students of rhetorical history."
"By way of meticulously researched and analyzed rhetorical artifacts, From Hysteria to Hormones documents in compelling fashion how earlier ideas of biological difference and inferiority are never fully abandoned but in fact inform and animate later scientific theories, including those in circulation today. Even more, this important book theorizes these conceptual processes as thoroughly rhetorical and therefore also historical and contingent. For those interested in understanding both the limits to, and possibilities for, a non-normative, feminist language of sexual difference, this book is indispensable reading."
Amy Koerber is Professor in Communication Studies and Associate Dean for Faculty Success in the College of Media and Communication at Texas Tech University. Her book Breast or Bottle: Contemporary Controversies in Infant-Feeding Policy and Practice was awarded the 2015 Conference on College Composition and Communication Award in the category of Best Book in Technical or Scientific Communication.
Contents
List of Illustrations
Preface
Acknowledgments
1. Hormones and Hysteria: A Rhetorical Topology
2. Hysteria from Ancient Texts until the Nineteenth Century: The Womb as Topological Space 3. Charcot's Circus: Nineteenth-Century Science of Hysteria as a Moment of Stasis
4. Stasis Unsettled: The Early Twentieth-Century Rise of Endocrinology
5. Topology of Sex Difference: A Long History of Men Saying Outrageous Things about Women's Reproductive Organs
6. Illuminating Women: Metaphor and Movement after Centuries of "Groping in the Dark"
7. This Is Your [Female] Brain on Hormones: Enthymeme in Contemporary Discourse
8. From Hysteria to Hormones
Notes
Bibliography
Index
Mailing List
Subscribe to our mailing list and be notified about new titles, journals and catalogs.