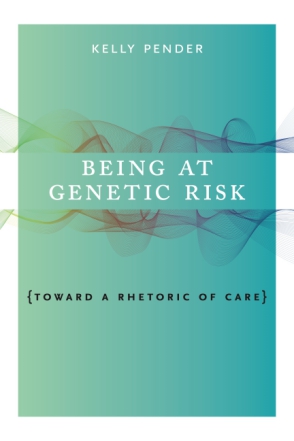 Being at Genetic Risk
Toward a Rhetoric of Care
Kelly Pender
BUY
Being at Genetic Risk
Toward a Rhetoric of Care
Kelly Pender
"This book is groundbreaking, not only for scholars interested in women's health, or health or science studies more generally, but also for rhetorical scholars and (post)humanists."
Description

Reviews

Bio

Table of Contents

Sample Chapters

Subjects
Rhetorics of choice have dominated the biosocial discourses surrounding BRCA risk for decades, telling women at genetic risk for breast and ovarian cancers that they are free to choose how (and whether) to deal with their risk. Critics argue that women at genetic risk are, in fact, not free to choose but rather are forced to make particular choices. In
Being at Genetic Risk
, Kelly Pender argues for a change in the conversation around genetic risk that focuses less on choice and more on care.
Being at Genetic Risk offers a new set of conceptual starting points for understanding what is at stake with a BRCA diagnosis and what the focus on choice obstructs from view. Through a praxiographic reading of the medical practices associated with BRCA risk, Pender's analysis shows that genetic risk is not just something BRCA+ women know, but also something that they do. It is through this doing that genetic cancer risk becomes a reality in their lives, one that we can explain but not one that we can explain away.
Well researched and thoughtfully argued, Being at Genetic Risk will be welcomed by scholars of rhetoric and communication, particularly those who work in the rhetoric of science, technology, and medicine, as well as scholars in allied fields who study the social, ethical, and political implications of genetic medicine. Pender's insight will also be of interest to organizations that advocate for those at genetic risk of breast and ovarian cancers.
"This book is groundbreaking, not only for scholars interested in women's health, or health or science studies more generally, but also for rhetorical scholars and (post)humanists."
"Being at Genetic Risk delves deeply into Mol's concept of 'logic of care'; set in the context of the risk of a genetic disease (rather than focusing on patients living with a disease or a difficult-to-define symptom), this adds in significant and interesting ways to the conversation."
Kelly Pender is Associate Professor of English at Virginia Tech. She is the author of Technē, from Neoclassicism to Postmodernism: Understanding Writing as a Useful, Teachable Art.
Contents
Acknowledgments
Introduction
1 Following Mol's Lead: From Diabetes to BRCA Risk
2 From Ideology to Governmentality: A Constructivist View of Genetic Risk
3. Making Risk Real: A Praxiographic Inquiry into Being BRCA+
4. Toward a Rhetoric of Care for the At Risk
Conclusion: Invention in RSTM: Another Moderate
Response to the Two-World Problem
Notes
Bibliography
Index
Mailing List
Subscribe to our mailing list and be notified about new titles, journals and catalogs.