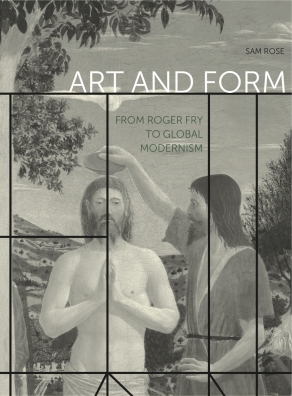 Art and Form
From Roger Fry to Global Modernism
Sam Rose
Buy
Art and Form
From Roger Fry to Global Modernism
Sam Rose
"This book is a gem. It gives the most comprehensive and accessible account of the importance of form in the last hundred years of writing about art. It should be compulsory reading not just for art historians but also for aestheticians and anyone interested in visual culture."
Description

Reviews

Bio

Table of Contents

Subjects
This important new study reevaluates British art writing and the rise of formalism in the visual arts from 1900 to 1939. Taking Roger Fry as his starting point, Sam Rose rethinks how ideas about form influenced modernist culture and the movement's significance to art history today.
In the context of modernism, formalist critics are often thought to be interested in art rather than life, a stance exemplified in their support for abstract works that exclude the world outside. But through careful attention to early twentieth-century connoisseurship, aesthetics, art education, design, and art in colonial Nigeria and India, Rose builds an expanded account of form based on its engagement with the social world. Art and Form thus opens discussions on a range of urgent topics in art writing, from its history and the constructions of high and low culture to the idea of global modernism. Rose demonstrates the true breadth of formalism and shows how it lends a new richness to thought about art and visual culture in the early to mid-twentieth century.
Accessibly written and analytically sophisticated, Art and Form opens exciting new paths of inquiry into the meaning and lasting importance of formalism and its ties to modernism. It will be invaluable for scholars and enthusiasts of art history and visual culture.
"This book is a gem. It gives the most comprehensive and accessible account of the importance of form in the last hundred years of writing about art. It should be compulsory reading not just for art historians but also for aestheticians and anyone interested in visual culture."
"This is an exceptionally wide-ranging and successful study of a central topic in the history of modernism. Rose moves with enviable facility between archival research and historical concerns and a crisply incisive discussion of the status and integrity of the key ideas. The final section, which extends the story outward into new areas, will be an invaluable spur to future research."
"It's time we had a sophisticated account of form in the modern visual arts to replace the crude caricatures that have dominated the literature on so-called modernist formalism. Sam Rose supplies this with precision (in his careful readings of modernist texts that have too often been oversimplified) and imagination (in relating them to wider, sometimes surprising, contexts). Demolishing the notion that formalism must be escapist, he provides a cogent explanation for how the study of the Old Masters could go hand in hand with the theorization of a modern art. This lucidly written book not only challenges preconceptions about formalism but shows why we cannot ignore the question of form in discussions of the visual arts up to and including the present day."
"A brilliant and timely account of aesthetic form and formalism. Debates about form are fundamental to modernism, and indeed to the story of the arts in the twentieth and twenty-first centuries, yet until now we have been lacking a sustained investigation of how this came to be. Art and Form is a great work of art history, and it will also prove indispensable to literary scholars, philosophers, and cultural critics."
"The greatest achievement of Rose's book is to create a strong sense of dialogue among individuals, factions, institutions, and even publications—and to endow this dialogue with a sense of historical duration. Rather than presenting any individual or tradition as isolated or autonomous, Rose helpfully elaborates these views within the dialogue and shows how they are evolving."
"Sam Rose's Art and Form is an illuminating study of the fortunes of form and formalism as guiding concepts in the development of British visual culture from 1910 to 1939 and beyond. Contesting the accretion of simplifications and caricatures that have led to the dominant association of formalism with solipsistic painterliness and even escapism, Rose makes it possible to think again, and anew, about the ethical and political motivations of those who endorsed formal analysis as key to the human and emancipatory potential of art."
"Enjoin[s] us to appreciate the ambitions underpinning formalism and to take pains to understand how it has been caricatured."
Sam Rose is Lecturer in Art History at the University of St. Andrews.
List of Illustrations
Acknowledgments
Introduction
Part One: Art Writing
1. Form and Modernist Aesthetics On or About 1910
2. The Science of Art Criticism After the 1910s
Part Two: Art and Life
3. Mass Civilization and Minority Visual Culture
4. Design Theory and Marxist Art Writing: For and Against Mass Culture
5. Modernism and Form in Africa, Britain, and South Asia
Notes
Bibliography
Index
Mailing List
Subscribe to our mailing list and be notified about new titles, journals and catalogs.