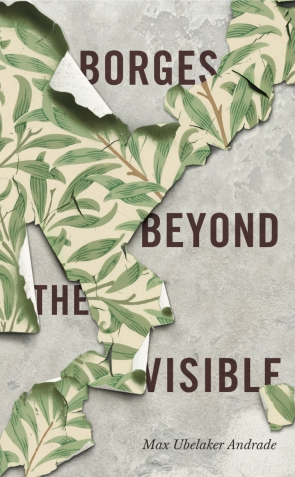 Borges Beyond the Visible
Max Ubelaker Andrade
COMING IN APRIL
Borges Beyond the Visible
Max Ubelaker Andrade
"Borges's ideal reader is, of course, Borges himself. Max Ubelaker Andrade isn't only sharp, knowledgeable, and comprehensive but also passionate—a trait that is surprisingly rare among literary scholars today, so well trained in the art of detached thinking. Ubelaker Andrade not only knows what Borges knew but what he didn't know. He delivers explorations that make the invisible tangible. My advice to the reader of this book is the same Borges often gave: mistrust everything in its pages. It's the only way to come up with your own interpretation. In that task, Ubelaker Andrade will be an astonishing guide."
Description

Reviews

Bio

Subjects
Borges Beyond the Visible
presents radically new readings of some of Jorge Luis Borges's most celebrated stories. Focusing on the tensions between fiction and intimacy, Max Ubelaker Andrade shows how Borges employed his famous intertextual puzzles to create multilayered texts that privately transformed his personal relationships with blindness, sexuality, and suicide while publicly shaping the contours of his literary project.
In readings of "Tlön, Uqbar, Orbis Tertius," "El Aleph," and "El Zahir," Ubelaker Andrade argues that Borges, considering his own impending blindness, borrowed from Islam's prohibitions on visual representation to create a "literary theology" that elevated language and imagination over the visual in fiction while pushing his readers to sense their personal capacity for radical reinvention through literary interpretation. Borges similarly transformed his relationships with sex, sexuality, and family in stories such as "Emma Zunz," "La intrusa," and "El jardín de senderos que se bifurcan." These liberating transformations (and their relationship with the "death" of the reader) are complicated by "La salvación por las obras," a story that reimagines Borges's relationship with a suicidal reader and the woman that they were both connected to. The epilogue presents "Místicos del Islam," an unpublished essay draft of Borges, as a key source of insight into an iconoclastic writing practice that combined irreverence and faith to create contradictory spaces of creativity, intimacy, and freedom.
Clear and accessible, Borges Beyond the Visible is a revelatory examination of the work of one of the most influential authors of the twentieth century that opens up new, exciting areas of inquiry for scholars, students, and readers of Borges.
"Borges's ideal reader is, of course, Borges himself. Max Ubelaker Andrade isn't only sharp, knowledgeable, and comprehensive but also passionate—a trait that is surprisingly rare among literary scholars today, so well trained in the art of detached thinking. Ubelaker Andrade not only knows what Borges knew but what he didn't know. He delivers explorations that make the invisible tangible. My advice to the reader of this book is the same Borges often gave: mistrust everything in its pages. It's the only way to come up with your own interpretation. In that task, Ubelaker Andrade will be an astonishing guide."
"A witty, elegant and erudite book written with contagious passion. What a rewarding read for scholars and general readers!"
Max Ubelaker Andrade is an Assistant Teaching Professor in Latin American Studies at the University of Massachusetts Lowell.
Mailing List
Subscribe to our mailing list and be notified about new titles, journals and catalogs.