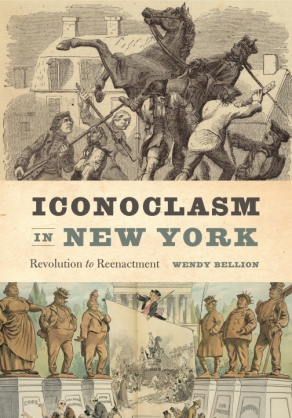 Iconoclasm in New York
Revolution to Reenactment
Wendy Bellion
BUY
Iconoclasm in New York
Revolution to Reenactment
Wendy Bellion
"A triumphant endorsement of the power of objects to act upon the human imagination."
Description

Reviews

Bio

Table of Contents

Sample Chapters

Subjects
King George III will not stay on the ground. Ever since a crowd in New York City toppled his equestrian statue in 1776, burying some of the parts and melting the rest into bullets, the king has been riding back into American culture, raising his gilded head in visual representations and reappearing as fragments. In this book, Wendy Bellion asks why Americans destroyed the statue of George III—and why they keep bringing it back.
Locating the statue's destruction in a transatlantic space of radical protest and material violence—and tracing its resurrection through pictures and performances—Bellion advances a history of American art that looks beyond familiar narratives of paintings and polite spectators to encompass a riotous cast of public sculptures and liberty poles, impassioned crowds and street protests, performative smashings and yearning re-creations. Bellion argues that iconoclasm mobilized a central paradox of the national imaginary: it was at once a destructive phenomenon through which Americans enacted their independence and a creative phenomenon through which they continued to enact British cultural identities.
Persuasive and engaging, Iconoclasm in New York demonstrates how British monuments gave rise to an American creation story. This fascinating cultural history will captivate art historians, specialists in iconoclasm, and general readers interested in American history and New York City.
"A triumphant endorsement of the power of objects to act upon the human imagination."
"A timely study, given recent interest in removing Confederate statuary, this interdisciplinary volume will resonate with readers interested in history as well as those studying public monuments and memory. Highly recommended."
"Bellion investigates many other pockets of American culture in her exploration of iconoclasm and its fractured meanings. The extent of her research is breathtaking, and her agile wit and engaging style keep the reader striding through the text. Somehow her command of theoretical work from a variety of disciplines manages to burnish rather than deaden the text. Eleven color plates and fifty-one black and white illustrations also give the reader plenty of visual material to ponder."
"Vivid and visceral, Iconoclasm in New York weaves a brilliant tapestry of meanings from a moment of ritual violence in 1776 New York. Untangling the paradox of the always-toppling, never-quite-vanquished King George III, Wendy Bellion plumbs a central mystery of American culture. To see the destructive creation of the United States through Bellion's keen eyes is to witness the American Revolution transformed."
"Wendy Bellion has one of the most powerful interpretive voices helping us see what the early United States imagined of itself and for itself. In her new book on the power of destructive acts, she looks closely at the art of destruction, showing us how King George III fell and rose (along with other emblems of monarchy and Great Britain) in a pattern that continues to this day. I'm looking forward to regularly reading, teaching, and thinking through Iconoclasm in New York."
"Bellion's provocative and timely study weaves together the geographic, environmental, political, and sensory landscapes of New York City to create a highly original contribution to scholarship on the American Revolution and its memorialization."
Wendy Bellion is Professor and Sewell C. Biggs Chair of American Art History at the University of Delaware. She is the author of the award-winning Citizen Spectator: Art, Illusion, and Visual Perception in Early National America.
Contents
List of illustrations
Acknowledgements
Introduction
PART I ICONOCLASM: THE EIGHTEENTH CENTURY
1. Idols in America: Liberty Poles
2. The Space of Iconoclasm: Statues
PART II AFTERLIFE: THE NINETEENTH AND TWENTIETH CENTURIES
3. Ruins, Remains, and Relics
4. Performing Iconoclasm
Notes
Bibliography
Index
Mailing List
Subscribe to our mailing list and be notified about new titles, journals and catalogs.