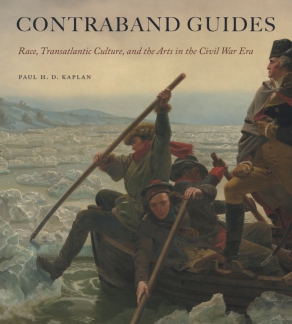 Contraband Guides
Race, Transatlantic Culture, and the Arts in the Civil War Era
Paul H. D. Kaplan
Buy
Contraband Guides
Race, Transatlantic Culture, and the Arts in the Civil War Era
Paul H. D. Kaplan
"Both a creative and a fastidious scholar, Paul Kaplan aims to shed fresh light on the dialogue concerning race, nationalism, and representation. In this well-argued volume, he deftly weaves together travel writing by Americans abroad becoming aware of Africans in Europe; racial representations by the talented mixed-race Louisiana sculptor Eugène Warburg and the German American painter Emanuel Leutze; a dialogue on racial matters between two major intellectuals, Charles Norton and John Ruskin; and the relevance of the Old European Masters whose racial representations made an impact on African Americans."
Description

Reviews

Bio

Table of Contents

Subjects
In his best-selling travel memoir,
The Innocents Abroad
, Mark Twain punningly refers to the black man who introduces him to Venetian Renaissance painting as a "contraband guide," a term coined to describe fugitive slaves who assisted Union armies during the Civil War. By means of this and similar case studies, Paul H. D. Kaplan documents the ways in which American cultural encounters with Europe and its venerable artistic traditions influenced nineteenth-century concepts of race in the United States.
Americans of the Civil War era were struck by the presence of people of color in European art and society, and American artists and authors, both black and white, adapted and transformed European visual material to respond to the particular struggles over the identity of African Americans. Taking up the work of both well- and lesser-known artists and writers—such as the travel writings of Mark Twain and William Dean Howells, the paintings of German American Emanuel Leutze, the epistolary exchange between John Ruskin and Charles Eliot Norton, newspaper essays written by Frederick Douglass and William J. Wilson, and the sculpture of freed slave Eugène Warburg—Kaplan lays bare how racial attitudes expressed in mid-nineteenth-century American art were deeply inflected by European traditions.
By highlighting the contributions people of black African descent made to the fine arts in the United States during this period, along with the ways in which they were represented, Contraband Guides provides a fresh perspective on the theme of race in Civil War–era American art. It will appeal to art historians, to specialists in African American studies and American studies, and to general readers interested in American art and African American history.
"Both a creative and a fastidious scholar, Paul Kaplan aims to shed fresh light on the dialogue concerning race, nationalism, and representation. In this well-argued volume, he deftly weaves together travel writing by Americans abroad becoming aware of Africans in Europe; racial representations by the talented mixed-race Louisiana sculptor Eugène Warburg and the German American painter Emanuel Leutze; a dialogue on racial matters between two major intellectuals, Charles Norton and John Ruskin; and the relevance of the Old European Masters whose racial representations made an impact on African Americans."
"Kaplan bases his analyses on a prodigious amount of research, and the narratives he distills from an impressive array of primary and secondary sources cohere into a history that constitutes a significant contribution to scholarship."
"Brilliantly bringing together sources that are especially revealing counterparts when explored in cultural parallel, this book will be of great interest to those interested in the history of the US and its legacy of racism, as well as in American art and literature of the 19th century."
"Contraband Guides reveals new facets of the transatlantic experiences of both White and Black US artists and travel writers, adding greater complexity to a robust and expanding body of scholarship on the topic."
"The presiding value of Contraband Guides lies in Kaplan's commitment to providing a broad yet very detailed account of the influences on and impacts of the artists he considers. His analysis of Eugène Warburg exemplifies this commitment and should be required reading for scholars working in a wide variety of fields. Indeed, in addition to providing readers with a wide-ranging visual archive, Contraband Guides offers numerous starting points for scholars of nineteenth-century US cultures, visual and otherwise."
Paul H. D. Kaplan is Professor of Art History at Purchase College, SUNY, and the author of The Rise of the Black Magus in Western Art.
List of Illustrations
Acknowledgments
Introduction
1. Representations of People of Color in Nineteenth-Century American Accounts of Italian Travel
2. "A Mulatto Sculptor from New Orleans": Eugène Warburg in Europe, 1853–1859
3. "The Black Man To-day Means Liberty": African American Figures in the Work of Emanuel Leutze
4. "Something American": Art and Slavery in the Correspondence of John Ruskin and Charles Eliot Norton
5. Old Masters: The Western Tradition of the Visual Arts in African American Culture in the Civil War Era
6. Contraband Guide: Mark Twain on Race and the Renaissance 207
Notes 225
Bibliography 257
Index
Mailing List
Subscribe to our mailing list and be notified about new titles, journals and catalogs.