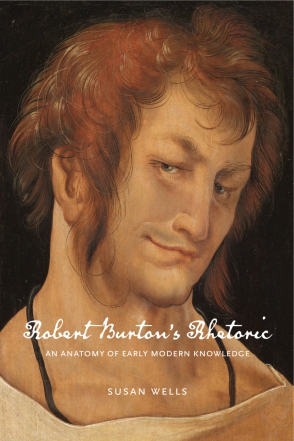 Robert Burton's Rhetoric
An Anatomy of Early Modern Knowledge
Susan Wells
BUY
Robert Burton's Rhetoric
An Anatomy of Early Modern Knowledge
Susan Wells
"Wells eloquently makes the case for Burton's Anatomy as a key text that helps us rethink rhetoric in a number of ways: as an arbiter of narrative form, as a vehicle for cross-disciplinary learning, even as a model for education that has powerful implications today. In a time when knowledgeable activity amidst uncertainty is more important than ever, this kind of scholarly work on rhetoric feels deeply necessary, as we need to know much more about how we got here, and what to do now."
Description

Reviews

Bio

Table of Contents

Sample Chapters

Subjects
Published in five editions between 1621 and 1651,
The Anatomy of Melancholy
marks a unique moment in the development of disciplines, when fields of knowledge were distinct but not yet restrictive. In
Robert Burton's Rhetoric
, Susan Wells analyzes the
Anatomy
, demonstrating how its early modern practices of knowledge and persuasion can offer a model for transdisciplinary scholarship today.
In the first decades of the seventeenth century, Robert Burton attempted to gather all the existing knowledge about melancholy, drawing from professional discourses including theology, medicine, and philology as well as the emerging sciences. Examining this text through a rhetorical lens, Wells provides an account of these disciplinary exchanges in all their subtle variety and abundant wit, showing that questions of how knowledge is organized and how it is made persuasive are central to rhetorical theory. Ultimately, Wells argues that in addition to a book about melancholy, Burton's Anatomy is a meditation on knowledge.
A fresh interpretation of The Anatomy of Melancholy, this volume will be welcomed by scholars of early modern English and the rhetorics of health and medicine, as well as those interested in transdisciplinary work and rhetorical theory.
"Wells eloquently makes the case for Burton's Anatomy as a key text that helps us rethink rhetoric in a number of ways: as an arbiter of narrative form, as a vehicle for cross-disciplinary learning, even as a model for education that has powerful implications today. In a time when knowledgeable activity amidst uncertainty is more important than ever, this kind of scholarly work on rhetoric feels deeply necessary, as we need to know much more about how we got here, and what to do now."
"The title page of Robert Burton's Anatomy of Melancholy (1621) promises to dissect its subject 'philosophically, medicinally, historically'—and as if that were not enough, Burton regales readers with theology, astrology, philology, and much more besides."
Susan Wells is Professor of English Emerita at Temple University. She is the author of Sweet Reason: Rhetoric and the Discourses of Modernity; Out of the Dead House: Nineteenth-Century Women Physicians and the Writing of Medicine; and "Our Bodies, Ourselves" and the Work of Writing.
List of Illustrations
Acknowledgments
1. A Monstrous Anatomy
2. Burton's Anatomy : Genres as Species and Spaces
3. The Anatomy of Melancholy and Early Modern Medicine
4. Burton, Rhetoric, and the Shapes of Thought
5. Translingualism: The Philologist as Language Broker
6. The Anatomy of Melancholy and Transdisciplinary Rhetoric
Notes
Bibliography
Index
Download a PDF sample chapter here: chapter1
Mailing List
Subscribe to our mailing list and be notified about new titles, journals and catalogs.