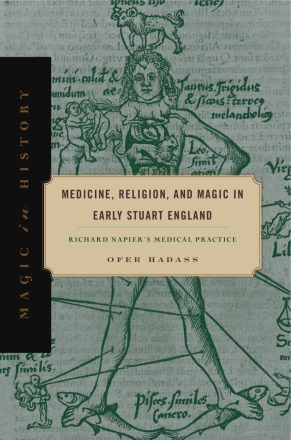 Medicine, Religion, and Magic in Early Stuart England
Richard Napier's Medical Practice
Ofer Hadass
BUY
Medicine, Religion, and Magic in Early Stuart England
Richard Napier's Medical Practice
Ofer Hadass
"A compelling study. . . . This volume informs the eventual separation of religion and magic."
Description

Reviews

Bio

Table of Contents

Sample Chapters

Subjects
The astrologer-physician Richard Napier (1559-1634) was not only a man of practical science and medicine but also a master of occult arts and a devout parish rector who purportedly held conversations with angels. This new interpretation of Napier reveals him to be a coherent and methodical man whose burning desire for certain, true knowledge contributed to the contemporary venture of putting existing knowledge to useful ends.
Originally trained in theology and ordained as an Anglican priest, Napier later studied astrological medicine and combined astrology, religious thought, and image and ritual magic in his medical work. Ofer Hadass draws on a remarkable archive of Napier's medical cases and religious writings—including the interviews he claimed to have held with angels—to show how Napier's seemingly inconsistent approaches were rooted in an inclusive and coherent worldview, combining equal respect for ancient authority and for experientially derived knowledge. Napier's endeavors exemplify the fruitful relationship between religion and science that offered a well-founded alternative to the rising mechanistic explanation of nature at the time.
Carefully researched and compellingly told, Medicine, Religion, and Magic in Early Stuart England is an insightful exploration of one of the most fascinating figures at the intersection of medicine, magic, and theology in early modern England and of the healing methods employed by physicians of the era.
"A compelling study. . . . This volume informs the eventual separation of religion and magic."
"A thoughtful and comprehensive intellectual biography of Richard Napier. The book will be of great use to scholars and students for its clear introductions to complex topics, such as early modern astrology and the occult. The book also illuminates the fascinating mental world of Napier, which offers rich insights into beliefs and practices of the age."
"A provocative intellectual biography."
"Hadass has performed an incredibly helpful service in bringing Napier and his records to light."
"Hadass successfully explores the interaction of astrological, magical, and angelic divination with theological understandings in the work of Richard Napier, providing for the first time a rounded view of this Anglican priest-physician and an invaluable guide to those wishing to use Napier's uniquely rich collection of manuscripts."
"Illuminating and effective, making a learned and worthwhile contribution to our understanding of early modern magic and its religious milieu."
"Part biography, part analysis of Napier's work, this volume is valuable for deepening our understanding of the ways authority and knowledge were conceived in the early modern period, and how this fed into both the theological and medical spheres."
Ofer Hadass is Director of Technology at the Division of Health Insurances of Clalit Health Services and Research Fellow at the Center for Health, Humanism, and Society, Ben Gurion University of the Negev.
Contents
List of Illustrations
List of Symbols
Acknowledgments
Conventions
Introduction
1. Astrological Medicine
2. Astral Magic
3. Converse with Angels
4. Religion and Knowledge
Conclusion
Notes
Bibliography
Index
Mailing List
Subscribe to our mailing list and be notified about new titles, journals and catalogs.