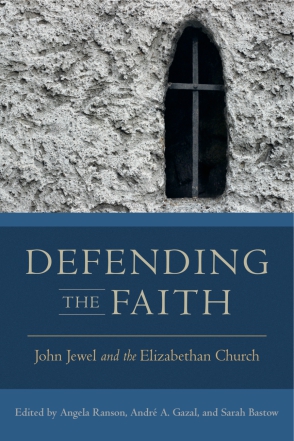 Defending the Faith
John Jewel and the Elizabethan Church
Edited by Angela Ranson, André A. Gazal, and Sarah Bastow
BUY
Defending the Faith
John Jewel and the Elizabethan Church
Edited by Angela Ranson, André A. Gazal, and Sarah Bastow
"Although John Jewel was an influential figure in the English church, relatively little else has been written about him. Gary W. Jenkins's 2006 biography provided an important update of J. E. Booty's 1963 work, but otherwise John Jewel's significance in the post-Reformation church has been largely ignored. This collection of essays, which grew out of a conference in 2014 marking the 450th anniversary of the publication of Jewel's Apology for the Church of England, provides a remedy to that."
Description

Reviews

Bio

Sample Chapters

Subjects
This volume brings together a diverse group of Reformation scholars to examine the life, work, and enduring significance of John Jewel, Bishop of Salisbury from 1560 to 1571.
A theologian and scholar who worked with early reformers in England such as Peter Martyr Vermigli, Martin Bucer, and Thomas Cranmer, Jewel had a long-lasting influence over religious culture and identity. The essays included in this book shed light on often-neglected aspects of Jewel's work, as well as his standing in Elizabethan culture not only as a priest but as a leader whose work as a polemicist and apologist played an important role in establishing the authority and legitimacy of the Elizabethan Church of England. The contributors also place Jewel in the wider context of gender studies, material culture, and social history.
With its inclusion of a short biography of Jewel's early life and a complete list of his works published between 1560 and 1640, Defending the Faith is a fresh and robust look at an important Reformation figure who was recognized as a champion of the English Church, both by his enemies and by his fellow reformers.
In addition to the editors, contributors to this volume are Andrew Atherstone, Ian Atherton, Paul Dominiak, Alice Ferron, Paul A. Hartog, Torrance Kirby, W. Bradford Littlejohn, Aislinn Muller, Joshua Rodda, and Lucy Wooding.
"Although John Jewel was an influential figure in the English church, relatively little else has been written about him. Gary W. Jenkins's 2006 biography provided an important update of J. E. Booty's 1963 work, but otherwise John Jewel's significance in the post-Reformation church has been largely ignored. This collection of essays, which grew out of a conference in 2014 marking the 450th anniversary of the publication of Jewel's Apology for the Church of England, provides a remedy to that."
"Historians, literary scholars, and researchers in religious studies will treasure this publication for how clearly it shows Jewel's connections to diverse thinkers of his time and the generations following, all concerned with articulating the truth of Christianity even when much was in dispute."
"An enjoyably erudite pathway into the world of John Jewel, which will only leave the reader longing for a more in-depth engagement with the central subject himself."
Angela Ranson earned her doctorate from the University of York in 2014. She has had articles published in Sin and Salvation in Reformation England and Paul's Cross and the Culture of Persuasion in England, 1520–1640.
André Gazal teaches church history at North Greenville University and is the author of Scripture and Royal Supremacy in Tudor England: The Use of Old Testament Historical Narrative.
Sarah Bastow is Head of History at the University of Huddersfield and the author of The Catholic Gentry of Yorkshire, 1536–1642: Resistance and Accommodation.
Mailing List
Subscribe to our mailing list and be notified about new titles, journals and catalogs.