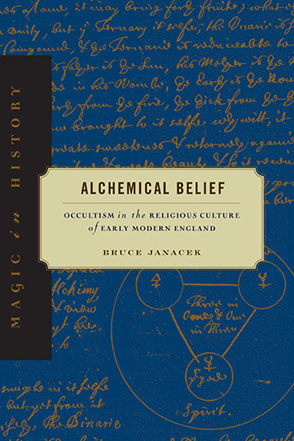 Alchemical Belief
Occultism in the Religious Culture of Early Modern England
Bruce Janacek
BUY
Alchemical Belief
Occultism in the Religious Culture of Early Modern England
Bruce Janacek
"Alchemists pursued the secrets of creation, and Alchemical Belief takes their aspirations seriously. With careful readings and well-chosen cases, Bruce Janacek demonstrates that alchemical writings need to be read in the context of their authors' broader intellectual and devotional pursuits. Alchemical writings lent themselves to the expression of irenic, unifying aspirations for Christianity and provided solutions to the political and religious conflicts rending the early modern world. This argument is as refreshing as it is ambitious."
Description

Reviews

Bio

Table of Contents

Sample Chapters

Subjects
What did it mean to believe in alchemy in early modern England? In this book, Bruce Janacek considers alchemical beliefs in the context of the writings of Thomas Tymme, Robert Fludd, Francis Bacon, Sir Kenelm Digby, and Elias Ashmole. Rather than examine alchemy from a scientific or medical perspective, Janacek presents it as integrated into the broader political, philosophical, and religious upheavals of the first half of the seventeenth century, arguing that the interest of these elite figures in alchemy was part of an understanding that supported their national—and in some cases royalist—loyalty and theological orthodoxy. Janacek investigates how and why individuals who supported or were actually placed at the traditional center of power in England's church and state believed in the relevance of alchemy at a time when their society, their government, their careers, and, in some cases, their very lives were at stake.
"Alchemists pursued the secrets of creation, and Alchemical Belief takes their aspirations seriously. With careful readings and well-chosen cases, Bruce Janacek demonstrates that alchemical writings need to be read in the context of their authors' broader intellectual and devotional pursuits. Alchemical writings lent themselves to the expression of irenic, unifying aspirations for Christianity and provided solutions to the political and religious conflicts rending the early modern world. This argument is as refreshing as it is ambitious."
"The essence of Janacek's inquiry around the meaning of belief in alchemy in early modern England both stimulates and challenges the reader. . . . By identifying alchemical belief as an intangible but pervasive force at work within late Tudor and Stuart society, Janacek's volume is significant for pointing to a more nuanced view of political, philosophical, and religious preconceptions in early modern England. By drawing attention to hidden currents within alchemical culture as an agent of change, Alchemical Belief constitutes an important springboard for new studies about the interrelationship between theology and science in pre-modern society."
"With the arguments of Bacon in mind, the reader of Janacek's book can attain a rounded view of early modern alchemical interest in England, which ranged from the wholehearted support of Dee and Fludd to the cautious approval of Digby or the arm's length attitude of Bacon. This complex view helps to highlight the fact that the eventual triumph of the sceptical views of alchemy was by no means obvious in the climate of early modern England. Indeed, [Alchemical Belief] enlightens the reader by capturing an unfamiliar moment in history, when alchemy offered strong promise for the future."
"What emerges from Janacek's treatment of his sources is carefully drawn representation of the many ways in which alchemy provided a language and a method for understanding and ultimately restoring order in a profoundly disordered world. This study demonstrates how the study of learned occultism provides a profitable means for lifting the veil on a critical but complex period in early modern history."
Bruce Janacek is Associate Professor of History at North Central College.
Contents
List of Illustrations
Acknowledgments
Introduction
1 Thomas Tymme and Natural Philosophy: Schism and Alchemical Unity in the Book of Nature
2 Robert Fludd, Natural Theology, and the Alchemical Debate of 1623
3 Francis Bacon, Alchemy, and the Great Redemption
4 Catholic Natural Philosophy: Alchemy and the Revivification of Sir Kenelm Digby
5 Elias Ashmole: The Collection and Culmination of Alchemical Thought
Epilogue
Notes
Bibliography
Index
Mailing List
Subscribe to our mailing list and be notified about new titles, journals and catalogs.