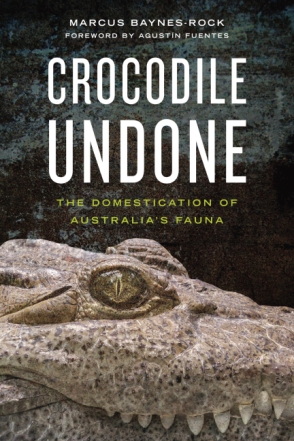 Crocodile Undone
The Domestication of Australia's Fauna
Marcus Baynes-Rock, and Foreword by Agustín Fuentes
Buy
Crocodile Undone
The Domestication of Australia's Fauna
Marcus Baynes-Rock, and Foreword by Agustín Fuentes
"Baynes-Rock raises fundamental questions about private property, the fallacies of economics, and the wisdom of ecology. The challenges may be great, but at least this book presents ideas and possibilities that may help us face them."
Description

Reviews

Bio

Table of Contents

Subjects
Across the world, animals are being domesticated at an unprecedented rate and scale. But what exactly is domestication, and what does it tell us about ourselves? In this book, Marcus Baynes-Rock seeks the common thread linking stories about the domestication of Australia's native animals, arguing that domestication is part of a process by which late modernity threatens to undo the world.
In a deeply personal account, the author tells of his encounters with crocodiles and emus behind fences, dingoes and kangaroos crossing boundaries, and native bees producing honey in his suburban backyard. Drawing on comparisons between Aboriginal and colonial Australians, Baynes-Rock reveals how the domestication of Australia's fauna is a process of "unmaking." As an extension of late modernity, the connections that tie humans and other animals to wider ecologies are being severed, threatening to isolate us and our domesticates from the rest of the world. It is here that Baynes-Rock reveals a key difference between Aboriginal and colonial Australian modes of landscape management: while one is focused on a systemic approach and sees humans as integral to ecological integrity, the other seeks to sever domesticates from ecological processes. The question that emerges is: How might we reconfigure and maintain these connections without undoing humanity?
Written in the author's characteristically frank, passionate, and humorous style, Crocodile Undone takes the reader on a journey across both physical and philosophical landscapes. This fascinating narrative will appeal to anyone interested in the vital connections between humans and animals.
"Baynes-Rock raises fundamental questions about private property, the fallacies of economics, and the wisdom of ecology. The challenges may be great, but at least this book presents ideas and possibilities that may help us face them."
"Quoting refreshingly from the writings of the great human ecologist Paul Shepard, Baynes-Rock outlines a four-step approach to reverse the course of the undoing while still utilizing agriculture to support human livelihood. Noted for earlier fieldwork in Africa . . . , Baynes-Rock again takes inspiration from native societies, particularly the society and culture of Aboriginal Australians. His thesis is unique, and the book is worthy of reading and discussion in a course on ecology or animal ethics, in addition to serving as a reference for faculty and graduate students."
Marcus Baynes-Rock is the author of Among the Bone Eaters, also published by Penn State University Press.
Foreword: Undoing the World?
Agustín Fuentes
Acknowledgements
1. The Great Unmaking
2. Dingoes
3. Stingless Bees
4. Crocodiles
5. Emus
6. Kangaroos
7. Borderlands
Notes
Bibliography
Index
Mailing List
Subscribe to our mailing list and be notified about new titles, journals and catalogs.