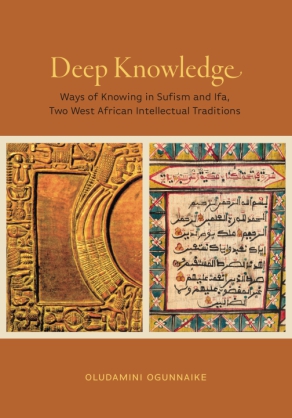 Deep Knowledge
Ways of Knowing in Sufism and Ifa, Two West African Intellectual Traditions
Oludamini Ogunnaike
Buy
Deep Knowledge
Ways of Knowing in Sufism and Ifa, Two West African Intellectual Traditions
Oludamini Ogunnaike
Winner of the 2021 Outstanding First Book Prize from the Association for the Study of the Worldwide  African Diaspora (ASWAD)
"Deep Knowledge: Ways of Knowing in Sufism and Ifa, Two West African Intellectual Traditions by Oludamini Ogunnaike is a sweeping and ambitious book that operates on multiple levels with the aim of getting us to think differently about the foundations of knowledge itself."
Description

Reviews

Bio

Table of Contents

Sample Chapters

Subjects
This book is an in-depth, comparative study of two of the most popular and influential intellectual and spiritual traditions of West Africa: Tijani Sufism and Ifa. Employing a unique methodological approach that thinks with and from—rather than merely about—these traditions, Oludamini Ogunnaike argues that they contain sophisticated epistemologies that provide practitioners with a comprehensive worldview and a way of crafting a meaningful life.
Using theories belonging to the traditions themselves as well as contemporary oral and textual sources, Ogunnaike examines how both Sufism and Ifa answer the questions of what knowledge is, how it is acquired, and how it is verified. Or, more simply: What do you know? How did you come to know it? How do you know that you know? After analyzing Ifa and Sufism separately and on their own terms, the book compares them to each other and to certain features of academic theories of knowledge. By analyzing Sufism from the perspective of Ifa, Ifa from the perspective of Sufism, and the contemporary academy from the perspective of both, this book invites scholars to inhabit these seemingly "foreign" intellectual traditions as valid and viable perspectives on knowledge, metaphysics, psychology, and ritual practice.
Unprecedented and innovative, Deep Knowledge makes a significant contribution to cross-cultural philosophy, African philosophy, religious studies, and Islamic studies. Its singular approach advances our understanding of the philosophical bases underlying these two African traditions and lays the groundwork for future study.
"Deep Knowledge: Ways of Knowing in Sufism and Ifa, Two West African Intellectual Traditions by Oludamini Ogunnaike is a sweeping and ambitious book that operates on multiple levels with the aim of getting us to think differently about the foundations of knowledge itself."
"A barzakh, or isthmus, is a liminal space 'where two seas meet.' Voyaging these two seas of esoteric knowledge—the Fayda Tijaniyya and Ifa divination—this book promises a sea change in Africana studies, Islamic studies, intellectual history, and academic philosophy. The community of the flood is likely the world's largest Sufi movement, and Ifa a primary vessel for traditional sacred knowledge in West Africa and the Atlantic, yet both remain marginal in the academy. Ogunnaike offers an exploration of their shared praxis and metaphysics, writing from inside them to produce insights of stunning brilliance. This revolutionary book is a scholarly watershed."
"Deep Knowledge is refreshingly interdisciplinary, strikingly innovative, and deeply insightful, and the chief subjects of analysis—namely, epistemologies in Ifa divination and Sufi practice, primarily in Nigeria and Senegal—are of a great and growing significance that has become increasingly global. Ogunnaike possesses profound knowledge of each of these forms of religious and philosophical practice as well as the requisite linguistic fluencies to study them in depth, and he has an uncanny knack for explaining complex ideas in accessible language. This is a groundbreaking book of major importance to the study of African religion. Highly recommended!"
"The rare depth of insight, historical know-how, and explanatory force of Deep Knowledge clearly signal a landmark achievement in the study of cross-cultural philosophy. By penetrating the heart of the West African traditions of Ifa and Tijani Sufism, highly acclaimed author Oludamini Ogunnaike effectively explains how they can also penetrate our hearts. As such, this book is a must-read for all serious students of non-Western epistemology and culture."
"One critical element of anti-racist pedagogy is studying and teaching "ways of knowing" from outside the traditional Western canon. One major challenge to this work is the availability of scholarly sources that bridge the gap between these ways of knowing on the one hand, and the Western post-Enlightenment academy on the other. Oludamini Ogunnaike's stunning Deep Knowledge: Ways of Knowing in Sufism and Ifa, Two West African Intellectual Traditions makes a major contribution through tackling two such knowledge traditions that do not receive a great deal of scholarly (or popular) attention within the Euroamerican academy."
"While many historical works have been published concerning each religion, they largely lack the depth of the presentation and analyses of the indigenous philosophical and ontological concepts in which this work excels."
Oludamini Ogunnaike is Assistant Professor of African Religious Thought and Democracy at the University of Virginia.
Section 1: Introduction
Chapter 1: African Philosophy?
Section 2: Ways of Knowing in Tijani Sufism
Chapter 2: What is Tijani Sufism?
Chapter 3: What is Ma'rifah?
Chapter 4: How is Ma'rifah Acquired?
Chapter 5: How Does Tarbiyah Work?
Section 3: Ways of Knowing in Ifa
Chapter 6: What is Ifa?
Chapter 7: Knowledge in Ifa
Chapter 8: How is Knowledge Acquired in Ifa?
Chapter 9: How is Knowledge Verified in Ifa?
Section 4: Comparing Ifa and Tijani Sufism
Chapter 10: Comparing Ifa and Tijani Sufism
Chapter 11: Comparative Conclusions
Notes
Index
Mailing List
Subscribe to our mailing list and be notified about new titles, journals and catalogs.