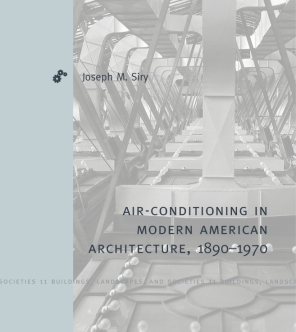 Air-Conditioning in Modern American Architecture, 1890–1970
Joseph M. Siry
Buy
Air-Conditioning in Modern American Architecture, 1890–1970
Joseph M. Siry
"Joseph Siry's excellent new book makes a convincing case for the inclusion of technology and the conditions of architectural production in our approach to architectural history. It provides a major new contribution to our understanding of the field."
Media

Description

Reviews

Bio

Table of Contents

Sample Chapters

Subjects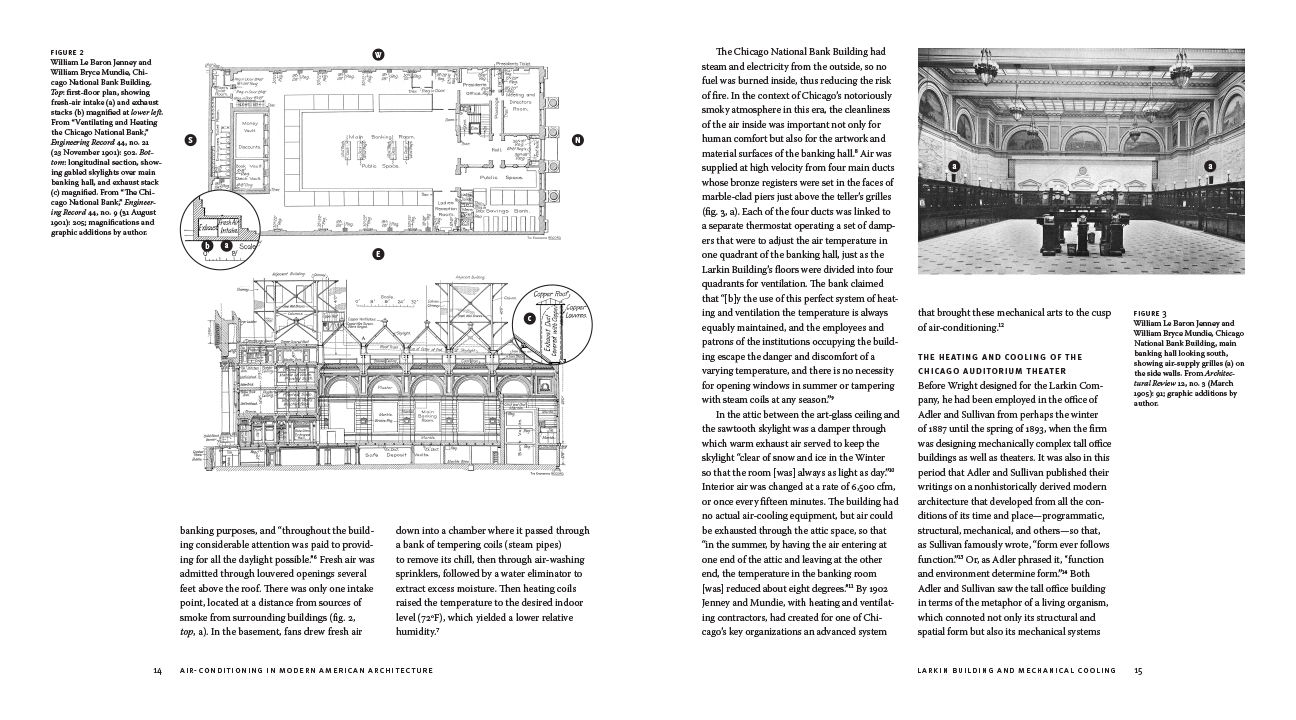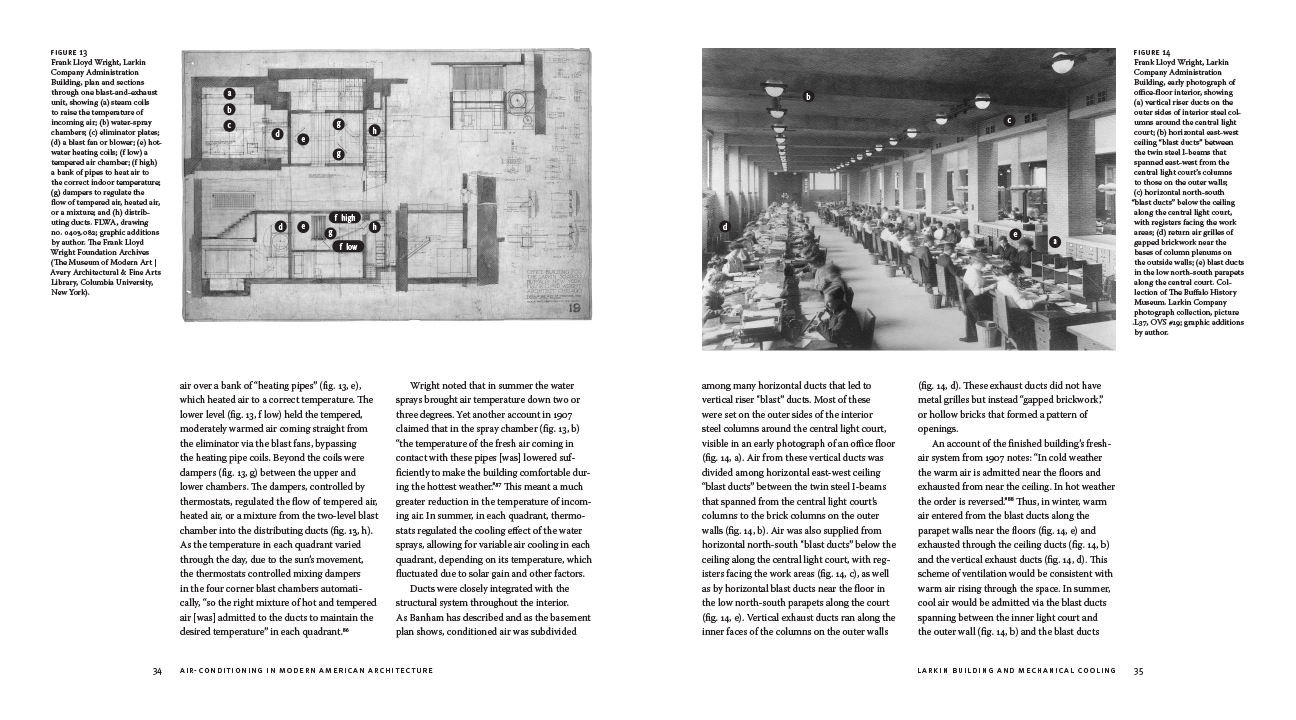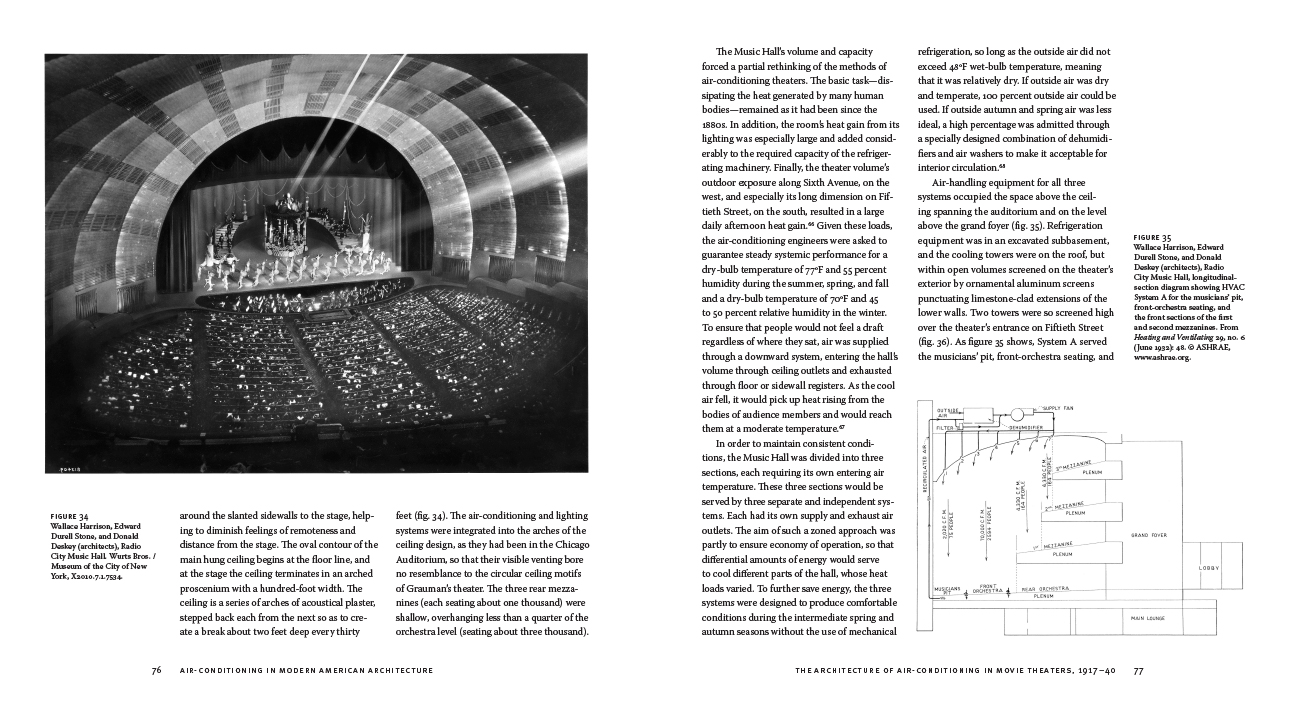 Air-Conditioning in Modern American Architecture, 1890–1970,
documents how architects made environmental technologies into resources that helped shape their spatial and formal aesthetic. In doing so, it sheds important new light on the ways in which mechanical engineering has been assimilated into the culture of architecture as one facet of its broader modernist project.
Tracing the development and architectural integration of air-conditioning from its origins in the late nineteenth century to the advent of the environmental movement in the early 1970s, Joseph M. Siry shows how the incorporation of mechanical systems into modernism's discourse of functionality profoundly shaped the work of some of the movement's leading architects, such as Dankmar Adler, Louis Sullivan, Frank Lloyd Wright, Ludwig Mies van der Rohe, Gordon Bunshaft, and Louis Kahn. For them, the modernist ideal of functionality was incompletely realized if it did not wholly assimilate heating, cooling, ventilating, and artificial lighting. Bridging the history of technology and the history of architecture, Siry discusses air-conditioning's technical and social history and provides case studies of buildings by the master architects who brought this technology into the conceptual and formal project of modernism.
A monumental work by a renowned expert in American modernist architecture, this book asks us to see canonical modernist buildings through a mechanical engineering–oriented lens. It will be especially valuable to scholars and students of architecture, modernism, the history of technology, and American history.
"Joseph Siry's excellent new book makes a convincing case for the inclusion of technology and the conditions of architectural production in our approach to architectural history. It provides a major new contribution to our understanding of the field."
"Siry has written an interesting and necessary text. By carefully examining a number of familiar buildings and architects, he reveals that the role of HVAC systems was essential to design debates in American modernism. Drawing on a wealth of archival material, the book advances a novel and refreshing account of the technological and social issues that inform architectural developments."
"This reader came away with a deep understanding of the details of each building discussed—design as well as materials and engineering—and how passive cooling, fans, air ducts, and even mechanical floors (for example) influenced and altered the 'art' of building design. . . . This is an excellent complement to the modern architecture literature."
"Although many of the book's buildings have already been covered in a few other historical accounts, it is the first time that they are discussed in a single in-depth and comprehensive narrative. Besides the focus on the aesthetics of integration and collaborative authorship typical of an internalist approach, the chapters also begin to foreground fascinating historical connections between air-conditioning and the various spaces of production and consumption in a capitalist economy, as well as the attendant concerns with comfort, health, welfare, productivity, and profit."
"The text describes iconic buildings and the work of heroic architectural figures: Frank Lloyd Wright, Mies van der Rohe, and Louis Kahn, to name but a few. The surprise and the novelty is that Joseph M. Siry foregrounds building services, unearthing the "back story" of heating and cooling and explaining how these systems figure in the strategies and ambitions of well-known architects. If you want to know exactly how structures like the Larkin Building or the Seagram Building were cooled, this is the book for you."
Joseph M. Siry is Professor of Art History and William R. Kenan, Jr. Professor of the Humanities at Wesleyan University. He is the author of four books, including most recently Beth Sholom Synagogue: Frank Lloyd Wright and Modern Religious Architecture.
Contents
List of Illustrations
Acknowledgements
List of Abbreviations
Notes on Terminology
Introduction: Air-Conditioning and the Historiography of Modern Architecture
1. Frank Lloyd Wright's Larkin Building and Mechanical Cooling, 1890-1910
2. Industrial Air-Conditioning from the Daylight Factory to the Windowless Factory, 1905-40
3. The Architecture of Air-Conditioning in Movie Theaters, 1917-40
4. Air-Conditioning Comes to the Nation's Capital and the South, 1928-60
5. The First Air-Conditioned Tall Buildings, 1928-32
6. Frank Lloyd Wright's "Windowless" Buildings for SC Johnson Company and the Air-Conditioned Tower
7. Air-Conditioned Glass Buildings in the Mid-Twentieth Century
8. Louis I. Kahn's Architecture and Air-Conditioning to the 1970s
Coda: Air-Conditioning and the New Consciousness of Energy in Architecture Since the 1970s
Appendix: Compressive Refrigeration and the Heat Pump
Notes
Selected Bibliography
Index
Mailing List
Subscribe to our mailing list and be notified about new titles, journals and catalogs.