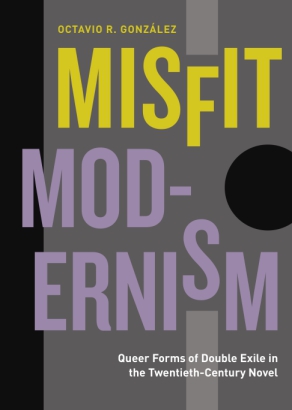 Misfit Modernism
Queer Forms of Double Exile in the Twentieth-Century Novel
Octavio R. González
Buy
Misfit Modernism
Queer Forms of Double Exile in the Twentieth-Century Novel
Octavio R. González
"González's work to break down the divide between queer-of-color critique and antisocial queer approaches is well overdue and should make further antisocial queer-of-color analyses available. It's also clear that turning to a category like that of the misfit could relieve queerness of the impossible demand to be about all forms of marginality."
Description

Reviews

Bio

Table of Contents

Sample Chapters

Subjects
In this book, Octavio R. González
revisits the theme of alienation in the twentieth-century novel, identifying an alternative aesthetic centered on the experience of double exile, or marginalization from both majority and home culture. This misfit modernist aesthetic decenters the mainstream narrative of modernism—which explores alienation from a universal and existential perspective—by showing how a group of authors leveraged modernist narrative to explore minoritarian experiences of cultural nonbelonging.
Tying the biography of a particular author to a close reading of one of that author's major works, González considers in turn Nella Larsen's Quicksand, Wallace Thurman's The Blacker the Berry, Jean Rhys's Quartet, and Christopher Isherwood's A Single Man. Each of these novels explores conditions of maladjustment within one of three burgeoning cultural movements that sought representation in the greater public sphere: the New Negro movement during the Harlem Renaissance, the 1920s Paris expatriate scene, and the queer expatriate scene in Los Angeles before Stonewall. Using a methodological approach that resists institutional taxonomies of knowledge, González shows that this double exile speaks profoundly through largely autobiographical narratives and that the novels' protagonists challenge the compromises made by these minoritarian groups out of an urge to assimilate into dominant social norms and values.
Original and innovative, Misfit Modernism is a vital contribution to conversations about modernism in the contexts of sexual identity, nationality, and race. Moving beyond the debates over the intellectual legacies of intersectionality and queer theory, González shows us new ways to think about exclusion.
"González's work to break down the divide between queer-of-color critique and antisocial queer approaches is well overdue and should make further antisocial queer-of-color analyses available. It's also clear that turning to a category like that of the misfit could relieve queerness of the impossible demand to be about all forms of marginality."
"Misfit Modernism tends to the 'misfit' structures of feeling of intersectional modernist authors before the full efflorescence of identity politics. In the process, it puts antisociality, negative affect, and arrested agency on the map for queer of color critique. In a series of brilliant and sensitive 'immanent readings,' González demonstrates how such negative affects respond to the dilemma of the misfit's 'double exile'—a sense of nonconformity and unbelonging with dominant and minoritarian cultures alike."
"This wide-ranging book celebrating some of modernism's most perplexing and pleasurable misfits stages an original conversation between the new modernist studies, queer-of-color critique, theories of intersectionality, and narratology. It pushes the growing field of queer modernist studies in new and exciting directions."
Octavio R. González is Assistant Professor of English at Wellesley College.
Preface: Queer Forms of Double Exile in the Twentieth-Century Novel
Acknowledgments
Introduction: The Modernist Misfit; Antisocial and Intersectional
1. Methodology: Immanent Reading
2. Narrating the Psychology of a "Despised Mulatto" in Larsen's Quicksand
3. Affective Realism: Feeling like a "Total Misfit" in Thurman's The Blacker the Berry
4. Narrating the Mood of the Underdog in Rhys's Quartet
5. Isherwood's Impersonality: "Nonconformist" Queer Relationality in A Single Man
Coda: Two Forms of Feeling like a Misfit
Notes
Bibliography
Index
Mailing List
Subscribe to our mailing list and be notified about new titles, journals and catalogs.