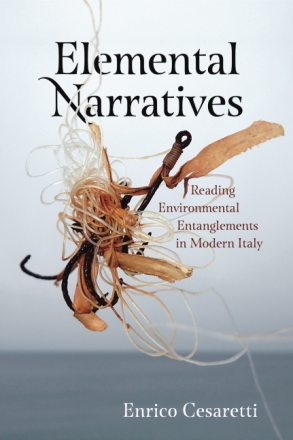 Elemental Narratives
Reading Environmental Entanglements in Modern Italy
Enrico Cesaretti
Buy
Elemental Narratives
Reading Environmental Entanglements in Modern Italy
Enrico Cesaretti
"Sulfur, rocks, oil, marble, asbestos, cement, and steel are the involuntary storytellers of this beautiful and yet conflicted country, ridden with industrial mismanagement, environmental injustice, and the fragility of landscapes and ecosystems. . . . Enrico Cesaretti has provided a landmark contribution to ecocriticism, environmental humanities, and Italian studies."
Media

Description

Reviews

Bio

Table of Contents

Sample Chapters

Subjects
Over the past century, the Italian landscape has undergone exceedingly rapid transformations, shifting from a mostly rural environment to a decidedly modern world. This changing landscape is endowed with a narrative agency that transforms how we understand our surroundings. Situated at the juncture of Italian studies and ecocriticism and following the recent "material turn" in the environmental humanities,
Elemental Narratives
outlines an original cultural and environmental map of the
bel paese
.
Giving equal weight to readings of fiction, nonfiction, works of visual art, and physical sites, Enrico Cesaretti investigates the interconnected stories emerging from both human creativity and the expressive eloquence of "glocal" materials, such as sulfur, petroleum, marble, steel, and asbestos, that have helped make and, simultaneously, "un-make" today's Italy, affecting its socio-environmental health in multiple ways. Embracing the idea of a decentralized agency that is shared among human and nonhuman entities, Cesaretti suggests that engaging with these entangled discursive and material texts is a sound and revealing ecocritical practice that promises to generate new knowledge and more participatory, affective responses to environmental issues, both in Italy and elsewhere. Ultimately, he argues that complementing quantitative, data-based information with insights from fiction and nonfiction, the arts, and other humanistic disciplines is both desirable and crucial if we want to modify perceptions and attitudes, increase our awareness and understanding, and, in turn, develop more sustainable worldviews in the era of the Anthropocene.
Elegantly written and convincingly argued, this book will appeal broadly to scholars and students working in the fields of environmental studies, comparative literatures, ecocriticism, environmental history, and Italian studies.
"Sulfur, rocks, oil, marble, asbestos, cement, and steel are the involuntary storytellers of this beautiful and yet conflicted country, ridden with industrial mismanagement, environmental injustice, and the fragility of landscapes and ecosystems. . . . Enrico Cesaretti has provided a landmark contribution to ecocriticism, environmental humanities, and Italian studies."
"Elemental Narratives is an engaging and well-written manuscript that makes an important contribution to the expanding field of ecocritical Italian Studies, particularly in light of the 'material turn' of recent years. Cesaretti addresses a wide range of interesting primary sources that have thus far received little scholarly attention."
"Cesaretti's seminal work positions itself not only within Italian studies, but also, and foremost, within the field of ecocriticism. It is deeply grounded in ecomaterialist theories, environmental humanities, and posthumanism, while also questioning anthropocentrism and essentialism."
Enrico Cesaretti is Associate Professor of Italian Studies at the University of Virginia. His most recent book is Italy and the Environmental Humanities: Landscapes, Natures, Ecologies, coedited with Serenella Iovino and Elena Past.
Acknowledgements
Introduction: Telling Matters
1. Modernist Matters
2. Oil - Slick Territories: Petroculture Italian Style
3. Apua Ma(t)ter: Narratives of Marble
4. Steel & Asbestos: Brutta Tuscany and Beyond: Stories of Toxic Lands and Bodies
5. Cement & Asphalt: Geographies of Environmental Disruption in Modern Italy
Epilogue
Notes
Bibliography
Index
Mailing List
Subscribe to our mailing list and be notified about new titles, journals and catalogs.