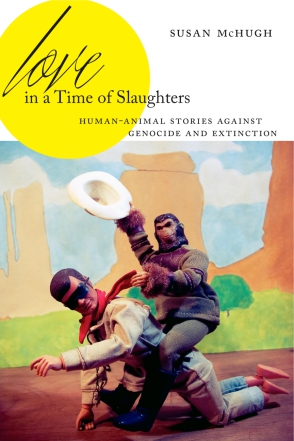 Love in a Time of Slaughters
Human-Animal Stories Against Genocide and Extinction
Susan McHugh
Buy
Love in a Time of Slaughters
Human-Animal Stories Against Genocide and Extinction
Susan McHugh
"An original and breathtaking read."
Description

Reviews

Bio

Subjects
Love in a Time of Slaughters
examines a diverse array of contemporary creative narratives in which genocide and extinction blur species lines in order to show how such stories can promote the preservation of biological and cultural diversity in a time of man-made threats to species survival.
From indigenous novels and Japanese anime to art installations and truth commission reports, Susan McHugh analyzes source material from a variety of regions and cultures to highlight cases where traditional knowledge works in tandem with modern ways of thinking about human-animal relations. In contrast to success stories of such relationships, the narratives McHugh highlights show the vulnerabilities of affective bonds as well as the kinds of loss shared when interspecific relationships are annihilated. In this thoughtful critique, McHugh explores the potential of these narratives to become a more powerful, urgent strategy of resistance to the forces that work to dehumanize people, eradicate animals, and threaten biodiversity.
As we unevenly contribute to the sixth great extinction, this timely, compelling study sheds light on what constitutes an effective response from a humanities-focused, interdisciplinary perspective. McHugh's work will appeal to scholars working at the crossroads of human-animal studies, literature, and visual culture, as well as artists and activists who are interested in the intersections of animal politics with genocide and indigeneity.
"An original and breathtaking read."
"Susan McHugh's Love in a Time of Slaughters pays much-deserved attention to Native theory and recognizes Indigeneity as global in scope."
"Framing 'love' as a gateway to the world and as a powerful force of resilience in a time of 'slaughter,' McHugh's work provides a thought-provoking and often challenging perspective on the possibilities and complexities of more-than-human storyworlds."
"McHugh's emphasis on multispecies affective bonding and shared living across texts and histories reshapes the terrain of literary animal studies, posing new lines of inquiry for scholars across many fields. Bringing interspecies lifeways and indigenous knowledges to consciousness within animal studies discourses, Love in a Time of Slaughters models a crucial new set of interpretive geographies for our social and ecological moment."
"Given the painful subject matter, this book could have easily been a cry of Anthropocenic despair or idealistic wish-fulfillment, but McHugh is far too generous, thoughtful, and honest for that. There are no easy solutions on offer, no shallow certainties, no simplistic binaries or contexts evacuated of complexity. Instead, Love in a Time of Slaughters offers a learned and loving meditation on what it means to be in accountable kinship with the other-than-human world when those relations are so catastrophically imperiled. Compelling in its analysis and expansive in its concerns, this book is a vital contribution to one of the most urgent conversations of our time."
"Susan McHugh's Love in a Time of Slaughters pays much-deserved attention to Native theory and recognizes Indigeneity as global in scope. She builds upon the work of several Native theorists to provide strong readings of oral traditions, novels, and films by and about Indigenous peoples and nonhuman animals."
"McHugh's literary analysis of life-worlds that brings human and animal death and resistance to the fore is illuminating and insightful. The cruelty and violence that colonization inflicts on humans and animals, and their relationships to each other, is made very clear in McHugh's handling of the novels and their subject matter. The analysis necessitates vital engagement with indigenous knowledges that should be better known within Animal Studies scholarship."
"The book's most original contribution is its triangulation of humans, animals, and gods. Although McHugh's interest is not religious per se, her insistence on indigenous metaphysics that subverts western dualism and rationalism is refreshing and important."
Susan McHugh is Professor of English at the University of New England. She is the author of Animal Stories: Narrating Across Species Lines and coeditor of Indigenous Creatures, Native Knowledges, and the Arts: Animal Studies in Modern Worlds.
Mailing List
Subscribe to our mailing list and be notified about new titles, journals and catalogs.