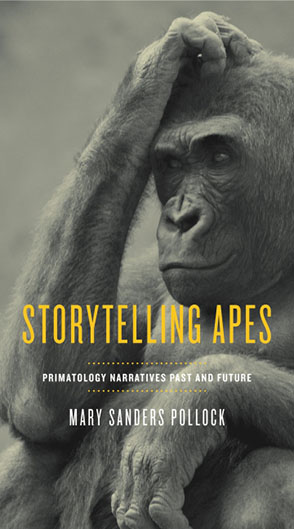 Storytelling Apes
Primatology Narratives Past and Future
Mary Sanders Pollock
BUY
Storytelling Apes
Primatology Narratives Past and Future
Mary Sanders Pollock
"The lives of our primate cousins, as well as those who study them with passion and devotion, are discerningly revealed by Mary Sanders Pollock, whose chronicle will be avidly read by all field naturalists and, I suspect, by everyone with a love for the natural world."
Media

Description

Reviews

Bio

Table of Contents

Sample Chapters

Subjects
Listen to an interview with author Mary Sanders Pollock on Sierra Club Radio here. The interview begins just past the 13 minute mark.
The annals of field primatology are filled with stories about charismatic animals native to some of the most challenging and remote areas on earth. There are, for example, the chimpanzees of Tanzania, whose social and family interactions Jane Goodall has studied for decades; the mountain gorillas of the Virungas, chronicled first by George Schaller and then later, more obsessively, by Dian Fossey; various species of monkeys (Indian langurs, Kenyan baboons, and Brazilian spider monkeys) studied by Sarah Hrdy, Shirley Strum, Robert Sapolsky, Barbara Smuts, and Karen Strier; and finally the orangutans of the Bornean woodlands, whom Biruté Galdikas has observed passionately. Humans are, after all, storytelling apes. The narrative urge is encoded in our DNA, along with large brains, nimble fingers, and color vision, traits we share with lemurs, monkeys, and apes. In
Storytelling Apes
, Mary Sanders Pollock traces the development and evolution of primatology field narratives while reflecting upon the development of the discipline and the changing conditions within natural primate habitat.
Like almost every other field primatologist who followed her, Jane Goodall recognized the individuality of her study animals: defying formal scientific protocols, she named her chimpanzee subjects instead of numbering them, thereby establishing a trend. For Goodall, Fossey, Sapolsky, and numerous other scientists whose works are discussed in Storytelling Apes, free-living primates became fully realized characters in romances, tragedies, comedies, and never-ending soap operas. With this work, Pollock shows readers with a humanist perspective that science writing can have remarkable literary value, encourages scientists to share their passions with the general public, and inspires the conservation community.
"The lives of our primate cousins, as well as those who study them with passion and devotion, are discerningly revealed by Mary Sanders Pollock, whose chronicle will be avidly read by all field naturalists and, I suspect, by everyone with a love for the natural world."
"Mary Sanders Pollock has written an intelligent, probing, and lucid overview for readers without the time or inclination to read the extensive primatology source material. Her prose is readable and the content sophisticated without being jargon drenched, as published scholarly works commonly are. Storytelling Apes also provides a nudge to scientists to reflect on their role and responsibility to engage in conservation and protection efforts."
"Mary Sanders Pollock's book analyzes the stories that primatologists tell about the primates they study, as well as our stories about ourselves. While written from a perspective of literary criticism, it extends almost to psychoanalysis of a particular type of person who aspires to be both a scientist and an adventurer. The view of both primates and primatologists, going back to Edgar Allan Poe and Darwin, is fascinating and unique."
"An invaluable resource for those interested in wild or captive primates, this book inspires introspection."
Mary Sanders Pollock is Nell Carlton Professor of English at Stetson University.
Contents
Acknowledgments
Introduction
1. First Contacts
2. The Primatology Romance
3. Tragedy of the Field
4. Morphology of the Tale
5. Primate Characters
6. Primatology and the Carnival World
Conclusion
Notes
Bibliography
Index
Mailing List
Subscribe to our mailing list and be notified about new titles, journals and catalogs.