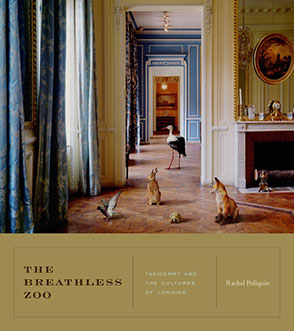 The Breathless Zoo
Taxidermy and the Cultures of Longing
Rachel Poliquin
BUY
The Breathless Zoo
Taxidermy and the Cultures of Longing
Rachel Poliquin
"I have long been a fan of Rachel Poliquin's otherworldly online museum, www.ravishingbeasts.com, but after reading The Breathless Zoo I know just what she means when she says that all taxidermy, like storytelling, is 'deeply marked by human longing.' I am already longing to read The Breathless Zoo again."
Media

Description

Reviews

Bio

Table of Contents

Sample Chapters

Subjects
From sixteenth-century cabinets of wonders to contemporary animal art, The Breathless Zoo: Taxidermy and the Cultures of Longing examines the cultural and poetic history of preserving animals in lively postures. But why would anyone want to preserve an animal, and what is this animal-thing now? Rachel Poliquin suggests that taxidermy is entwined with the enduring human longing to find meaning with and within the natural world. Her study draws out the longings at the heart of taxidermy—the longing for wonder, beauty, spectacle, order, narrative, allegory, and remembrance. In so doing, The Breathless Zoo explores the animal spectacles desired by particular communities, human assumptions of superiority, the yearnings for hidden truths within animal form, and the loneliness and longing that haunt our strange human existence, being both within and apart from nature.
"I have long been a fan of Rachel Poliquin's otherworldly online museum, www.ravishingbeasts.com, but after reading The Breathless Zoo I know just what she means when she says that all taxidermy, like storytelling, is 'deeply marked by human longing.' I am already longing to read The Breathless Zoo again."
"With The Breathless Zoo, Rachel Poliquin has made a major contribution to the blossoming field of animal studies. This book is the new benchmark on the place of taxidermy in the social history of art, science, and popular culture. Marvelous, rigorous, and extensively well researched, the work is also refreshingly pleasurable to read. Throughout, Poliquin explores the complex questions around the rich cultural texture of taxidermy. And unlike other works on the topic, The Breathless Zoo examines not only what taxidermy is but also what it means. For those of us engaged in thinking about animals, this is the book on the culture of taxidermy we have long awaited—a book of great innovation that slices through the history of science, blood sports, and art."
"The Breathless Zoo is an intriguing and poetic meditation on an unlikely subject: stuffed animals in European museums that seem so familiar and so intellectually musty. Rachel Poliquin teases out of them not just a typological order but also a human longing for beauty and wonder, story and allegory. In the dead specimens she finds immortality; in their stasis, movement across the world. The result is a rich panorama of human ideas and desires."
"The Breathless Zoo is the book that the subject of taxidermy has long deserved. Full of provocative opinions, beautifully expressed, it is a subtle and thoroughly engaging exploration of the difficult question posed by all present-day encounters with taxidermy: 'What is this animal-thing now?'"
"What do Roy Rogers' horse, Trigger, Jumbo the Barnum and Bailey circus elephant, and Dolly the cloned sheep all have in common? They were all stuffed. Or, to be more precise, they have all been given life-after-death through the magic of taxidermy. They share this fate with cats dressed in crinolines, ice-skating hedgehogs and gophers doing, well, all manner of things. And with hummingbirds in nineteenth-century glass cases at London's Natural History Museum and zebras on display at the Field Museum of Natural History in Chicago. What is it that propels human beings to stuff the dead bodies of other animals or birds? According to the author of a new book on the subject, taxidermy is about longing—it is a way of staving off the inevitable, of holding onto the past. Vancouver writer and curator Rachel Poliquin presents a delightfully thorough account of a practice that spans centuries."
"A wealth of well-chosen illustrations, anecdotes, and deft readings of individual pieces of taxidermy make The Breathless Zoo a rich study that will appeal to a variety of readers."
"Rachel Poliquin's The Breathless Zoo: Taxidermy and the Cultures of Longing unearths much of the rich history and technology of stretching and mounting skins, from seventeenth-century European explorers to contemporary collectors and practitioners, along the way packing in a large number of observations. . . . With a detailed index and ample notes, this examination of taxidermy is a useful resource that can support cross-disciplinary research in art, cultural studies, and animal studies."
"It comes as no wonder that The New York Times included Rachel Poliquin's The Breathless Zoo among its best coffee table books of 2012, calling it one among a privileged selection of titles that 'make an impression.'
Along with a rigorously researched and written text, The Breathless Zoo offers up an aesthetically enviable book design, which includes a collection of sumptuously colored images that often amaze, as frequently unnerve, but always leave the curious mind wanting more. The only thing truly bad about The Breathless Zoo, in my humble estimation, is that I didn't write it.
Poliquin's book remains a visually and textually rich treasure trove of knowledge, and should be required reading for anyone in the field of animal studies, as well as anyone engaged in disciplines that interrogate the history of nature and its various representations, in word, image, and practice. We are fortunate to have The Breathless Zoo at our disposal."
"Grounded in historical context, as well as current theoretical methodology, The Breathless Zoo provides a well-rounded, reverent, and provocative commentary on taxidermy."
Rachel Poliquin is a writer and curator engaged with the cultural and poetic history of the natural world. She has curated taxidermy exhibits for the Museum of Vancouver and the Beaty Biodiversity Museum at the University of British Columbia. Poliquin is the author of www.ravishingbeasts.com, a website dedicated to exploring the cultural history of taxidermy.
Contents
List of Illustrations
Acknowledgments
Introduction
1 Wonder
2 Beauty
3 Spectacle
4 Order
5 Narrative
6 Allegory
7 Remembrance
Notes
Index
Mailing List
Subscribe to our mailing list and be notified about new titles, journals and catalogs.