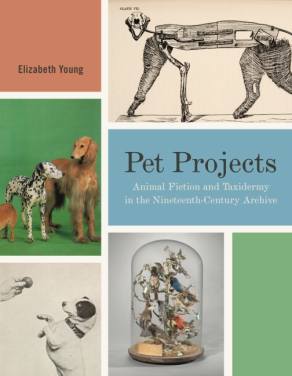 Pet Projects
Animal Fiction and Taxidermy in the Nineteenth-Century Archive
Elizabeth Young
Buy
Pet Projects
Animal Fiction and Taxidermy in the Nineteenth-Century Archive
Elizabeth Young
Honorable Mention for the Society for the Study of American Women Writers' Book Award
"In this innovative and compelling study, Young . . . interweaves a first-person account of taking her golden retriever for cancer treatments with an exploration of the representation of animals in fiction and other cultural forms in 19th-century North America. Young uses Marshall Saunders's best-selling novel Beautiful Joe (1894) as a touchstone to explore what she terms 'first-dog voice' used in fiction. Focusing on a technique she calls 'literary taxidermy,' the author explores a range of theoretical concerns that connect animal studies to discussions of race, gender, and national identity."
Description

Reviews

Bio

Subjects
In
Pet Projects
, Elizabeth Young joins an analysis of the representation of animals in nineteenth-century fiction, taxidermy, and the visual arts with a first-person reflection on her own scholarly journey. Centering on Margaret Marshall Saunders, a Canadian woman writer once famous for her animal novels, and incorporating Young's own experience of a beloved animal's illness, this study highlights the personal and intellectual stakes of a "pet project" of cultural criticism.
Young assembles a broad archive of materials, beginning with Saunders's novels and widening outward to include fiction, nonfiction, photography, and taxidermy. She coins the term "first-dog voice" to describe the narrative technique of novels, such as Saunders's Beautiful Joe, written in the first person from the perspective of an animal. She connects this voice to contemporary political issues, revealing how animal fiction such as Saunders's reanimates nineteenth-century writing about both feminism and slavery. Highlighting the prominence of taxidermy in the late nineteenth century, she suggests that Saunders transforms taxidermic techniques in surprising ways that provide new forms of authority for women. Young adapts Freud to analyze literary representations of mourning by and for animals, and she examines how Canadian writers, including Saunders, use animals to explore race, ethnicity, and national identity. Her wide-ranging investigation incorporates twenty-first as well as nineteenth-century works of literature and culture, including recent art using taxidermy and contemporary film. Throughout, she reflects on the tools she uses to craft her analyses, examining the state of scholarly fields from feminist criticism to animal studies.
With a lively, first-person voice that highlights experiences usually concealed in academic studies by scholarly discourse—such as detours, zigzags, roadblocks, and personal experience—this unique and innovative book will delight animal enthusiasts and academics in the fields of animal studies, gender studies, American studies, and Canadian studies.
"In this innovative and compelling study, Young . . . interweaves a first-person account of taking her golden retriever for cancer treatments with an exploration of the representation of animals in fiction and other cultural forms in 19th-century North America. Young uses Marshall Saunders's best-selling novel Beautiful Joe (1894) as a touchstone to explore what she terms 'first-dog voice' used in fiction. Focusing on a technique she calls 'literary taxidermy,' the author explores a range of theoretical concerns that connect animal studies to discussions of race, gender, and national identity."
"Pet Projects takes animal humanities research to new heights. Recovering the animal-advocacy stories of Canada's first best-selling author, Margaret Marshall Saunders, Young also uses feminist personal criticism to frame a timely history of animal studies, one that calls out the desires of so many to invent the field, while at the same time identifying how its development has involved collaborative negotiations at the crossroads of disciplines."
"Young characterizes Pet Projects as a 'picaresque wandering' in the fields of literary representation, animal studies, feminism, CanLit and American studies, and across intellectual, temporal, and geographical boundaries, and there is something rogue about her method. But if human relationships with other animals are to become more accommodating, more compassionate, less abusive, then a rogue approach—one that challenges conventional assumptions and methods of knowledge-making—is surely what is required."
Elizabeth Young is Carl M. and Elsie A. Small Professor of English at Mount Holyoke College. She is the author of Black Frankenstein: The Making of an American Metaphor and Disarming the Nation: Women's Writing and the American Civil War.
Mailing List
Subscribe to our mailing list and be notified about new titles, journals and catalogs.