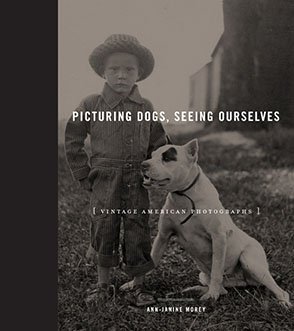 Picturing Dogs, Seeing Ourselves
Vintage American Photographs
Ann-Janine Morey
BUY
Picturing Dogs, Seeing Ourselves
Vintage American Photographs
Ann-Janine Morey
"This is a lovely collection of vernacular 19th- and 20th-century images of dogs and their owners."
Description

Reviews

Bio

Table of Contents

Sample Chapters

Subjects
Dogs are as ubiquitous in American culture as white picket fences and apple pie, embracing all the meanings of wholesome domestic life—family, fidelity, comfort, protection, nurturance, and love—as well as symbolizing some of the less palatable connotations of home and family, including domination, subservience, and violence. In
Picturing Dogs, Seeing Ourselves
, Ann-Janine Morey presents a collection of antique photographs of dogs and their owners in order to investigate the meanings associated with the canine body. Included are reproductions of 115 postcards, cabinet cards, and
cartes de visite
that feature dogs in family and childhood snapshots, images of hunting, posed studio portraits, and many other settings between 1860 and 1950. These photographs offer poignant testimony to the American romance with dogs and show how the dog has become part of cultural expressions of race, class, and gender.
Animal studies scholars have long argued that our representation of animals in print and in the visual arts has a profound connection to our lived cultural identity. Other books have documented the depiction of dogs in art and photography, but few have reached beyond the subject's obvious appeal.
Picturing Dogs, Seeing Ourselves
draws on animal, visual, and literary studies to present an original and richly contextualized visual history of the relationship between Americans and their dogs. Though the personal stories behind these everyday photographs may be lost to us, their cultural significance is not.
"This is a lovely collection of vernacular 19th- and 20th-century images of dogs and their owners."
"Ann-Janine Morey's book is a treasure trove of photographs created by ordinary people. Together these document what Morey calls the 'romance' of dogs and humans—a story of love, domination, primitivism, and 'Edenic longings'—embodied in the presence of the dog among humans."
Ann-Janine Morey is Associate Vice Provost for Cross Disciplinary Studies at James Madison University.
Contents
Preface: Some Words About the Pictures
Acknowledgments
Introduction: Romancing the Dog
1 The Visual Rhetoric of Everyday People
2 The Dog on the Table: From The Great Gatsby to the Great White Middle Class
3 The Gaze Outside the Frame
4 Family Portraits
5 Hunting Pictures and Dog Stories
6 Women Cross the Line
Conclusion: The Dog in the Picture
Notes
Bibliography
Index
Mailing List
Subscribe to our mailing list and be notified about new titles, journals and catalogs.