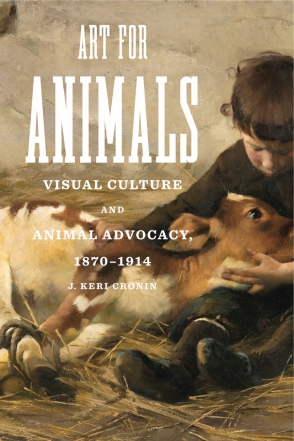 Art for Animals
Visual Culture and Animal Advocacy, 1870–1914
J. Keri Cronin
BUY
Art for Animals
Visual Culture and Animal Advocacy, 1870–1914
J. Keri Cronin
"Cronin's innovative and compelling study offers powerful insights about cultural production and the evolution of animal advocacy on both sides of the Atlantic. Art for Animals is a welcome contribution to the literature on animal studies and will appeal to students of visual culture, art history, and social movements as well."
Description

Reviews

Bio

Table of Contents

Sample Chapters

Subjects
Animal rights activists today regularly use visual imagery in their efforts to shape the public's understanding of what it means to be "kind," "cruel," and "inhumane" toward animals.
Art for Animals
explores the early history of this form of advocacy through the images and the people who harnessed their power.
Following in the footsteps of earlier-formed organizations like the RSPCA and ASPCA, animal advocacy groups such as the Victoria Street Society for the Protection of Animals from Vivisection made significant use of visual art in literature and campaign materials. But, enabled by new and improved technologies and techniques, they took the imagery much further than their predecessors did, turning toward vivid, pointed, and at times graphic depictions of human-animal interactions. Keri Cronin explains why the activist community embraced this approach, details how the use of such tools played a critical role in educational and reform movements in the United States, Canada, and England, and traces their impact in public and private spaces. Far from being peripheral illustrations of points articulated in written texts or argued in impassioned speeches, these photographs, prints, paintings, exhibitions, "magic lantern" slides, and films were key components of animal advocacy at the time, both educating the general public and creating a sense of shared identity among the reformers.
Uniquely focused on imagery from the early days of the animal rights movement and filled with striking visuals, Art for Animals sheds new light on the history and development of modern animal advocacy.
"Cronin's innovative and compelling study offers powerful insights about cultural production and the evolution of animal advocacy on both sides of the Atlantic. Art for Animals is a welcome contribution to the literature on animal studies and will appeal to students of visual culture, art history, and social movements as well."
"A welcome and much-needed addition to the growing literature on animals and art. In particular, Cronin's book, which is focused on the historical period when the first wave of the animal protection movement emerged, demonstrates the role that visual media played in the development of that movement. But the book is far more than a historical snapshot. Activists' use of representations of animals—and animal suffering—is just as important (if not more so) in the modern animal rights movement of today. Art for Animals will appeal to anyone with an interest in how people have worked to combat animal abuse in the past, and how they do so today."
"Cronin skillfully weaves together a history of animal advocacy with fascinating primary source images that show the imaginative range of advocacy groups in the United States, Canada, and Great Britain, along with the social resistance that sometimes accompanied these efforts at public education. Humane societies today struggle with showing animal abuse when approaching supporters; Art for Animals provides a timely occasion for further thinking about these visual challenges for both animal studies scholars and advocates."
"In this important and unique contribution to the animal advocacy movement, Cronin provides a wealth of images drawn from extensive research in support of her claim that animal advocacy is, and has always been, informed by visual culture. Art for Animals belongs on the shelf of not only anyone with an abiding concern for the role of art and visual culture in the study of human-animal relationships, but anyone who also advocates on behalf of nonhuman animals themselves. I highly recommend this well-researched and compelling book!"
"How do images represent an injustice or gesture toward an ideal? Keri Cronin brilliantly answers this question by identifying the key role images play in shaping—and resisting—dominant ideas about animals. Her profound scholarship equips us to recognize the irreplaceable and unique role of visual culture in animal activism. Thanks to Art for Animals, we are better able to understand past activisms and envision future ones."
"Not only is [this book] a gold mine of information about art for animals, but so too it shows how important visual representations are for attracting people's interests in the lives of other animals and for showing what humans need to do to give them the very best lives possible."
"Cronin's book will no doubt be welcomed by readers in animal studies, art history, British and North American history, visual culture studies, and other fields. Her innovative and truly interdisciplinary study reaches across national borders to assemble an impressive archive of animal imagery."
"Cronin's innovative look at art in animal advocacy allows animal studies scholars to rethink human-animal relations from a new perspective and inspires us to consider not only how animals were exploited but also protected in the late nineteenth and early twentieth century."
J. Keri Cronin is Associate Professor of Visual Arts at Brock University. She is the author of Manufacturing National Park Nature: Photography, Ecology, and the Wilderness Industry of Jasper.
Contents
List of Illustrations
Acknowledgments
Introduction
1 Educate Them Artistically
2 Bearing Witness
3 Imaginative Leaps
4 In the Public Eye
5 Advocacy at Home
Conclusion: What Might Be
Notes
Bibliography
Index
Mailing List
Subscribe to our mailing list and be notified about new titles, journals and catalogs.