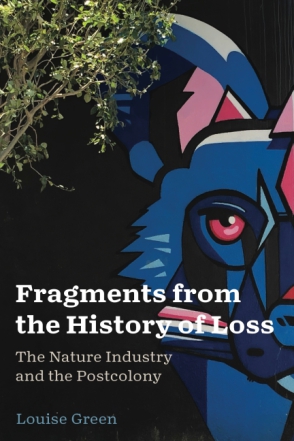 Fragments from the History of Loss
The Nature Industry and the Postcolony
Louise Green
BUY
Fragments from the History of Loss
The Nature Industry and the Postcolony
Louise Green
"Louise Green has compiled an important collection of analyses, focusing on the problem of nature in the age of climate change, and relating this to cultural circumstances in colonial and postcolonial Africa. These fascinating, well-researched, and surprisingly original studies show how nature is produced as a cultural relic in late capitalist society. Her book is an important contribution to the fields of Anthropocene studies, African studies, and cultural studies."
Description

Reviews

Bio

Table of Contents

Subjects
The Anthropocene's urgent message about imminent disaster invites us to forget about history and to focus on the present as it careens into an unthinkable future. To counter this, Louise Green engages with the theoretical framing of nature in concepts such as the "Anthropocene," "the great acceleration," and "rewilding" in order to explore what the philosophy of nature in the era of climate change might look like from postcolonial Africa.
Utilizing a practice of reading developed in the Frankfurt school, Green rearranges narrative fragments from the "global nature industry," which subjugates all aspects of nature to the logic of capitalist production, in order to disrupt preconceived notions and habitual ways of thinking about how we inhabit the Anthropocene. Examining climate change through the details of everyday life, particularly the history of conspicuous consumption and the exploitation of Africa, she surfaces the myths and fantasies that have brought the world to its current ecological crisis and that continue to shape the narratives through which it is understood. Beginning with African rainforest exhibits in New York and Cornwall, Green discusses how these representations of the climate catastrophe fail to acknowledge the unequal pace at which humans consume and continue to replicate imperial narratives about Africa. Examining this history and climate change through the lens of South Africa's entry into capitalist modernity, Green argues that the Anthropocene redirects attention away from the real problem, which is not human's relation with nature, but people's relations with each other.
A sophisticated, carefully argued call to rethink how we approach relationships between and among humans and the world in which we live, Fragments from the History of Loss is a challenge to both the current era and the scholarly conversation about the Anthropocene.
"Louise Green has compiled an important collection of analyses, focusing on the problem of nature in the age of climate change, and relating this to cultural circumstances in colonial and postcolonial Africa. These fascinating, well-researched, and surprisingly original studies show how nature is produced as a cultural relic in late capitalist society. Her book is an important contribution to the fields of Anthropocene studies, African studies, and cultural studies."
"What if the Anthropocene means the end of Third World futures, a shift from freedom to responsibility? In Fragments from the History of Loss, Louise Green shows how nature is produced as concept, commodity, and alibi for exploitation. With bracing nuance and salutary attention to inequality and immiseration, this scintillating book sifts through slices of time and fragments of nature in order to assemble shards of wisdom for living—lightly, with less—in the Anthropocene. An indispensable rejoinder to depoliticizing, universalist accounts of environmental crisis."
"This brief but thought-provoking study challenges readers to view nature through a broad "constellation" . . . of historical and contemporary elements that illustrate the ways humans created a nature industry to reflect their interests rather than as something objectively natural."
Louise Green is Associate Professor of English at Stellenbosch University.
List of Illustrations
Acknowledgments
1. The Nature Industry
2. Nature in Fragments
3. Living in the Subjunctive
4. The Primitive Accumulation of Nature
5. The Cult of the Wild
6. Privatizing Nature
7. Living at the End of Nature
Notes
References
Index
Mailing List
Subscribe to our mailing list and be notified about new titles, journals and catalogs.