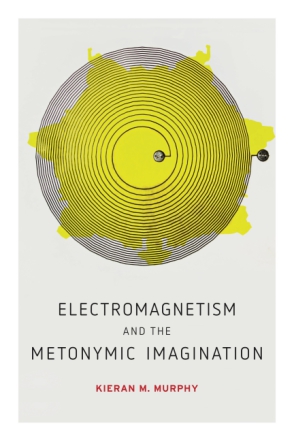 Electromagnetism and the Metonymic Imagination
Kieran M. Murphy
Buy
Electromagnetism and the Metonymic Imagination
Kieran M. Murphy
"A fascinating and convincing argument that treats the notion of magnetism in an original way. It will become indispensable reading for cultural historians who are interested in the connections between science and the broader literary or social culture in the eighteenth, nineteenth, and twentieth centuries."
Description

Reviews

Bio

Table of Contents

Sample Chapters

Subjects
How does the imagination work? How can it lead to both reverie and scientific insight? In this book, Kieran M. Murphy sheds new light on these perennial questions by showing how they have been closely tied to the history of electromagnetism.
The discovery in 1820 of a mysterious relationship between electricity and magnetism led not only to technological inventions—such as the dynamo and telegraph, which ushered in the "electric age"—but also to a profound reconceptualization of nature and the role the imagination plays in it. From the literary experiments of Edgar Allan Poe, Honoré de Balzac, Villiers de l'Isle-Adam, and André Breton to the creative leaps of Michael Faraday and Albert Einstein, Murphy illuminates how electromagnetism legitimized imaginative modes of reasoning based on a more acute sense of interconnection and a renewed interest in how metonymic relations could reveal the order of things.
Murphy organizes his study around real and imagined electromagnetic devices, ranging from Faraday's world-changing induction experiment to new types of chains and automata, in order to demonstrate how they provided a material foundation for rethinking the nature of difference and relation in physical and metaphysical explorations of the world, human relationships, language, and binaries such as life and death. This overlooked exchange between science and literature brings a fresh perspective to the critical debates that shaped the nineteenth century.
Extensively researched and convincingly argued, this pathbreaking book addresses a significant lacuna in modern literary criticism and deepens our understanding of both the history of literature and the history of scientific thinking.
"A fascinating and convincing argument that treats the notion of magnetism in an original way. It will become indispensable reading for cultural historians who are interested in the connections between science and the broader literary or social culture in the eighteenth, nineteenth, and twentieth centuries."
"With its uncluttered prose and careful explications of thorny debates and esoteric philosophies, Electromagnetism and the Metonymic Imagination brings precision to a sometimes fuzzy field of interdisciplinary inquiry. Literary scholars will learn much from this book's cogent analyses, not only about the long history of magnetism, from the sixth-century Aetius of Amida to today's Magnetic Resonance Imaging (MRI) technology, but also about how that history has been deeply intertwined with—and marked by—literary reconceptions of imaginative thought."
"Murphy contributes to ongoing studies on the "electric age" by convincingly demonstrating how electromagnetism drove conceptual and enduring changes in literary and scientific practices. Electromagnetic thinking, including the application of metonymic relations, revealed new ways of ordering and investigating the world. His comparative approach synthesizes electromagnetic analogies across discipline, genre, and national specificities."
"By investigating the links between electricity and magnetism, Murphy uncovers forces that bind the natural and human sciences, literature and science, and analysis and creativity."
Kieran M. Murphy is Associate Professor of French at the University of Colorado, Boulder.
Acknowledgments
Introduction
1. (Electro-) Magnetic Chains
2. Induction Apparatuses
3. Automata
Conclusion
Notes
Bibliography
Index
Mailing List
Subscribe to our mailing list and be notified about new titles, journals and catalogs.