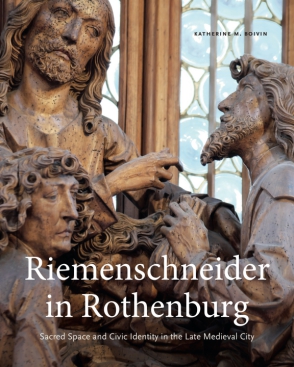 Riemenschneider in Rothenburg
Sacred Space and Civic Identity in the Late Medieval City
Katherine M. Boivin
Buy
Riemenschneider in Rothenburg
Sacred Space and Civic Identity in the Late Medieval City
Katherine M. Boivin
"Riemenschneider in Rothenburg should be of great interest to art historians and others. It sheds light on a major figure of the Northern 'Renaissance' and also on issues of civic contextualization that are of current interest. The scholarship is thorough and careful. It is, in short, an excellent book."
Description

Reviews

Bio

Table of Contents

Sample Chapters

Subjects
The concept of the medieval city is fixed in the modern imagination, conjuring visions of fortified walls, towering churches, and winding streets. In
Riemenschneider in Rothenburg
, Katherine M. Boivin
investigates how medieval urban planning and artistic programming worked together to form dynamic environments, demonstrating the agency of objects, styles, and spaces in mapping the late medieval city.
Using altarpieces by the famed medieval artist Tilman Riemenschneider as touchstones for her argument, Boivin explores how artwork in Germany's preeminent medieval city, Rothenburg ob der Tauber, deliberately propagated civic ideals. She argues that the numerous artistic pieces commissioned by the city's elected council over the course of two centuries built upon one another, creating a cohesive structural network that attracted religious pilgrims and furthered the theological ideals of the parish church. By contextualizing some of Rothenburg's most significant architectural and artistic works, such as St. James's Church and Riemenschneider's Altarpiece of the Holy Blood, Boivin shows how the city government employed these works to establish a local aesthetic that awed visitors, raising Rothenburg's profile and putting it on the pilgrimage map of Europe.
Carefully documented and convincingly argued, this book sheds important new light on the history of one of Germany's major tourist destinations. It will be of considerable interest to medieval art historians and scholars working in the fields of cultural and urban history.
"Riemenschneider in Rothenburg should be of great interest to art historians and others. It sheds light on a major figure of the Northern 'Renaissance' and also on issues of civic contextualization that are of current interest. The scholarship is thorough and careful. It is, in short, an excellent book."
"Does the urban environment always aspire to formal wholeness, or is it best comprehended as an assemblage of forms, media, and styles integrated by the prevailing patterns of human praxis? Opening a vista onto the imperial German city of Rothenburg and its Gothic buildings, Katherine Boivin tackles this important question in provocative new ways, showing not least of all the power of one artist's signature style to weave together the real—and notional—spaces of town, church, and cult."
"While the situation in late medieval Rothenburg itself was unique, the model of analysis set forth here by Boivin is one that will bear further study by medievalists in many disciplines beyond art and architectural history. Just as Riemenschneider in Rothenburg goes beyond a discussion of the famed sculptor and his workshop, Boivin's book has much to offer in its exemplar of how intricate webs of significance could flexibly accommodate multiple patrons and works to create a meaningfully coherent network of spaces that made up a medieval town."
Katherine M. Boivin is Assistant Professor of Art History at Bard College.
List of Illustrations
Acknowledgements
List of Abbreviations
Introduction
1. The City as Patron
2. A Pilgrimage Environment
3. The Urban Complex
4. Remapping the City
Epilogue: The Modern Medieval City
Notes
Bibliography
Index
Mailing List
Subscribe to our mailing list and be notified about new titles, journals and catalogs.