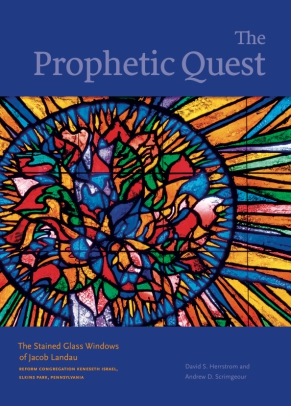 The Prophetic Quest
The Stained Glass Windows of Jacob Landau, Reform Congregation Keneseth Israel, Elkins Park, Pennsylvania
David S. Herrstrom and Andrew D. Scrimgeour
Buy
The Prophetic Quest
The Stained Glass Windows of Jacob Landau, Reform Congregation Keneseth Israel, Elkins Park, Pennsylvania
David S. Herrstrom and Andrew D. Scrimgeour
"An important contribution to our knowledge and understanding of Jewish life in Pennsylvania and religious life more broadly. The Prophetic Quest brings attention to hitherto unknown items that themselves carry artistic, historic, and religious significance."
Description

Reviews

Bio

Table of Contents

Sample Chapters

Subjects
Some of the most breathtaking art in America lies behind doors that few ever open. One such masterpiece is
The Prophetic Quest
, a series of ten monumental stained glass windows in the Keneseth Israel synagogue, just north of Philadelphia. This informative and exquisitely illustrated volume pulls back the curtain on this little-known work of art.
Designed by the renowned American artist Jacob Landau, The Prophetic Quest encompasses ten masterful abstract pieces of stained glass that depict the lives and words of the biblical prophets, each towering nearly twenty-five feet high and spanning five feet across. Featuring essays recounting Landau's vision, the history of his project, and detailed interpretive commentary on each window, this book presents an immersive experience of Landau's religious masterwork. Personal reflections written by artists, art historians, poets, clergy, and congregants about their experience of The Prophetic Quest round out the volume with new ways to view and appreciate Landau's creation.
Gorgeously illustrated, this book sheds light on American synagogue art and the history of stained glass in America, and it cements Landau's reputation as one of the leading American protest artists.
The volume features essays by the editors as well as Alicia Suskin Ostriker, Rita Rosen Poley, and Lance J. Sussman, along with additional reflections from fifteen other contributors and the photography of Tom Crane.
"An important contribution to our knowledge and understanding of Jewish life in Pennsylvania and religious life more broadly. The Prophetic Quest brings attention to hitherto unknown items that themselves carry artistic, historic, and religious significance."
"The Prophetic Quest is an essential companion for anyone who takes a trip to Elkins Park to see these glorious windows."
David S. Herrstrom is an independent scholar and President of the Jacob Landau Institute. He is the author of several books of poetry, including Jonah's Disappearance and Appearing by Daylight, which feature drawings by Jacob Landau.
Andrew D. Scrimgeour is Dean of Libraries Emeritus at Drew University, Archivist Emeritus of the Society of Biblical Literature, and the founding archivist of the American Academy of Religion. His essays and stories have been published in the New York Times.
Contents
List of Illustrations
Preface
Foreword Thomas H. Kean
Acknowledgements
Essays
Prophet with a Brush: The Life of Jacob Landau
Andrew D. Scrimgeour
The Windows: Conception and Chronology
Rita Rosen Poley
In Situ: A View of the Landau Windows from the Pulpit of Reform Congregation Keneseth Israel
Lance J. Sussman
The Prophetic Quest of Jacob Landau
David S. Herrstrom
The Windows
Interpretive Commentary
David S. Herrstrom
Photographs by Tom Crane
Abraham
Elijah
Amos
Hosea
Isaiah
Jeremiah
Ezekiel
Second Isaiah
Job
Malachi
Download a PDF sample chapter here: chapter1
Mailing List
Subscribe to our mailing list and be notified about new titles, journals and catalogs.