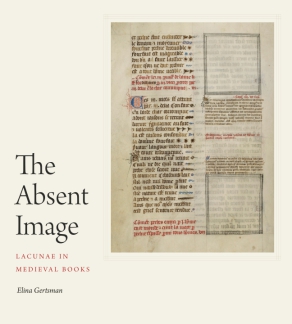 The Absent Image
Lacunae in Medieval Books
Elina Gertsman
BUY
The Absent Image
Lacunae in Medieval Books
Elina Gertsman
Winner of the 2022 Charles Rufus Morey Award from the College Art Association
"Gertsman makes a convincing argument, and at times shows a wonderful novelistic sensibility in describing the micro-dramas on display."
Media

Description

Reviews

Bio

Table of Contents

Sample Chapters

Subjects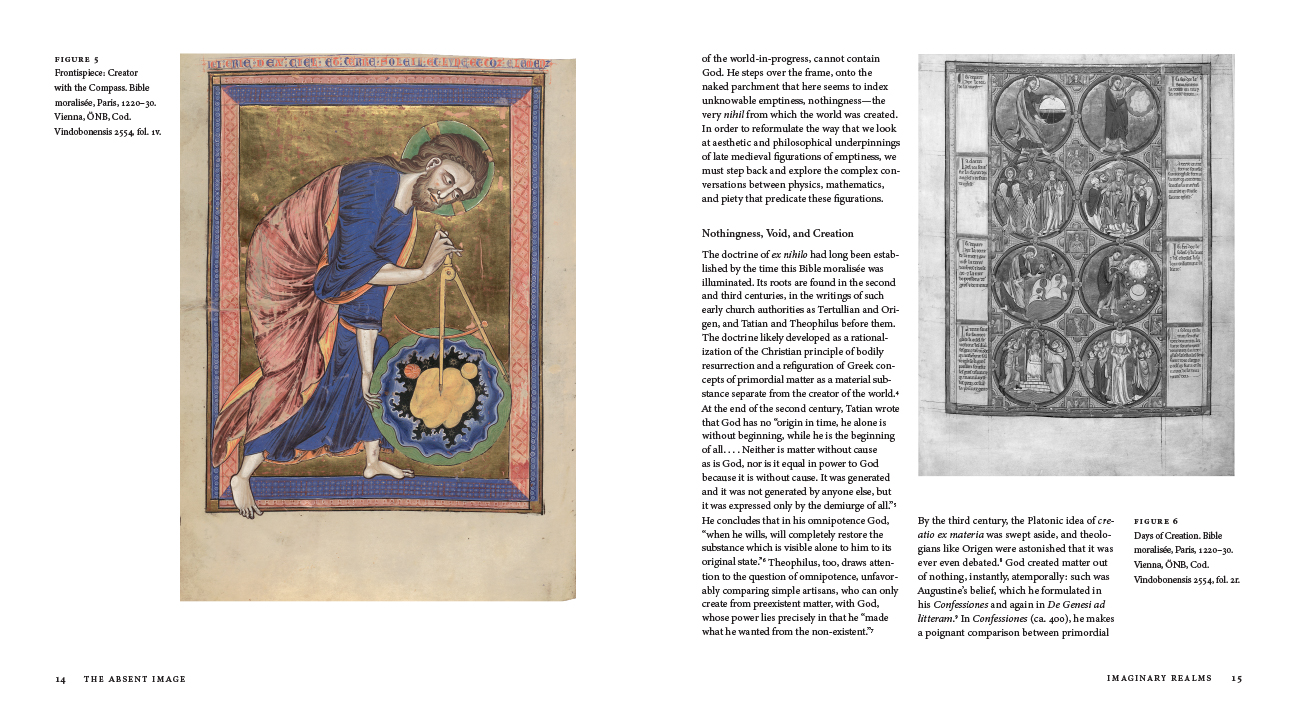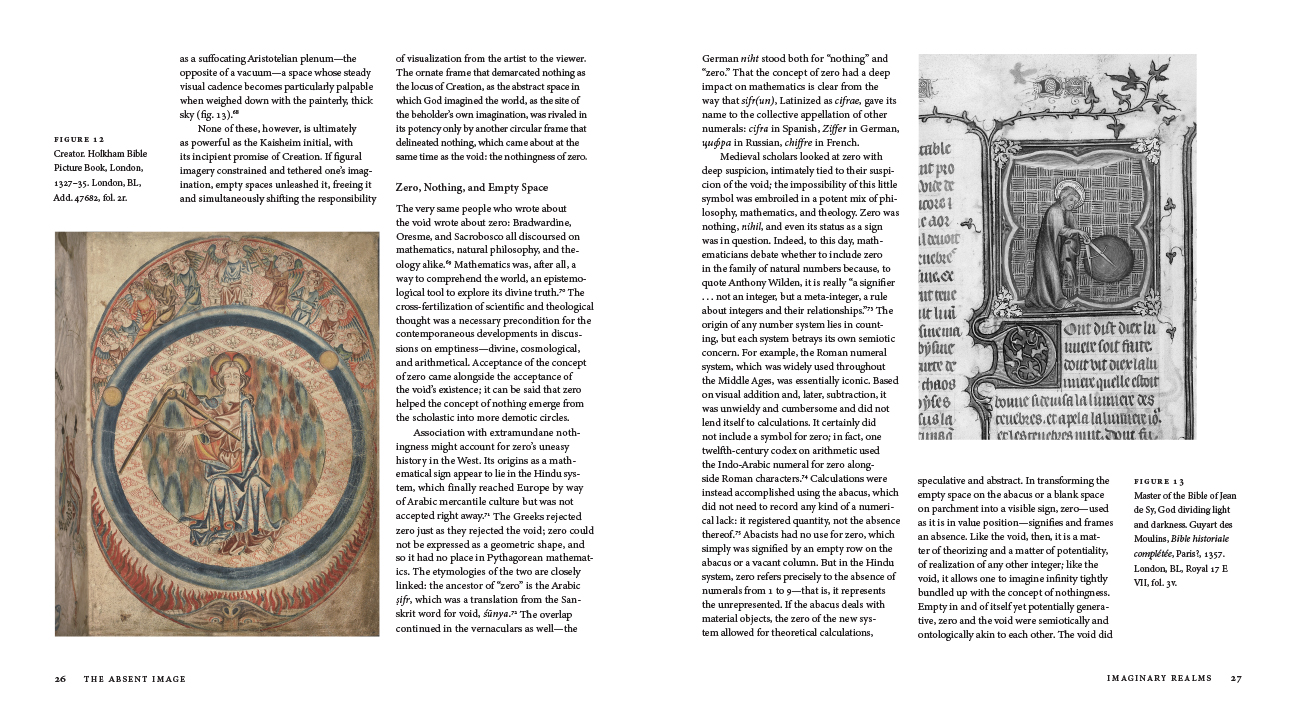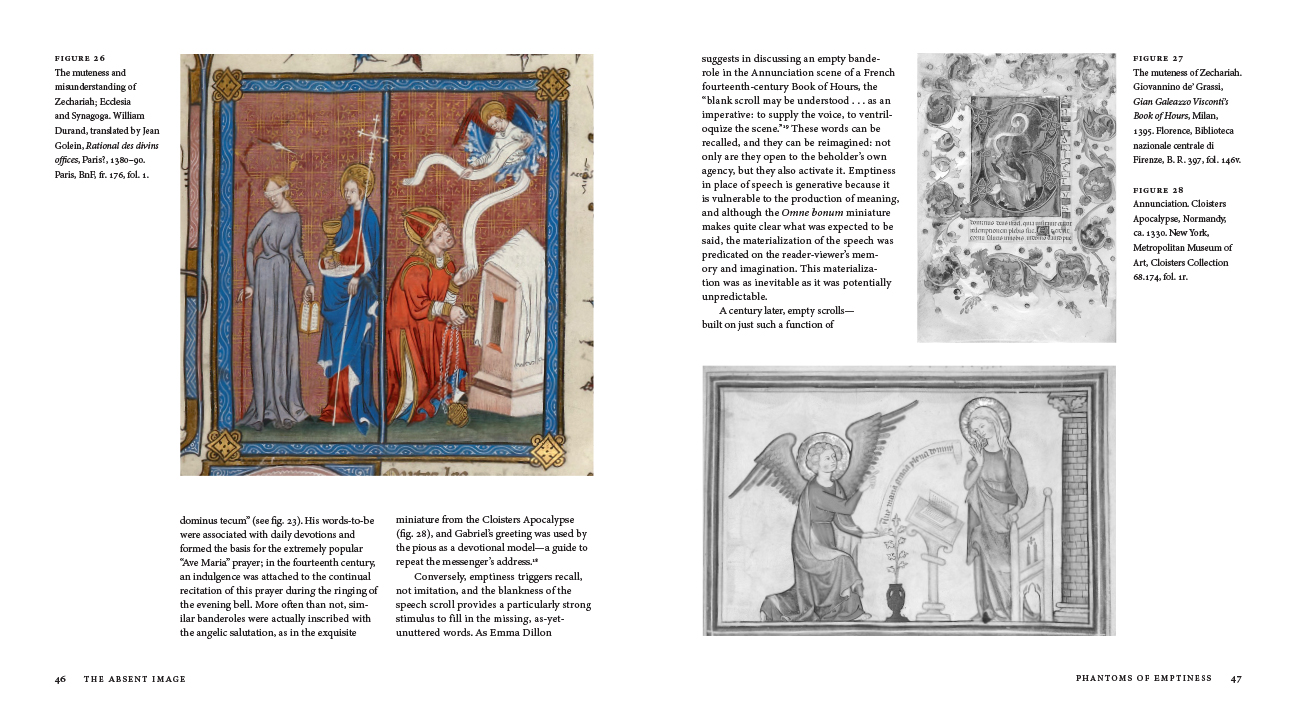 Winner of the 2022 Charles Rufus Morey Award from the College Art Association
Guided by Aristotelian theories, medieval philosophers believed that nature abhors a vacuum. Medieval art, according to modern scholars, abhors the same. The notion of
horror vacui
—the fear of empty space—is thus often construed as a definitive feature of Gothic material culture. In
The Absent Image
, Elina Gertsman argues that Gothic art, in its attempts to grapple with the unrepresentability of the invisible, actively engages emptiness, voids, gaps, holes, and erasures.
Exploring complex conversations among medieval philosophy, physics, mathematics, piety, and image-making, Gertsman considers the concept of nothingness in concert with the imaginary, revealing profoundly inventive approaches to emptiness in late medieval visual culture, from ingenious images of the world's creation ex nihilo to figurations of absence as a replacement for the invisible forces of conception and death.
Innovative and challenging, this book will find its primary audience with students and scholars of art, religion, physics, philosophy, and mathematics. It will be particularly welcomed by those interested in phenomenological and cross-disciplinary approaches to the visual culture of the later Middle Ages.
"Gertsman makes a convincing argument, and at times shows a wonderful novelistic sensibility in describing the micro-dramas on display."
"This is an intellectually ambitious, rigorously argued, and erudite book that explores visual strategies and their theoretical underpinnings of 'empty spaces' in medieval manuscripts. A must-read for scholars of medieval and northern Renaissance art and intellectual history."
"This is one of the most original books I have read—original in its conception and subject, in the materials studied and illustrated, in the numerous questions posed, and in its compelling conclusions. It is a potentially paradigm-shifting work that will affect how we perceive illustrated manuscripts and that should finally put to rest for art historians the 'intentional fallacy' long rejected by literary historians."
"Elina Gertsman's The Absent Image is a rarefied treat for connoisseurs – a kind of apophatic art history. She explores a phenomenon that is seldom studied: the voids, gaps and empty frames that manuscript artists used to represent the unrepresentable."
"The book is amusing and thought-provoking in the best sense, and the lavish illustrations create much food for thought, not out of nothing but from a wealth of varied examples."
"Gertsman's book is absolutely brilliant, a paragon of scholarship to be held up as a model to students and colleagues alike."
Elina Gertsman is Professor of Art History and Archbishop Paul J. Hallinan Professor in Catholic Studies II at Case Western Reserve University. She is the author of the award-winning Worlds Within: Opening the Medieval Shrine Madonna, also published by Penn State University Press.
Contents
List of Illustrations
Acknowledgments
List of Abbreviations
Introduction Nothing Is the Matter
Chapter 1 Imaginary Realms
Chapter 2 Phantoms of Emptiness
Chapter 3 Traces of Touch
Chapter 4 Penetrating the Parchment
Coda Absences
Notes
Bibliography
Index
Mailing List
Subscribe to our mailing list and be notified about new titles, journals and catalogs.