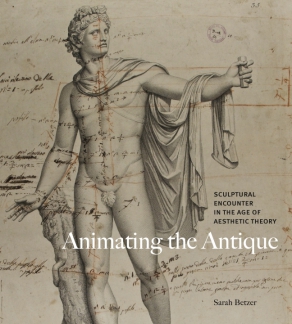 Animating the Antique
Sculptural Encounter in the Age of Aesthetic Theory
Sarah Betzer
Buy
Animating the Antique
Sculptural Encounter in the Age of Aesthetic Theory
Sarah Betzer
"Like the author's previous pathbreaking and widely admired book on the relation between portrait painting in the studio of Ingres and the broader problematics of painting 'history,' Animating the Antique is painstaking, original, and uncompromising. Weaving art history with aesthetics, the history of archaeology and of collections, and other topics, Betzer's study of the figuration of sculpture in two-dimensional representations sets a unique insight into a multifaceted framework."
Description

Reviews

Bio

Subjects
Framed by tensions between figural sculpture experienced in the round and its translation into two-dimensional representations,
Animating the Antique
explores enthralling episodes in a history of artistic and aesthetic encounters. Moving across varied locations—among them Rome, Florence, Naples, London, Dresden, and Paris—Sarah Betzer explores a history that has yet to be written: that of the Janus-faced nature of interactions with the antique by which sculptures and beholders alike were caught between the promise of animation and the threat of mortification.
Examining the traces of affective and transformative sculptural encounters, the book takes off from the decades marked by the archaeological, art-historical, and art-philosophical developments of the mid-eighteenth century and culminantes in fin de siècle anthropological, psychological, and empathic frameworks. It turns on two fundamental and interconnected arguments: that an eighteenth-century ontology of ancient sculpture continued to inform encounters with the antique well into the nineteenth century, and that by attending to the enduring power of this model, we can newly appreciate the distinctively modern terms of antique sculpture's allure. As Betzer shows, these eighteenth-century developments had far-reaching ramifications for the making and beholding of modern art, the articulations of art theory, the writing of art history, and a significantly queer Nachleben of the antique.
Bold and wide-ranging, Animating the Antique sheds light upon the work of myriad artists, in addition to that of writers ranging from Goethe and Winckelmann to Hegel, Walter Pater, and Vernon Lee. It will be especially welcomed by scholars and students working in eighteenth- and nineteenth-century art history, art writing, and art historiography.
"Like the author's previous pathbreaking and widely admired book on the relation between portrait painting in the studio of Ingres and the broader problematics of painting 'history,' Animating the Antique is painstaking, original, and uncompromising. Weaving art history with aesthetics, the history of archaeology and of collections, and other topics, Betzer's study of the figuration of sculpture in two-dimensional representations sets a unique insight into a multifaceted framework."
"A beautifully written book. One of the most appealing aspects of Animating the Antique is the way it interweaves the histories of discourse and practice over nearly two hundred years. Something similar can be said about painting and sculpture, media that are typically studied largely in isolation from each other: this is the rare book to bring them together in a substantial and illuminating way."
Sarah Betzer is Professor of Art History at the University of Virginia and the author of Ingres and the Studio: Women, Painting, History, also published by Penn State University Press.
Mailing List
Subscribe to our mailing list and be notified about new titles, journals and catalogs.