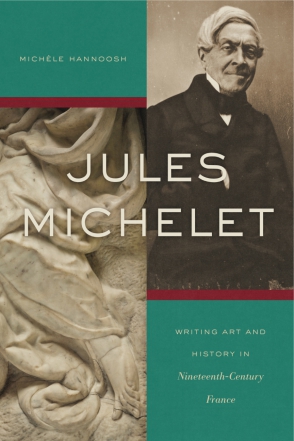 Jules Michelet
Writing Art and History in Nineteenth-Century France
Michèle Hannoosh
Buy
Jules Michelet
Writing Art and History in Nineteenth-Century France
Michèle Hannoosh
"In this book Hannoosh reveals a brilliant mind using art to invent a way of writing history, inspiring the discipline of art history itself, inspiring us to continue to build the 'cathedral of knowledge' as both meticulous scholarship and profound love of art."
Description

Reviews

Bio

Table of Contents

Sample Chapters

Subjects
Jules Michelet, one of France's most influential historians and a founder of modern historical practice, was a passionate viewer and relentless interpreter of the visual arts. In this book, Michèle Hannoosh examines the crucial role that art writing played in Michelet's work and shows how it decisively influenced his theory of history and his view of the practice of the historian.
The visual arts were at the very center of Michelet's conception of historiography. He filled his private notes, public lectures, and printed books with discussions of artworks, which, for him, embodied the character of particular historical moments. Michelet believed that painting, sculpture, architecture, and engraving bore witness to histories that frequently went untold; that they expressed key ideas standing behind events; and that they articulated concepts that would come to fruition only later.
This groundbreaking reevaluation of Michelet's approach to history elucidates how writing about art provided a model for the historian's relation to, and interpretation of, the past, and thus for a new type of historiography—one that acknowledges and enacts the historian's own implication in the history he or she tells.
"In this book Hannoosh reveals a brilliant mind using art to invent a way of writing history, inspiring the discipline of art history itself, inspiring us to continue to build the 'cathedral of knowledge' as both meticulous scholarship and profound love of art."
"Hannoosh's Jules Michelet: Writing Art and History in Nineteenth-Century France . . . is satisfying not just for what it contributes to our knowledge of Michelet and the nineteenth-century cultural field as a whole but also for the important set of theoretical questions it engenders."
"Michelet emerges as an obsessive and at times intriguingly changeable rewriter, and it is in this respect that Hannoosh's study is exemplary in its choice and treatment of primary materials, as well as eloquent in its analyses and conclusions."
"'History can be an aliment only when it is full as an egg,' according to Roland Barthes's assessment of the romantic histories of the great nineteenth-century writer Jules Michelet. Michèle Hannoosh, in her own intellectual biography of the historian, picks up a crucial ingredient of this egg that Barthes had introduced but almost put aside: Michelet's deep indebtedness to different periods and types of visual art. Hannoosh's book remedies this 'lack' by offering us a most insightful, intelligent, and imaginative account of how dependent, in many ways, his historical vision was to works of art."
Michèle Hannoosh is Professor of French at the University of Michigan. She is the author of, among other books, Baudelaire and Caricature: From the Comic to an Art of Modernity and translator of Eugène Delacroix's Journey to the Maghreb and Andalusia, 1832: The Travel Notebooks and Other Writings, both published by Penn State University Press.
List of Illustrations
Acknowledgments
List of Abbreviations
Introduction
1. Art and the Writing of History
2. The Gothic Drama of the Middle Ages: Reims and Strasbourg Cathedrals
3. The Unfinished Renaissance: Van Eyck, Rubens, Dürer
4. Civil War in the Century of Woman: Fontainebleau, Goujon, Pilon
5. Nation and the People: G.ricault
Conclusion: The Artist as Historian: Rembrandt
Notes
Bibliography
Index
Mailing List
Subscribe to our mailing list and be notified about new titles, journals and catalogs.