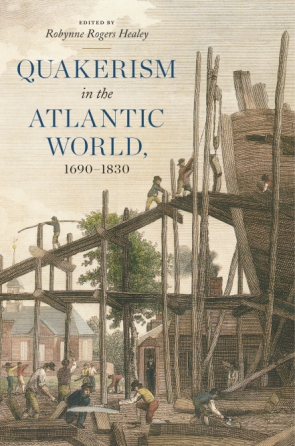 Quakerism in the Atlantic World, 1690–1830
Edited by Robynne Rogers Healey
Buy
Quakerism in the Atlantic World, 1690–1830
Edited by Robynne Rogers Healey
"This book will become a central work for a period of Quaker history that has lacked a comprehensive history to date."
Description

Reviews

Bio

Table of Contents

Sample Chapters

Subjects
This third installment in the New History of Quakerism series is a comprehensive assessment of transatlantic Quakerism across the long eighteenth century, a period during which Quakers became increasingly sectarian even as they expanded their engagement with politics, trade, industry, and science. The contributors to this volume interrogate and deconstruct this paradox, complicating traditional interpretations of what has been termed "Quietist Quakerism."
Examining the period following the Toleration Act in England of 1689 through the Hicksite-Orthodox Separation in North America, this work situates Quakers in the eighteenth-century British Atlantic world. Three thematic sections—exploring unique Quaker testimonies and practices; tensions between Quakerism in community and Quakerism in the world; and expressions of Quakerism around the Atlantic world—broaden geographic understandings of the Quaker Atlantic experience to determine how local events shaped expressions of Quakerism. The authors challenge oversimplified interpretations of Quaker practices and reveal a complex Quaker world, one in which prescription and practice were more often negotiated than dictated, even after the mid-eighteenth-century "reformation" and tightening of the Discipline on both sides of the Atlantic.
Accessible and well-researched, Quakerism in the Atlantic World, 1690-1830, provides fresh insights and raises new questions about an understudied period of Quaker history.
In addition to the editor, the contributors to this volume include Richard C. Allen, Erin Bell, Erica Canela, Elizabeth Cazden, Andrew Fincham, Sydney Harker, Rosalind Johnson, Emma Lapsansky-Werner, Jon Mitchell, and Geoffrey Plank.
"This book will become a central work for a period of Quaker history that has lacked a comprehensive history to date."
"Quakerism in the Atlantic World makes an invaluable contribution to Quaker history and scholarship, both in its own right and as a catalyst for further exploration and analysis of Quakerism during this period. At the very end of the book, Healey states that, for the contributors, what was perhaps most important, was opening up space for future research and dialogue. The collection certainly seems to meet that objective, and in time, it will no doubt be recognised as a book that stimulated the work of a new generation of scholars, and inaugurated a thorough-going reappraisal of Quakerism during the long eighteenth century."
Robynne Rogers Healey is Professor of History and Codirector of the Gender Studies Institute at Trinity Western University. She is the author of From Quaker to Upper Canadian: Faith and Community Among Yonge Street Friends, 1801–1850, and the coauthor of Quaker Studies: An Overview; The Current State of the Field.
Contents
Acknowledgements
List of Abbreviations
Introduction
Robynne Rogers Healey
Part 1: Unique Quaker Testimonies and Practices
1. "Our Dear Friend Has Departed This Life": Memorial Testimony Writing in the Long Eighteenth Century
Erica Canela and Robynne Rogers Healey
2. "Within the Bounds of Their Circumstances": The Testimony of Inequality Among Eighteenth-Century New England Friends
Elizabeth Cazden
3. Friendly Advice: The Making and Shaping of Quaker Discipline
Andrew Fincham
4. Three Methods of Worship in Eighteenth-Century Quakerism
Jon Mitchell
Part 2: Tensions Between Quakerism in Community and Quakerism in the World
5. "Mrs. Weaver Being a Quaker, Would Not Swear": Representations of Quakers and Crime in the Metropolis, ca. 1696-1815
Erin Bell
6. Quakers and Marriage Legislation in England in the Long Eighteenth Century
Rosalind Johnson
7. Family Unity, and Identity Formation: Eighteenth-Century Quaker Community Building
Emma Lapsansky-Werner
Part 3: Expressions of Quakerism Around the Atlantic World
8. Quakers, Indigenous Americans, and the Landscape of Peace
Geoffrey Plank
9. A Complex Faith: Strategies of Marriage, Family, and Community Among Upper Canadian Quakers, 1784-1830
Sydney Harker and Robynne Rogers Healey
10. Industrial Development and Community Responsibility: The Harford Family and South Wales, ca. 1768-1842
Richard C. Allen
Conclusion
Robynne Rogers Healey
Selected Bibliography
List of Contributors
Index
Mailing List
Subscribe to our mailing list and be notified about new titles, journals and catalogs.