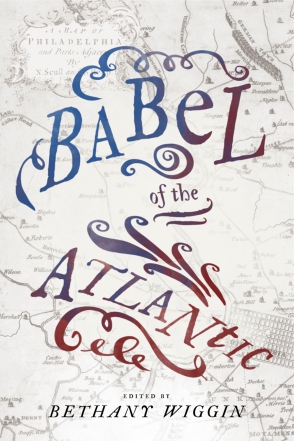 Babel of the Atlantic
Edited by Bethany Wiggin
Buy
Babel of the Atlantic
Edited by Bethany Wiggin
"The volume is successful in exposing the hidden and often underappreciated role that multilingualism played in colonial Philadelphia and its surrounds. Interpreting complex transatlantic networks and cultural change through the lens of multilingual and multicultural societies forces scholars from different disciplines and traditions to collaborate to achieve a more comprehensive, panoramic assessment of these developments. These concerted efforts reveal the complex, sometimes contradictory part that certain key figures such as Benjamin Franklin played in the establishment of societal and linguistic norms."
Description

Reviews

Bio

Table of Contents

Sample Chapters

Subjects
Despite shifting trends in the study of Oceanic Atlantic history, the colonial Atlantic world as it is described by historians today continues to be a largely English-only space; even when other language communities are examined, they, too, are considered to be monolingual and discrete.
Babel of the Atlantic
pushes back against this monolingual fallacy by documenting multilingualism, translation, and fluid movement across linguistic borders.
Focusing on Philadelphia and surrounding areas that include Germantown, Bethlehem, and the so-called Indian country to the west, this volume demonstrates the importance of viewing inhabitants not as members of isolated language communities, whether English, German, Lenape, Mohican, or others, but as creators of a vibrant zone of mixed languages and shifting politics. Organized around four themes—religion, education, race and abolitionism, and material culture and architecture—and drawing from archives such as almanacs, newspapers, and the material world, the chapters in this volume show how polyglot, tolerant, and multilingual spaces encouraged diverse peoples to coexist. Contributors examine subjects such as the multicultural Moravian communities in colonial Pennsylvania, the Charity School movement of the 1750s, and the activities of Quaker abolitionists, showing how educational and religious movements addressed and embraced cultural and linguistic variety.
Drawing early American scholarship beyond the normative narrative of monolingualism, this volume will be invaluable to historians and sociolinguists whose work focuses on Pennsylvania and colonial, revolutionary, and antebellum America.
In addition to the editor, the contributors include Craig Atwood, Patrick M. Erben, Cynthia G. Falk, Katherine Faull, Wolfgang Flügel, Katharine Gerbner, Maruice Jackson, Lisa Minardi, Jürgen Overhoff, and Birte Pfleger.
"The volume is successful in exposing the hidden and often underappreciated role that multilingualism played in colonial Philadelphia and its surrounds. Interpreting complex transatlantic networks and cultural change through the lens of multilingual and multicultural societies forces scholars from different disciplines and traditions to collaborate to achieve a more comprehensive, panoramic assessment of these developments. These concerted efforts reveal the complex, sometimes contradictory part that certain key figures such as Benjamin Franklin played in the establishment of societal and linguistic norms."
"This fine volume is a highly welcome addition to the literature on translation and intercultural communication in the multiethnic environment of eighteenth-century Pennsylvania. Babel of the Atlantic combines the perspectives of history, literary studies, and material culture; it brings together experts on Pennsylvania German history and culture, ethnohistory, and the history of abolitionism; and it is sensitive to issues of gender."
"Taken together, these essays make a strong case for more effectively and thoroughly acknowledging the approximately 120,000 German-speaking immigrant settlers who arrived in Pennsylvania during the eighteenth century, [constituting] nearly one-third of its population. In reminding us of Pennsylvania's multicultural past, they also call on us to more fully reckon with how linguistic and cultural variation influenced the state's early history, and they challenge us to consider the processes by which the English language and Anglo culture became normative."
"The connections across the diverse contributions in this skillfully edited volume are facilitated by a thorough index at the end. The endnotes for each chapter appear with their respective chapters. The book's aesthetic appeal is enhanced by the inclusion of over forty high-quality black-and-white images. It is to be recommended to anyone with an interest in the multicultural history of early America, especially those wanting to learn more about the diversity of German Pennsylvania."
Bethany Wiggin is Associate Professor of Germanic Languages and Literatures at the University of Pennsylvania and Founding Director of the Penn Program in Environmental Humanities.
Contents
List of illustrations
Acknowledgements
Introduction: Multilingual Soundings in the Colonial Mid-Atlantic; "Differences of Manners, Languages and Extraction. Was Now No More"?
Bethany Wiggin
PART 1 NEW WORLD, NEW RELIGIONS
1 . "Wie ein Nimrod / Like a Nimrod": Babel, Confusion, and Coercive Bilingualism in the Eighteenth-Century Mid-Atlantic
Patrick M. Erben
2 . The Moravian Threat to the Old World Establishment Craig Atwood
3 . Women, Migration, and Moravian Mission: Negotiating Pennsylvania's Colonial Landscapes
Katherine Faull
PART 2 THE LANGUAGES OF EDUCATION AND ESTABLISHED RELIGIONS
4 . Benjamin Franklin, the Philadelphia Academy, Halle, and Göttingen
Jürgen Overhoff
5 . German or English? Halle's Pastors in Pennsylvania and the Search for the Right Language, 1742–1820
Wolfgang Flügel
PART 3 THE LANGUAGES OF RACE AND (ANTI-)SLAVERY
6 . Writing Against Slavery: Germantown, Quakers, and the Ethnic Origins of Early Antislavery Thought
Katharine Gerbner
7 . "Ein schrecklicher Zustand": Race, Slavery, and Gradual Emancipation in Pennsylvania
Birte Pfleger
8 . How the Quakers Worked with Moravians, Germans, the French, the British, and Enslaved and Free Africans: All in the Antislavery Cause
Maurice Jackson
PART 4 THE LANGUAGES OF WOOD AND STONE
9 . Communicating Through Wood and Stone: Building a New World Identity in Pennsylvania
Cynthia G. Falk
10 . Germans in Colonial Philadelphia: Ethnicity, Hybridity,
and the Material World
Lisa Minardi
List of Contributors
Index
Mailing List
Subscribe to our mailing list and be notified about new titles, journals and catalogs.