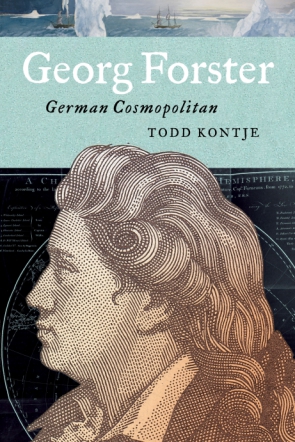 Georg Forster
German Cosmopolitan
Todd Kontje
Buy
Georg Forster
German Cosmopolitan
Todd Kontje
"Todd Kontje's book is both an excellent starting point and a significant addition to existing scholarship. The image of Forster that emerges is further removed from modern progressive values, but no less fascinating and important."
Media

Description

Reviews

Bio

Table of Contents

Sample Chapters

Subjects
Watch "PSU Press Presents: Germans Beyond Europe," a virtual author event hosted by the Press on August 3rd, 2022 with Adam A. Blackler, author of
An Imperial Homeland: Forging German Identity in Southwest Africa
, Kristin Dickinson, author of
DisOrientations: German-Turkish Cultural Contact in Translation, 1811-1946
, Todd Kontje, author of
Georg Forster: German Cosmopolitan
, and Patricia Anne Simpson, author of
The Play World: Toys, Texts, and the Transatlantic German Childhood
:
Georg Forster (1754–1794) was famous during his lifetime, notorious after his death, and largely forgotten by the later nineteenth century. Remembered today as the young man who sailed around the world with Captain Cook and as one of the leading figures in the revolutionary Republic of Mainz, Forster was also a prolific writer and translator who left behind two travelogues, a series of essays on diverse topics, and numerous letters.
This in-depth look at Forster's work and life reveals his importance for other writers of the age. Todd Kontje traces the major intellectual themes and challenges found in Forster's writings, interweaving close textual analysis with his rich but short life. Each chapter engages with themes that reflect the current debates in eighteenth-century literary and cultural studies, including changing notions of authorship, multilingualism, the representation of so-called primitive societies, Enlightenment ideas about race, and early forms of ecological thinking. As Kontje shows, Forster's peripatetic life, malleable sense of national identity, and fluency in multiple languages contrast with the image of the solitary genius in the "age of Goethe." In this way, Forster provides a different model of authorship and citizenship better understood in the context of an increasingly globalized world.
Compellingly argued and engagingly written, this book restores Forster to his rightful place within the German literary tradition, and in so doing, it urges us to reconsider the age of Goethe as multilingual and malleable, local and cosmopolitan, dynamic and decentered. It will be welcomed by specialists in German studies and the Enlightenment.
"Todd Kontje's book is both an excellent starting point and a significant addition to existing scholarship. The image of Forster that emerges is further removed from modern progressive values, but no less fascinating and important."
"A worthy contribution to the scholarship on Forster."
"Georg Forster is a well-conceived and important book that comes at a moment of unresolved tension around questions of nationalism and cosmopolitanism, globalization and imperialism, individual identity and group identity, and populism and democracy—questions that were central to Forster's life and his writings. Written by one of the foremost scholars in German literary approaches to other cultures, it will make an important contribution to the scholarship on Enlightenment travel, thought, and writing."
Todd Kontje is Distinguished Professor of German and Comparative Literature at the University of California, San Diego. He is the author of several books, including German Orientalisms; Thomas Mann's World: Empire, Race, and the Jewish Question; and Imperial Fictions: German Literature Before and Beyond the Nation-State.
Acknowledgements
Introduction
1. What Is an Author?
2. A Voyage Round the World
3. Race, History, and German Classicism
4. Views of the Lower Rhine
5. Revolution in Mainz: Liberation or Conquest?
Conclusion: A Different Kind of Classic
Notes
Bibliography
Index
Mailing List
Subscribe to our mailing list and be notified about new titles, journals and catalogs.