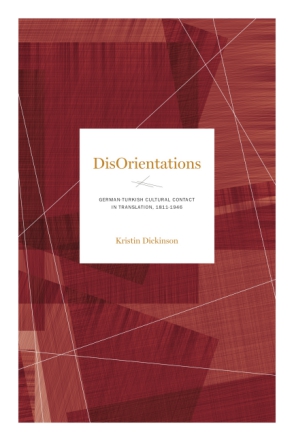 DisOrientations
German-Turkish Cultural Contact in Translation, 1811–1946
Kristin Dickinson
Buy
DisOrientations
German-Turkish Cultural Contact in Translation, 1811–1946
Kristin Dickinson
Winner of the 2022 Harry Levin Prize for a first book from the American Comparative Literature Association
"Drawing on comparative literature, translation studies, German studies, Ottoman and Turkish studies, as well as transnational studies, Dickinson's astute study on this interdisciplinary subject matter will serve students and scholars of various fields that intersect with the study of Weltliteratur/world literature, translation, European Orientalists, (Ottoman) Turkish literature and literary traditions, and Turkish German studies."
Media

Description

Reviews

Bio

Table of Contents

Sample Chapters

Subjects
Watch "PSU Press Presents: Germans Beyond Europe," a virtual author event hosted by the Press on August 3rd, 2022 with Adam A. Blackler, author of
An Imperial Homeland: Forging German Identity in Southwest Africa
, Kristin Dickinson, author of
DisOrientations: German-Turkish Cultural Contact in Translation, 1811-1946
, Todd Kontje, author of
Georg Forster: German Cosmopolitan
, and Patricia Anne Simpson, author of
The Play World: Toys, Texts, and the Transatlantic German Childhood
:
The fields of comparative and world literature tend to have a unidirectional, Eurocentric focus, with attention to concepts of "origin" and "arrival."
DisOrientations
challenges this viewpoint. Kristin Dickinson employs a unique multilingual archive of German and Turkish translated texts from the early nineteenth through the mid-twentieth century. In this analysis, she reveals the omnidirectional and transtemporal movements of translations, which, she argues, harbor the disorienting potential to reconfigure the relationships of original to translation, past to present, and West to East.
Through the work of three key figures—Johann Wolfgang von Goethe, Friedrich Schrader, and Sabahattin Ali—Dickinson develops a concept of translational orientation as a mode of omnidirectional encounter. She sheds light on translations that are not bound by the terms of economic imperialism, Orientalism, or Westernization, focusing on case studies that work against the basic premises of containment and originality that undergird Orientalism's system of discursive knowledge production. By linking literary traditions across retroactively applied periodizations, the translations examined in this book act as points of connection that produce new directionalities and open new configurations of a future German-Turkish relationship.
Groundbreaking and erudite, DisOrientations examines literary translation as a complex mode of cultural, political, and linguistic orientation. This book will appeal to scholars and students of translation theory, comparative literature, Orientalism, and the history of German-Turkish cultural relations.
"Drawing on comparative literature, translation studies, German studies, Ottoman and Turkish studies, as well as transnational studies, Dickinson's astute study on this interdisciplinary subject matter will serve students and scholars of various fields that intersect with the study of Weltliteratur/world literature, translation, European Orientalists, (Ottoman) Turkish literature and literary traditions, and Turkish German studies."
"The strength of DisOrientations lies in Dickinson's erudition and linguistic astuteness, the historical extensivity of the research, and the high standard this book sets for Turkish-German studies of any kind, going forward. This is the kind of trenchant, rough-and-tumble literary analysis that goes far beyond the comforts of Eurocentric, theoreticist comparative literature, and its groundbreaking scope is a sight to behold."
"Kristin Dickinson sheds remarkable new light on myriad ways in which thoroughly entangled German and Turkish modernities compel us to rethink world literature, cultural contact, postcolonial theories of Orientalism, ethnic nationalisms, untranslatability, and much more. She effectively wields specific case histories of translation practice to reconceptualize modernity and translation as a cultural form. Her stunning results will speak to scholars in the humanities, social sciences, and history alike."
"DisOrientations is well on its way to becoming a classic reference for scholars of literature that change hands, scripts, and tongues."
Kristin Dickinson is Assistant Professor of German Studies at the University of Michigan.
Acknowledgements
Introduction: Translational Orientations
Part 1: Johann Wolfgang von Goethe: "Exceptional" Translations Across the Nineteenth Century
1. Orientalism and Weltliteratur: The Ottoman Disorient in Goethe's West-East Divan
2. Translations with No Original: Reading Werther in Ottoman Turkish
Part 2: Friedrich Schrader: Translating Toward the Future
3. Translating Beyond the Civilizing Mission: Ahmet Hikmet Müftüoğlu and the Ottoman Dandy
4. Political Orientations: On (Re)translating Halide Edip Adıvar's The New Turan
Part 3: Sabahattin Ali: Theorizing World Literature from Early Republican Turkey
5. A Prelude in Potsdam: World Literature as Translational Multiplicity
6. Silencing the Ansatzpunkt: World Literature as Radical Interrelationality
Epilogue
Notes
Bibliography
Index
Mailing List
Subscribe to our mailing list and be notified about new titles, journals and catalogs.