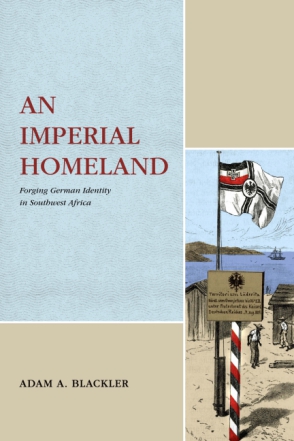 An Imperial Homeland
Forging German Identity in Southwest Africa
Adam A. Blackler
Buy
An Imperial Homeland
Forging German Identity in Southwest Africa
Adam A. Blackler
"An Imperial Homeland traces Germany's uses of Southwest Africa within a white imperial imaginary that harbored genocidal potential. Blackler explains how the colonial experience in German Southwest Africa affected and transformed German society across a longer time span than is typically considered within the historiography. His work shows that colonial officials, missionaries, soldiers, and settlers adapted racist and civilizationist thought and practice over decades, creating the conditions for devastating and multifaceted violence against thousands of Namibians."
Media

Description

Reviews

Bio

Subjects
Hear Adam A. Blackler discuss his book with the
New Books Network
.
Watch "PSU Press Presents: Germans Beyond Europe," a virtual author event hosted by the Press on August 3rd, 2022 with Adam A. Blackler, author of An Imperial Homeland: Forging German Identity in Southwest Africa, Kristin Dickinson, author of DisOrientations: German-Turkish Cultural Contact in Translation, 1811-1946, Todd Kontje, author of Georg Forster: German Cosmopolitan, and Patricia Anne Simpson, author of The Play World: Toys, Texts, and the Transatlantic German Childhood:
At the turn of the twentieth century, depictions of the colonized world were prevalent throughout the German metropole.
Tobacco advertisements catered to the erotic gaze of imperial enthusiasts with images of Ovaherero girls, and youth magazines allowed children to escape into "exotic domains" where their imaginations could wander freely.
While racist beliefs framed such narratives, the abundance of colonial imaginaries nevertheless compelled German citizens and settlers to contemplate the world beyond Europe as a part of their daily lives.
An Imperial Homeland reorients our understanding of the relationship between imperial Germany and its empire in Southwest Africa (present-day Namibia). Colonialism had an especially significant effect on shared interpretations of the Heimat (home/homeland) ideal, a historically elusive perception that conveyed among Germans a sense of place through national peculiarities and local landmarks. Focusing on colonial encounters that took place between 1842 and 1915, Adam A. Blackler reveals how Africans confronted foreign rule and altered German national identity. As Blackler shows, once the façade of imperial fantasy gave way to colonial reality, German metropolitans and white settlers increasingly sought to fortify their presence in Africa using juridical and physical acts of violence, culminating in the first genocide of the twentieth century.
Grounded in extensive archival research, An Imperial Homeland enriches our understanding of German identity, allowing us to see how a distant colony with diverse ecologies, peoples, and social dynamics grew into an extension of German memory and tradition. It will be of interest to German Studies scholars, particularly those interested in colonial Africa.
"An Imperial Homeland traces Germany's uses of Southwest Africa within a white imperial imaginary that harbored genocidal potential. Blackler explains how the colonial experience in German Southwest Africa affected and transformed German society across a longer time span than is typically considered within the historiography. His work shows that colonial officials, missionaries, soldiers, and settlers adapted racist and civilizationist thought and practice over decades, creating the conditions for devastating and multifaceted violence against thousands of Namibians."
Adam A. Blackler is Assistant Professor of History at the University of Wyoming. He is coeditor of After the Imperialist Imagination: Two Decades of Research on Global Germany and Its Legacies.
Mailing List
Subscribe to our mailing list and be notified about new titles, journals and catalogs.