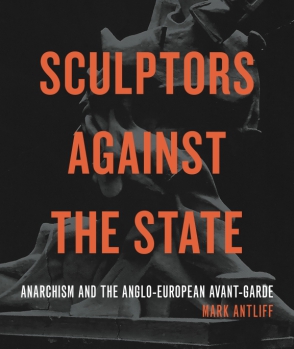 Sculptors Against the State
Anarchism and the Anglo-European Avant-Garde
Mark Antliff
Buy
Sculptors Against the State
Anarchism and the Anglo-European Avant-Garde
Mark Antliff
"Sculptors Against the State is a substantial and significant contribution to the existing literature on the aesthetics of anarchism. Antliff boldly ventures into new conceptual territory, reading form and materiality against political discourse and artistic criticism during the brief period leading up to the outbreak of World War I, precisely when such relationships came to be understood as some of the fundamental signposts of modernism."
Description

Reviews

Bio

Table of Contents

Sample Chapters

Subjects
Sculptors Against the State
considers the relation of anarchist ideology to avant-garde sculpture through an examination of three iconic artists whose work transformed European modernism: Umberto Boccioni, Jacob Epstein, and Henri Gaudier-Brzeska. Addressing such complex subjects as sexual liberation, homosexuality, the history of emotions, the ethics of violence, and tactics of nonviolent resistance, Mark Antliff demonstrates how sculptural processes were shaped by forms of anarchism calculated to foster a radical community.
The anarchist view that the State is a state of mind and a set of social relationships is a central theme Antliff uses to explore not only the art of Boccioni, Epstein, and Gaudier-Brzeska but the associated aesthetics of radical luminaries such as Oscar Wilde, F. T. Marinetti, and Ezra Pound. Taking Boccioni's Unique Forms of Continuity in Space, Epstein's Tomb of Oscar Wilde, and Gaudier-Brzeska's Hieratic Head of Ezra Pound as a starting point, Antliff argues that these sculptors saw the arts as a radical catalyst for an entirely new constellation of interpersonal relations and psychological dispositions—ones antithetical to those propagated by the State.
Powerfully argued and informed by extensive archival research, Sculptors Against the State provides a new understanding of these artists, even as it sheds light on why contemporary anarchist theory is necessary for understanding the profound cultural impact modernism had during the twentieth century. Antliff's work will be of interest to students and scholars of modernist art and literature, and particularly those who study the intersections between artistic practice and politics.
"Sculptors Against the State is a substantial and significant contribution to the existing literature on the aesthetics of anarchism. Antliff boldly ventures into new conceptual territory, reading form and materiality against political discourse and artistic criticism during the brief period leading up to the outbreak of World War I, precisely when such relationships came to be understood as some of the fundamental signposts of modernism."
"Mark Antliff's work has been crucial in the transformation of our understanding of modernist art and the avant-garde. Through exacting scholarship he has shown that the ideological and philosophical aspects of artistic production in the early twentieth century are vital both to an understanding of modernism and to the interpretation of particular works of art. Sculptors Against the State is essential reading both for art historians and for students of anarchism."
"Antliff's text will ensure that their [Epstein, Boccioni, Gaudier-Brzeska] contributions, and the anarchist leanings of all the artists herein discussed, are not forgotten, and the book will inspire artists, art historians, creators, educators, and writers who are engaged with the intersection between art and politics in their own work."
"Sculptors Against the State makes a valuable contribution to the scholarship on the cultural politics of early twentieth-century London and Paris and provides many paths to further investigate sculpture against the state."
Mark Antliff is Mary Grace Wilson Distinguished Professor Emeritus at Duke University. He is the author of many books, including Inventing Bergson: Cultural Politics and the Parisian Avant-Garde and Avant-Garde Fascism: The Mobilization of Myth, Art, and Culture in France, 1909–1939.
List of Illustrations
Acknowledgements
Introduction: Anarchism Then and Now
1. "Life's Joy": Censorship, Homosexuality, and Jacob Epstein's Tomb of Oscar Wilde
2. Sculpting an Antidemocratic Insurrection: Umberto Boccioni's Unique Forms of Continuity in Space
3. Henri Gaudier-Brzeska's La Guerre sociale: Satire, Apaches, and Antimilitarism
4. Into the Vortex: Henri Gaudier-Brzeska, Ezra Pound, and Sculptural Nominalism
Conclusion: Anarchist Aesthetics and Ideology; Shaping States of Mind
Notes
Bibliography
Index
Mailing List
Subscribe to our mailing list and be notified about new titles, journals and catalogs.