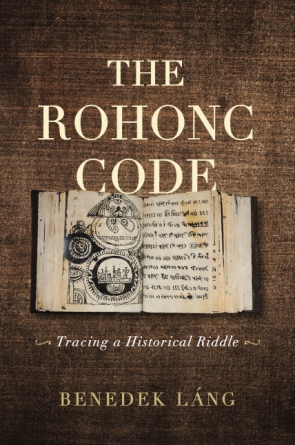 The Rohonc Code
Tracing a Historical Riddle
Benedek Láng, Translated by Benedek Láng, Teodóra Király, and Nick Palmer
Buy
The Rohonc Code
Tracing a Historical Riddle
Benedek Láng, Translated by Benedek Láng, Teodóra Király, and Nick Palmer
"The Rohonc Code is a valuable guide for how to approach an old unsolved cipher. Historians will benefit from learning some of the mathematical approaches that Láng describes, while mathematicians will benefit from Láng's detailing of how he pursued potential historical leads."
Description

Reviews

Bio

Table of Contents

Sample Chapters

Subjects
First discovered in a Hungarian library in 1838, the Rohonc Codex keeps privileged company with some of the most famous unsolved writing systems in the world, notably the Voynich manuscript, the Phaistos Disk, and Linear A. Written entirely in cipher, this 400-year-old, 450-page-long, richly illustrated manuscript initially gained considerable attention but was later dismissed as an apparent forgery. No serious scholar would study it again until the turn of the twenty-first century. This engaging narrative follows historian Benedek Láng's search to uncover the truth about this thoroughly mysterious book that has puzzled dozens of codebreakers.
Láng surveys the fascinating theories associated with the Codex and discusses possible interpretations of the manuscript as a biblical commentary, an apocryphal gospel, or a secret book written for and by a sect. He provides an overview of the secret writing systems known in early modern times and an account of the numerous efforts to create an artificial language or to find a long-lost perfect tongue—endeavors that were especially popular at the time the Codex was made. Lastly, he tests several codebreaking methods in order to decipher the Codex, finally pointing to a possible solution to the enigma of its content and language system.
Engagingly written, academically grounded, and thoroughly compelling, The Rohonc Code will appeal to historians, scholars, and lay readers interested in mysteries, codes, and ciphers.
"The Rohonc Code is a valuable guide for how to approach an old unsolved cipher. Historians will benefit from learning some of the mathematical approaches that Láng describes, while mathematicians will benefit from Láng's detailing of how he pursued potential historical leads."
"This is solid historical research, yet written in a style to make the reader want to read on. . . . Throughout this enthralling exploration, Láng examines the possibilities that the document might be an artificial language or a cypher or perhaps a shorthand system of some kind."
Benedek Láng is Professor and Chair of the Department of Philosophy and History of Science at Budapest University of Technology and Economics. He is the author of Unlocked Books: Manuscripts of Learned Magic in the Medieval Libraries of Central Europe, also published by Penn State University Press.
List of Illustrations
Acknowledgements
Introduction
1. The Treasure-Hunting Bookdealer
2. Codebreaking Attempts
3. The Quest Begins
4. The Jesus Code
5. Writing in Ciphers and Codes
6. Decryption
7. Shorthand Systems
8. Artificial Languages and Codes
9. Methods of Codebreaking
Coda
Appendix
Notes
Bibliography
Index
Mailing List
Subscribe to our mailing list and be notified about new titles, journals and catalogs.