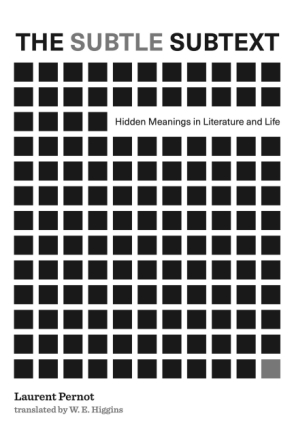 The Subtle Subtext
Hidden Meanings in Literature and Life
Laurent Pernot, and translated by W. E. Higgins
Buy
The Subtle Subtext
Hidden Meanings in Literature and Life
Laurent Pernot, and translated by W. E. Higgins
"In this lively and original work, Laurent Pernot argues that the production of double meaning is a far more wide-ranging phenomenon than we previously thought. Alongside the 'figured speech' of ancient Greek and Roman rhetoric, Pernot explores a wealth of cases from nineteenth- and twentieth-century literature, politics, and popular culture. From Michel Foucault's parrhēsia to The X-Files, dog whistles, and Pink Floyd: there's much here to delight and instruct."
Description

Reviews

Bio

Table of Contents

Subjects
Subtexts are all around us. In conversation, business transactions, politics, literature, philosophy, and even love, the art of expressing more than what is explicitly said allows us to live and move in the world. But rarely do we reflect on this subterranean dimension of communication.
In this book, renowned classicist and scholar of rhetoric Laurent Pernot explores the fascinating world of subtext. Of the two meanings present in any instance of double meaning, Pernot focuses on the meaning that is unstated—the meaning that counts. He analyzes subtext in all its multifarious forms, including allusion, allegory, insinuation, figured speech, irony, innuendo, esoteric teaching, reading between the lines, ambiguity, and beyond. Drawing on examples from figures as varied as Homer, Shakespeare, Molière, Proust, Foucault, and others, as well as from popular culture, Pernot shows how subtext can be identified and deciphered as well as how prevalent and essential it is in human life.
With erudition and wit, Pernot explains and clarifies a device of language that we use and understand every day without even realizing it. The Subtle Subtext is a book for anyone who is interested in language, literature, hidden meanings, and the finer points of social relations.
"In this lively and original work, Laurent Pernot argues that the production of double meaning is a far more wide-ranging phenomenon than we previously thought. Alongside the 'figured speech' of ancient Greek and Roman rhetoric, Pernot explores a wealth of cases from nineteenth- and twentieth-century literature, politics, and popular culture. From Michel Foucault's parrhēsia to The X-Files, dog whistles, and Pink Floyd: there's much here to delight and instruct."
"Pernot adroitly builds his case for the remarkable linguistic faculty that permits one to persuade, convince, illustrate, argue, and entertain most effectively with indirectness and courtesy and by playing with language."
Laurent Pernot is Member of the Institut de France and Professor of Greek Language and Literature at the University of Strasbourg. He is the author of numerous books in his field, including Rhetoric in Antiquity; Alexandre le Grand: Les risques du pouvoir; and Epideictic Rhetoric: Questioning the Stakes of Ancient Praise. He is also the editor of New Chapters in the History of Rhetoric.
Preface
1. Subtexts All Around Us
2. The Rhetoric of Figured Speech
3. The Hermeneutics of Suspicion
4. Risks and Safeguards of Interpretation
5. Greek Pretenses About Rome
6. An Ox on the Tongue
7. Sexorama
8. What About Being Frank?
9. Catalog of Further Examples and Practices
A Final Word
Translator's Note on Citations
Notes
Index
Mailing List
Subscribe to our mailing list and be notified about new titles, journals and catalogs.