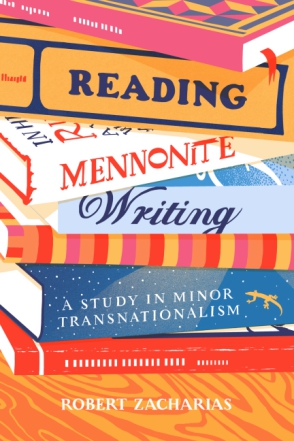 Reading Mennonite Writing
A Study in Minor Transnationalism
Robert Zacharias
Buy
Reading Mennonite Writing
A Study in Minor Transnationalism
Robert Zacharias
"Reading Mennonite Writing is an exciting, daring book that anyone interested in North American literary studies should read."
Description

Reviews

Bio

Table of Contents

Sample Chapters

Subjects
Mennonite literature has long been viewed as an expression of community identity. However, scholars in Mennonite literary studies have urged a reconsideration of the field's past and a reconceptualization of its future. This is exactly what
Reading Mennonite Writing
does.
Drawing on the transnational turn in literary studies, Robert Zacharias positions Mennonite literature in North America as "a mode of circulation and reading" rather than an expression of a distinct community. He tests this reframing with a series of methodological experiments that open new avenues of critical engagement with the field's unique configuration of faith-based intercultural difference. These include cross-sectional readings in nonnarrative literary history; archival readings of transatlantic life writing; Canadian rewritings of Mexican film's deployment of Mennonite theology as fantasy; an examination of the fetishistic structure of ethnicity as a "thing" that has enabled Mennonite identity to function in a post-identity age; and, finally, a tentative reinvestment in ideals of Mennonite community via the surprising routes of queerness and speculative fiction. In so doing, Zacharias reads Mennonite writing in North America as a useful case study in the shifting position of minor literatures in the wake of the transnational turn.
Theoretically sophisticated, this study of minor transnationalism will appeal to specialists in Mennonite literature and to scholars working in the broader field of transnational literary studies.
"Reading Mennonite Writing is an exciting, daring book that anyone interested in North American literary studies should read."
"Robert Zacharias demonstrates a truly impressive knowledge of the history of Mennonite publishing and reception. Extremely well read in a wide variety of Mennonite literary genres—what he terms a minor literature—he does valuable work in positioning this literature as fully engaged with transnational concerns and in attending to forgotten or neglected works within the field, while simultaneously positioning them alongside better- or well-known texts."
"This book establishes Zacharias's position as the next generation's leader in the field, even as it recognizes his predecessors."
Robert Zacharias is Associate Professor of English at York University in Toronto. He is the author of Rewriting the Break Event: Mennonites and Migration in Canadian Literature, editor of After Identity: Mennonite Writing in North America, and Associate Editor of the Journal of Mennonite Studies.
Acknowledgements
Introduction: Mennonite Literature as a Case Study in Minor Transnationalism
1. 1986: Toward a Minor Literary History
2. A Russian Dance of Death: Mennonite Diaries and the Use of Truthfulness
3. The Mennonite Thing: Identity in a Post-Identity Age
4. Irma Voth Writes Back to Silent Light: On Faith and Fantasy in Mexico
5. Endure: Little Fish and "Fallow"
Conclusion: Reading Toward the Future of Mennonite Writing
Notes
Bibliography
Index
Mailing List
Subscribe to our mailing list and be notified about new titles, journals and catalogs.