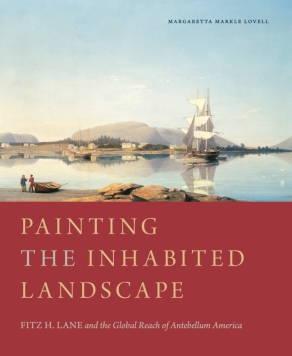 Painting the Inhabited Landscape
Fitz H. Lane and the Global Reach of Antebellum America
Margaretta M. Lovell
Buy
Painting the Inhabited Landscape
Fitz H. Lane and the Global Reach of Antebellum America
Margaretta M. Lovell
"Painting the Inhabited Landscape is an American art history that in its depth of research and its absolute assurance in method and goals matches or surpasses anything done by any global modernist art historian today. It is a significant contribution to the study of nineteenth-century world history in visual and material studies, and will be of interest to anyone looking at the formation of global modernism, technologies, and capital markets."
Description

Reviews

Bio

Table of Contents

Sample Chapters

Subjects
The impulse in much nineteenth-century American painting and culture was to describe nature as a wilderness on which the young nation might freely inscribe its future: the United States as a virgin land, that is, unploughed, unfenced, and unpainted. Insofar as it exhibited evidence of a past, its traces pointed to a geologic or cosmic past, not a human one. The work of the New England artist Fitz H. Lane, however, was decidedly different.
In this important study, Margaretta Markle Lovell singles out the more modestly scaled, explicitly inhabited landscapes of Fitz H. Lane and investigates the patrons who supported his career, with an eye to understanding how New Englanders thought about their land, their economy, their history, and their links with widely disparate global communities. Lane's works depict nature as productive and allied in partnership with humans to create a sustainable, balanced political economy. What emerges from this close look at Lane's New England is a picture not of a "virgin wilderness" but of a land deeply resonant with its former uses—and a human history that incorporates, rather than excludes, Native Americans as shapers of land and as agents in that history.
Calling attention to unexplored dimensions of nineteenth-century painting, Painting the Inhabited Landscape is a major intervention in the scholarship on American art of the period, examining how that body of work commented on American culture and informs our understanding of canon formation.
"Painting the Inhabited Landscape is an American art history that in its depth of research and its absolute assurance in method and goals matches or surpasses anything done by any global modernist art historian today. It is a significant contribution to the study of nineteenth-century world history in visual and material studies, and will be of interest to anyone looking at the formation of global modernism, technologies, and capital markets."
"Painting the Inhabited Landscape is by far the most insightful study of Lane and his art to date. Margaretta Lovell's close examination of Lane's life, art, and the historical contexts within which he worked represents not only a quantum leap for our understanding of Lane and his world but also a new standard of scholarship for the field of American art."
Margaretta Markle Lovell is Jay D. McEvoy, Jr. Professor of American Art History at the University of California, Berkeley. Her many publications include the prizewinning Art in a Season of Revolution: Painters, Artisans, and Patrons in Early America and A Material World: Culture, Society, and the Life of Things in Early Anglo-America, the latter also published by Penn State University Press.
List of Illustrations
Acknowledgements
List of Abbreviations
Introduction: A Small City with a Far Reach
1. Reputation: Lane, Gloucester's "Own Artist," 1842–1865
2. Value: Lane, 1865–2020
3. Canvas: Names, Naming, and Identity
4. Fish: Lane's Gloucester
5. Lumber: Lane's Maine
6. Granite: Shipwreck with Spectators
7. Travelers I: Surinam and California
8. Travelers II: Ireland, China, Puerto Rico
Conclusion
Appendix A: Exhibitions and Sales That Included Fitz H. Lane Paintings During His Lifetime
Appendix B: Inventories and Lists of Located Lane Paintings, 1865–1961
Notes
Bibliography
Index
Mailing List
Subscribe to our mailing list and be notified about new titles, journals and catalogs.