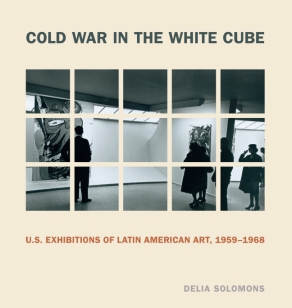 Cold War in the White Cube
U.S. Exhibitions of Latin American Art, 1959–1968
Delia Solomons
Buy
Cold War in the White Cube
U.S. Exhibitions of Latin American Art, 1959–1968
Delia Solomons
"Exciting and exemplary scholarship. . . .Highly sophisticated in its methodology, clear in its language and exposition, fair in its conclusions, and committed overall to uncovering new knowledge, Cold War in the White Cube is a model of progressive scholarship."
Description

Reviews

Bio

Table of Contents

Sample Chapters

Subjects
In 1959, the very year the Cuban Revolution amplified Cold War tensions in the Americas, museumgoers in the United States witnessed a sudden surge in major exhibitions of Latin American art. Surveying the 1960s boom of such exhibits, this book documents how art produced in regions considered susceptible to communist influence was staged on U.S. soil for U.S. audiences.
Held in high-profile venues such as the Guggenheim Museum, the Walker Art Center, MoMA, and the Art Institute of Chicago, the exhibitions of the 1960s Latin American art boom did not define a single stylistic trend or the art of a single nation but rather attempted to frame Latin America as a unified whole for U.S. audiences. Delia Solomons calls attention to disruptive artworks that rebelled against the curatorial frames purporting to hold them and reveals these exhibitions to be complex contact zones in which competing voices collided. Ultimately, through multiple means—including choosing to exclude artworks with readily decipherable political messages and evading references to contemporary inter-American frictions—the U.S. curators who organized these shows crafted projections of Pan-American partnership and harmony, with the United States as leader, interpreter, and good neighbor, during an era of brutal U.S. interference across the Americas.
Theoretically sophisticated and highly original, this survey of Cold War–era Latin American art exhibits sheds light on the midcentury history of major U.S. art museums and makes an important contribution to the fields of museum studies, art history, and Latin American modernist art.
"Exciting and exemplary scholarship. . . .Highly sophisticated in its methodology, clear in its language and exposition, fair in its conclusions, and committed overall to uncovering new knowledge, Cold War in the White Cube is a model of progressive scholarship."
"Delia Solomons's brilliant book follows a deep intellectual rigor to weave a fascinating account of the surge in attention and efflorescence of Latin American art exhibitions and publications in the United States in the fractious period of 1959-1968 that has been largely forgotten. Beautifully written and meticulously researched in archives in the United States, Argentina, and Brazil, Solomons's book engages artists' voices to counterpoint disparate visions, constructed narratives, and portrayals by US critics and cultural workers of Latin American art at the time."
Delia Solomons is an Assistant Professor of Art History at Drexel University. Her research has appeared in Art Bulletin, Journal of Curatorial Studies, and The Americas Revealed: Collecting Colonial and Modern Latin American Art in the United States, copublished by Penn State University Press and The Frick Collection.
List of Illustrations
Acknowledgements
Introduction
1. The Eagle Surveys the Hemisphere
2. World Picturing in the Carnegie and Guggenheim Internationals
3. Contending for the New in New Art of Brazil and New Art of Argentina
4. MoMA's"War-Time Enthusiasm for Latin America"
Conclusion: 1968
Appendix
Notes
Bibliography
Index
Mailing List
Subscribe to our mailing list and be notified about new titles, journals and catalogs.