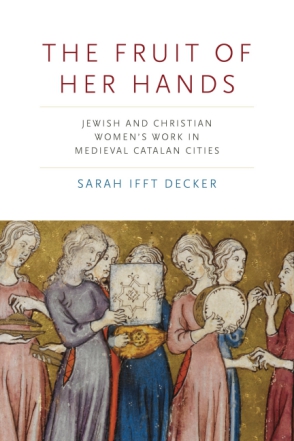 The Fruit of Her Hands
Jewish and Christian Women's Work in Medieval Catalan Cities
Sarah Ifft Decker
COMING IN SEPTEMBER
The Fruit of Her Hands
Jewish and Christian Women's Work in Medieval Catalan Cities
Sarah Ifft Decker
"The Fruit of Her Hands presents—and expertly analyzes—rich archival evidence about the lives and financial activities of Jewish and Christian women in medieval Catalonia, with important implications for understanding the intersections of gender, religion, socioeconomic status, and geography."
Description

Reviews

Bio

Subjects
In the thriving urban economies of late thirteenth-century Catalonia, Jewish and Christian women labored to support their families and their communities.
The Fruit of Her Hands
examines how gender, socioeconomic status, and religious identity shaped how these women lived and worked.
Sarah Ifft Decker draws on thousands of notarial contracts as well as legal codes, urban ordinances, and Hebrew responsa literature to explore the lived experiences of Jewish and Christian women in the cities of Barcelona, Girona, and Vic between 1250 and 1350. Relying on an expanded definition of women's work that includes the management of household resources as well as wage labor and artisanal production, this study highlights the crucial contributions women made both to their families and to urban economies. Christian women, Ifft Decker finds, were deeply embedded in urban economic life in ways that challenge traditional dichotomies between women in northern and Mediterranean Europe. And while Jewish women typically played a less active role than their Christian counterparts, Ifft Decker shows how, in moments of communal change and crisis, they could and did assume prominent roles in urban economies.
Through its attention to the distinct experiences of Jewish and Christian women, The Fruit of Her Hands advances our understanding of Jewish acculturation in the Iberian Peninsula and the shared experiences of women of different faiths. It will be welcomed by specialists in gender studies and religious studies as well as students and scholars of medieval Iberia.
"The Fruit of Her Hands presents—and expertly analyzes—rich archival evidence about the lives and financial activities of Jewish and Christian women in medieval Catalonia, with important implications for understanding the intersections of gender, religion, socioeconomic status, and geography."
"By focusing her attention on exploring the economic status and activities of Jewish women in medieval Catalonia (in comparison with their Christian counterparts), Sarah Ifft Decker makes an important intervention. The Fruit of Her Hands is not only groundbreaking but beautifully written and solidly based on extensive archival research."
Sarah Ifft Decker is Assistant Professor of History at Rhodes College and the host of Media-eval: A Medieval Pop Culture Podcast.
Mailing List
Subscribe to our mailing list and be notified about new titles, journals and catalogs.