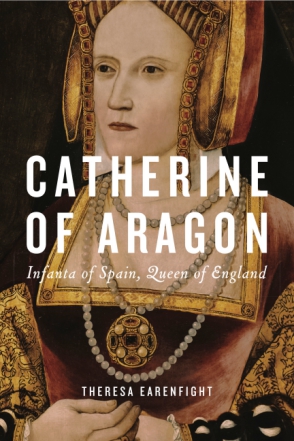 Catherine of Aragon
Infanta of Spain, Queen of England
Theresa Earenfight
BUY
Catherine of Aragon
Infanta of Spain, Queen of England
Theresa Earenfight
"A refreshing and compelling modern biography of the previously shadowy figure of Catherine of Aragon. Earenfight's innovative use of material culture offers a sophisticated methodology for apprehending Catherine's life, motivations, and decisions."
Description

Reviews

Bio

Table of Contents

Subjects
Catherine of Aragon is an elusive subject.
Despite her status as a Spanish infanta, Princess of Wales, and Queen of England, few of her personal letters have survived, and she is obscured in the contemporary royal histories. In this evocative biography, Theresa Earenfight presents an intimate and engaging portrait of Catherine told through the objects that she left behind.
A pair of shoes, a painting, a rosary, a fur-trimmed baby blanket—each of these things took meaning from the ways Catherine experienced and perceived them. Through an examination of the inventories listing the few possessions Catherine owned at her death, Earenfight follows the arc of Catherine's life: first as a coddled child in Castile, then as a young adult alone in England after the death of her first husband, a devoted wife and doting mother, a patron of the arts and of universities, and, finally, a dear friend to the women and men who stood by her after Henry VIII set her aside in favor of another woman. Based on traces and fragments, these portraits of Catherine are interpretations of a life lived five centuries ago. Earenfight creates a compelling picture of a multifaceted, intelligent woman and a queen of England.
Engagingly written, this cultural and emotional biography of Catherine brings us closer to understanding her life from her own perspective.
"A refreshing and compelling modern biography of the previously shadowy figure of Catherine of Aragon. Earenfight's innovative use of material culture offers a sophisticated methodology for apprehending Catherine's life, motivations, and decisions."
"Catherine of Aragon offers a unique appraisal of Catherine and an exciting and innovative approach to biography by drawing on sources—particularly material culture, economic, and Spanish sources—that are often bypassed or not fully explored to give a fresh perspective on Catherine's life, a richer picture of Catherine as an individual, and a clearer understanding of her exercise of the queen's office."
Theresa Earenfight is Professor of History at Seattle University. She is the author of The King's Other Body: María of Castile and the Crown of Aragon and Queenship in Medieval Europe and editor of Queenship and Political Power in Medieval and Early Modern Spain.
List of Illustrations
Acknowledgements
Maps
1. Who's That Girl?
2. An Infanta at the Court of Castile, 1485–1501
Time Line: An Infanta at the Court of Castile, 1485–1501
3. One Wedding and Four Funerals
Time Line: One Wedding and Four Funerals, 1501–1509
4. Bride Again, Queen Finally, and Mother at Last
Time Line: Bride Again, Queen Finally, and Mother at Last, 1509–1519
5. A "Humble and Loyal" Queen
Time Line: A "Humble and Loyal" Queen, 1520–1529
6. Resistance, Mortality, and the Power of Memory
Time Line: Resistance, Mortality, and the Power of Memory, 1530–1536
7. Who Was That Queen?
Notes
Bibliography
Index
Mailing List
Subscribe to our mailing list and be notified about new titles, journals and catalogs.