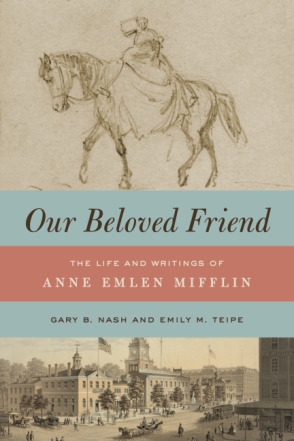 Our Beloved Friend
The Life and Writings of Anne Emlen Mifflin
Gary B. Nash and Emily M. Teipe
BUY
Our Beloved Friend
The Life and Writings of Anne Emlen Mifflin
Gary B. Nash and Emily M. Teipe
"An impressively researched biography, Our Beloved Friend makes a case for the historical importance of Anne Emlen Mifflin on her own terms, as both a Public Friend and an activist. Her life offers important context for eighteenth-century ideas about and experiences of non-Quaker women. It is also a useful meditation on how 'ordinary' people navigated pivotal historical events as well as the moral and ethical complexities of early American society, economy, and politics."
Description

Reviews

Bio

Subjects
Born into one of the wealthiest families in Philadelphia and raised and educated in that vital center of eighteenth-century American Quakerism, Anne Emlen Mifflin was a progressive force in early America. This detailed and engaging biography, which features Anne's
collected writings and selected correspondence,
revives her legacy.
Anne grew up directly across the street from the Pennsylvania statehouse, where the Continental Congress was leading the War of Independence. A Quaker minister whose busy pen, agile mind, and untiring moral energy produced an extensive corpus of writings, Anne was an ardent abolitionist and social reformer decades before the establishment of women's anti-slavery societies. And at a time when most Americans never ventured beyond their own village, hamlet, or farm, Anne journeyed thousands of miles. She traveled to settlements of Friends on the frontier and met with Native Americans in the rough country of northwestern Pennsylvania, New York, and Canada.
Our Beloved Friend provides a unique window onto the lives of Quakers during the pre-Revolutionary era, the establishment of the New Republic, and the War of 1812.
"An impressively researched biography, Our Beloved Friend makes a case for the historical importance of Anne Emlen Mifflin on her own terms, as both a Public Friend and an activist. Her life offers important context for eighteenth-century ideas about and experiences of non-Quaker women. It is also a useful meditation on how 'ordinary' people navigated pivotal historical events as well as the moral and ethical complexities of early American society, economy, and politics."
"Our Beloved Friend provides an example of a strong-willed and intellectually-engaged woman. The compelling narrative of Mifflin's life is expertly presented and supported with extensive background and by her writings that include multiple genres, such as poetry, spiritual autobiography, travel narrative, diary entries, commonplace books, letters, and prose."
Gary B. Nash was Professor Emeritus of History at the University of California, Los Angeles, and the author of numerous books, including Warner Mifflin: Unflinching Quaker Abolitionist, a biography of Anne Emlen Mifflin's husband.
Emily M. Teipe is Professor Emerita of History at Fullerton College. Among her many publications are A Feminist Primer: Readings for Women's Studies and Different Voices: Women in United States History.
Mailing List
Subscribe to our mailing list and be notified about new titles, journals and catalogs.